Underwhelming
WuXi Won't Make Hong Kong IPOs Hot
Chinese state-owned firms with cornerstone investors remain the order of the day.
By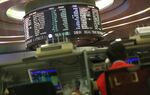 The words hot and Hong Kong IPO haven't been seen in the same sentence for quite some time.
The city's initial share sale market has been in the dumps as investors shy away from listings that have underperformed and companies that only offer a small public float.
But one firm, dubbed the Foxconn of pharma for its contract manufacturing capabilities, has raised a decent amount of money and generated some upbeat press coverage. WuXi Biologics (Cayman) Inc. is poised to raise HK$3.98 billion ($510 million) after pricing its Hong Kong IPO at the top end of a marketed range, people familiar with the matter told Crystal Tse of Bloomberg News.
That would make it Hong Kong's second-biggest share sale this year, and it doesn't have cornerstone investors, long the bane of institutional money managers for their ability to skew pricing. Guotai Junan Securities Co., for example, placed about half its IPO with cornerstone investors and the Shenzhen and Shanghai governments.
WuXi Biologics has an advantage in that it makes biopharmaceuticals, drugs that use live substances and that are more complex to research and manufacture than their chemical counterparts. They have the ability to treat chronic illnesses like cancer and rheumatoid arthritis, making them one of the fastest growing parts of the drug market.
Investors rarely get the chance to buy into such companies, which is why WuXi Biologics' much bigger Asian rival, Samsung Biologics Co., managed to raise $2 billion in one of South Korea's largest share sales last year.
So far so good. But anyone expecting this to mark the start of a revival in Hong Kong's IPO market would be mistaken.
Outside of Ant Financial Group's upcoming debut, few sexy IPOs are in the offing and Chinese state firms remain the order of the day. After WuXi, scheduled to start trading on June 13, is Guangzhou Rural Commercial Bank Co., which is seeking to raise as much as $1.07 billion. The rural lender's cornerstone investors include HNA Aviation Group Co., part of the aggressively acquisitive HNA Group Co. According to banking analyst Daniel Tabbush, writing in SmartKarma, it has high-risk loans of about 13.7 billion yuan ($2 billion) and an asset base that's more opaque than almost any large bank in China.
Next up is probably China Tower Corp., a state enterprise that reported a loss for the first nine months of 2016 and has yet to collect more in leasing fees than it costs to run the business. WuXi Biologics may seem an exciting flash, but it's safe to say Hong Kong's IPO market will be in the doldrums for some months yet.
To contact the author of this story:
Nisha Gopalan in Hong Kong at ngopalan3@bloomberg.net
To contact the editor responsible for this story:
Katrina Nicholas at knicholas2@bloomberg.net
Before it's here, it's on the Bloomberg Terminal.
LEARN MORE