Blindsided
I Got It Wrong on Oil Jobs and That's a Good Thing
Job growth turned positive sooner than expected. Now let's see if it lasts.
By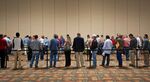 Well, that happened sooner than expected.
Back in early April, I predicted oil-sector payroll growth would finally turn positive again in May, meaning we wouldn't see it until July, when complete numbers would be released.
For once, I'm actually happy I got something wrong -- because that number turned positive in April instead.
Payroll numbers for the oil patch were a bright spot in an otherwise lackluster May jobs report from the Bureau of Labor Statistics on Friday. The ranks of oil-and-gas extraction and support workers rose to just under 391,000 in April, 0.5 percent higher than a year earlier:
The big gains have come on the support side. Roughly 10,000 jobs were added there in just March and April, combined, coinciding with an acceleration in the U.S. rig count and Halliburton Co.'s we-can't-keep-up profit warning.
Industry revenues were buoyed by higher average oil and gas prices in April, on the back of OPEC chatter about extending supply cuts (confirmed last week) and a lingering winter. Meanwhile, wage inflation, especially for higher-paid extraction workers, slowed. So my usual estimate of the industry's wage bill as a proportion of revenue stayed steady despite the hiring spree:
Oil prices have slipped since then, alongside faith in OPEC's powers, so it will be interesting to see if momentum was maintained in May. Judging by the rig count, up another 38 as of May 26, it looks like the positive trend continued, albeit perhaps not at quite the same pace.
Still, after so long in the red, any growth will be welcomed in the oil patch.
To contact the author of this story:
Liam Denning in New York at ldenning1@bloomberg.net
To contact the editor responsible for this story:
Mark Gongloff at mgongloff1@bloomberg.net
Before it's here, it's on the Bloomberg Terminal.
LEARN MORE