High Pressure System
Funds Fire Up Real Climate Change
Major money managers are voting in favor of shareholder environmental resolutions.
By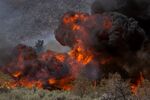 EXXON MOBIL CORP
-0.42
At Closing, April 20st
BLACKROCK INC
-0.64
At Closing, April 20st
Forget President Donald Trump's planned Rose Garden announcement Thursday of his policy on the Paris climate accord. The more important decision happened in a Dallas concert hall, with far less fanfare, the previous day.
More than 60 percent of shareholders in Exxon Mobil Corp. backed a resolution calling for the world's biggest publicly traded oil company to disclose how technological advances and action on climate change could affect its portfolio of assets.
Most significant were some of the major investors reported to have supported the proposal, which was opposed by Exxon's board. BlackRock Inc. voted in favor, while State Street Corp. and Vanguard Group likely did the same, the Washington Post wrote Wednesday without saying where it got the information.
To get a sense of why this matters, have a look at a ranking of the world's biggest asset managers:
The 20 largest groups in the chart above are responsible for about half of the world's $71 trillion in assets under management. The companies in bright red represent about $20 trillion of the total, and can be considered the climate activists: All of them voted against the wishes of the board on climate-related resolutions last year, according to Ceres, a climate investment nonprofit, or have otherwise implemented comparable policies. 1  
Adding BlackRock, Vanguard and Fidelity -- who are also reported to now favor such resolutions -- to that total changes things dramatically. The $14 trillion they manage, added to the $20 trillion in the previous group, would bring the total prepared to support climate resolutions just a shade below 50 percent of the global asset management industry. In shareholder-meeting terms: more or less a majority.
To be sure, none of the three have confirmed so far that they did in fact vote in favor of the Exxon resolution, in line with longstanding policies. But only Vanguard's change of heart would be really surprising, considering State Street's existing position and the increasing prominence given to the issue in recent months by both BlackRock and Fidelity. Proxy voting guidelines at all three formerly uncommitted managers are explicit that they'll back resolutions calling for more disclosure wherever they think inaction is a threat to shareholder value.
Shareholder votes aren't going to cause Exxon Mobil to quit fossil fuels overnight. The other incipient shareholder rebellion Wednesday, requiring the same sort of disclosures by Chevron Corp., was averted after the company released a rather anodyne report arguing that it'll probably be OK even if the world meets its ambitions on emissions reductions.
It would be a mistake to underestimate the sorts of deeper changes that could result, however.
At present, climate disclosure tends to be patchy and based on inconsistent methodologies. But the Group of 20's Financial Stability Board, in its Task Force on Climate-Related Financial Disclosures (a body chaired by Michael Bloomberg, founder of Bloomberg LP), is pushing for something much more universal that investors can use to benchmark companies against one another.
That's likely to focus the minds of both boards and shareholders on the risks inherent in a wait-and-see approach -- and such issues, reinforced every year with each annual report, aren't so easily waved away. Once quantified, risks become hard to ignore. Each investor who shuns a disfavored sector increases the pressure on those who remain, making it ever-harder to attract capital.
Those who invested in Bloomberg Intelligence's index of coal companies five years ago would find their portfolio had lost almost 80 percent of its value to date, while BI's agriculture-based index rose about 29 percent. Invest in the more diversified FTSE All-World index, and you'd have gained 57 percent. It's not only the global climate that's changing.
Ceres's list focuses on U.S. asset managers. The four not mentioned on the list are Europe's AXA; Amundi; Legal & General; and Norges Bank Investment Management, which have all backed similar positions.
To contact the author of this story:
David Fickling in Sydney at dfickling@bloomberg.net
To contact the editor responsible for this story:
Katrina Nicholas at knicholas2@bloomberg.net
Before it's here, it's on the Bloomberg Terminal.
LEARN MORE