Decibel Dominance
Panasonic, Start Your Engines
There's more money in car batteries, audio equipment and navigation systems than white goods.
By and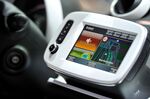 PANASONIC CORP
+7.50
As of 11:42 PM EDT
TESLA INC
-2.77
At Closing, April 25th
For an electronics company, Panasonic Corp. sure is becoming quite the rev head.
The Japanese brand that's indelibly associated with televisions, audio equipment and microwave ovens now makes more money from auto parts than home appliances.
In presentations to investors, the company divides its product portfolio into three business characteristics: high-growth, low-growth and low-profitable.
At the top of that tree is automotive batteries, car cockpits and advanced driver assistance systems. The only non-vehicle segment enjoying management's high-growth optimism is air conditioners. On the low-profit rung is chips, LCD displays and solar panels, while everything in between -- white goods, avionics, wiring devices -- is merely "stable."
It's worth considering where these ambitions lead. If Panasonics' auto-parts business was taken on its own, it would stand ahead of Michelin & Cie. on the list of the world's top 10 suppliers to the sector by revenue. 1 That position is only likely to consolidate as its rechargeable-battery business expands alongside Elon Musk's ambitions.
Panasonic is already a major lithium-ion battery supplier. But its joint venture with Tesla Inc., better known as the Gigafactory -- the Japanese will be responsible for manufacturing the battery cells, while Tesla does more or less everything else -- will soon vault the partnership into the new vanguard of large-scale rechargeable battery producers. The Japanese firm is currently under contract to supply rechargeable batteries to nearly 90 different car models, according to an investor presentation Tuesday, and hopes to make 750 billion yen ($6.8 billion) of revenue from the segment by 2019 -- more than double last year's 363 billion yen.
There's a problem with batteries, though, as Gadfly has argued before: Like solar panels, LCD displays and memory chips before them, they're going through a headlong expansion that offers both opportunity and threat. As fast as output grows, so prices are likely to fall. Only the lowest-cost producers can survive this gold rush, and they'll probably be left with a larger share of a market that's still low-margin and commoditized.
That's where the rest of Panasonic's auto business comes in -- especially its automotive infotainment systems unit and work building car cockpits. The good thing about this business is that the auto industry moves far slower than consumer electronics, and such products tend to be highly individualized. This means steep barriers to entry and stable margins. So when it lands a client like Jaguar Land Rover, it should be able to keep it for quite a few years.
Infotainment -- putting audio equipment and navigation systems into other companies' cars -- is likely to be the key here, with 27 billion yen of operating profit forecast for 2018 versus 6.6 billion yen from batteries. Forecast margins of 5.2 percent aren't spectacular, but compared to the 1.4 percent from batteries, they're not to be sniffed at.
It's often said that automotive companies, having outsourced so much to parts makers, will suffer as the rise of electric vehicles savages the one area where they've held on to their intellectual property -- internal combustion engines. If that's the case, it's good news for the likes of Panasonic.
The profits it will reap from this transformation may well be meager, but that's more or less in Panasonic's DNA: Net income margins have broken above 3 percent just once in the past quarter-century. What was it that someone once said about the meek inheriting the earth?
To contact the authors of this story:
David Fickling in Sydney at dfickling@bloomberg.net
Tim Culpan in Taipei at tculpan1@bloomberg.net
To contact the editor responsible for this story:
Katrina Nicholas at knicholas2@bloomberg.net
Before it's here, it's on the Bloomberg Terminal.
LEARN MORE