Performance Driving
Geely's Proton Therapy
There are integration opportunities, plus it could deliver the Chinese group an entree into Southeast Asia.
By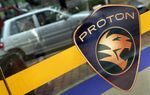 GEELY AUTOMOBILE HOLDINGS LT
+0.10
At Closing, April 19th
China's most acquisitive auto mogul is at it again.
Li Shufu, founder and controlling shareholder of Geely Automobile Holdings Ltd., is adding another distressed asset to the trophy cabinet he's assembled over the past decade. His holding company, Zhejiang Geely Holding Group, has agreed to buy half of Proton Holdings Bhd., Malaysia's former national champion carmaker, the Chinese company said in a statement Wednesday.
Li can add Proton -- propped up by Kuala Lumpur with a 1.5 billion ringgit ($349 million) loan last April -- to a collection of waifs and strays that includes Volvo Car AB and the London Taxi Corp., makers of that city's famed black cabs. The question for Proton's employees and current owner DRB-Hicom Bhd., which will hold on to the other half of the business, is whether the deal means a trip to the hospital, or the hospice.
There is actually reason for optimism. Volvo, which Li bought from Ford Motor Co. for $1.8 billion in 2010, has performed rather well since the deal. While Ford's operating margin has flailed around the low single digits, contributing to the company's decision to replace Chief Executive Officer Mark Fields this week, Volvo's has steadily risen. Its net income was about 1 percent of Ford's in 2011, the first full year of Li's ownership; in 2016, it came to about 19 percent of its former parent's.
Not every acquisition has gone so well. London Taxi continues to hemorrhage money, with 8.8 million pounds ($11.4 million) of losses since Li took the group under his wing in 2013. Even there, though, the underlying business is arguably performing better, with operating income of 1.5 million pounds in 2015 versus a 1.8-million-pound operating loss two years earlier. 1
Li's strategy in many way resembles that of Carlos Ghosn, who has likewise stitched together a global automotive group by picking up stakes in companies at distressed prices, assembling the sprawling alliance of Renault SA, Nissan Motor Co., and Mitsubishi Motors Corp. As with Renault-Nissan, Zhejiang Geely has been trying to reduce duplicated costs at its various brands by building its Volvo and Geely cars off a common platform, sharing production lines and collaborating on developing hybrid and battery electric vehicles.
That's probably a better strategy than the one followed by Ratan Tata. While Tata Motors Ltd.'s Jaguar Land Rover acquisition has proved an even greater success than Geely's investment in Volvo, there's been little opportunity for synergies between that high-end operation and Tata's low-cost domestic brand. As a result, the British business continued to supply the overwhelming majority of Tata Motors' group profits in annual results Tuesday.
Proton would provide a better opportunity for integration. In geographic terms, it would play a similar role to Mitsubishi's standing within the Renault-Nissan Alliance, delivering the broader group an entree into Southeast Asia. Its relatively affordable cars could also provide a nice bridge between the premium Volvo segment and Geely's own-brand vehicles, while Proton's Lotus marque provides a bit of diversification into sexier sports cars. The dealer network around Asia, Australia and the U.K., while modest, could help revive Geely's flagging export sales, too.
Whether that will be enough to knit together Li's disjointed network of automotive investments is another matter -- but the odds are certainly better for entrepreneurial outfits like Geely than they are for the giant state-owned enterprises that dominate China's domestic industry in volume terms.
As Gadfly has argued previously, most SOEs are still a long way from acting as anything more than parasites on their foreign joint-venture partners -- one reason that they've argued so vociferously against government plans to relax the restrictions around international ownership.
While Geely's state-owned rivals focus on taxing offshore automakers who want to sell cars in China, Li has a vision for the world. In China's parochial car industry, that's a refreshing change.
London Taxi counts some slightly odd costs as one-time items and excludes them from what it considers underlying earnings. In 2015, those included 1.1 million pounds for "legal fees in connection with litigation against a competitor" and 2.4 million pounds that was described as "operational readiness" in connection with the establishment of a new factory for zero-emission taxis. It's not clear why the latter figure isn't capitalized to the balance sheet.
To contact the author of this story:
David Fickling in Sydney at dfickling@bloomberg.net
To contact the editor responsible for this story:
Katrina Nicholas at knicholas2@bloomberg.net
Before it's here, it's on the Bloomberg Terminal.
LEARN MORE