Euro crisis
Spain's Return from the Periphery
And recent domestic political turmoil isn't going to stop that.
By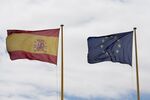 BANCA MONTE DEI PASCHI SIENA
-0.03
As of 10:18 AM EDT
If you want a sense of how the investors' attitude toward European political risk has shifted in a few weeks, look at Spain.
There, the surprise re-election of previously ousted socialist leader Pedro Sanchez threatens to roil Prime Minister Mariano Rajoy's minority government. But Spanish government bonds have widened only modestly on the news relative to their German and Italian counterparts. We've come a long way since the turbulence preceding France's presidential election.
There's good reason for that. It's unlikely Sanchez will have much impact, at least in the near-term. He still has to regain his seat in parliament. Even if Sanchez did, neither he nor his party are opponents of the European project, so he isn't an existential challenge to the EU like Marine Le Pen. Rajoy's program of labor market reforms and corporate tax cuts looks safe, and his Popular Party retains a healthy lead in the opinion polls.
Domestic political squabbles can't overshadow the fastest growing major European economy. With 3 percent growth (well above the EU's 1.7 percent average) there is a meaningful prospect of Spain reducing its near 100 percent debt-to-GDP ratio to less than 90 percent by 2020. The budget deficit is expected to drop to 3.3 percent this year from 4.5 percent in 2016, thus avoiding a big battle with the European Commission.
The country's bank's -- helped by the 50 billion-euro bad bank Sareb -- are on their way to being fixed, at least when you compare them to Italy, which are still hobbled with souring loans. Even the troubles of Banco Popular Espanol SA seem modest compared to Banca Monte dei Paschi di Siena SpA.
Even the real estate market, which had dealt such a heavy blow to Spain's lenders, is showing signs of a recovery. After prices fell 41 percent over seven years, 2016 saw the first year-on-year gains in prices. 
All this should push Spanish bonds further toward the soft core of Belgium, Ireland and France and away from the periphery, represented by Italy and Greece. Credit ratings companies are starting to reflect this divergence. S&P, which rates Spain as BBB+, has a positive outlook while Moody's has a negative outlook on Italy's Baa2 rating.
Spain should be far less affected than Italy by any decision by the European Central Bank to scale back its QE program. It has far less debt outstanding and has already raised more than half the money it needs to this year.
Spain should now be able to put further water between itself and Europe's weaker peripherals. It's not therefore surprising investors are prepared to overlook a local political squabble.
To contact the author of this story:
Marcus Ashworth in London at mashworth4@bloomberg.net
To contact the editor responsible for this story:
Edward Evans at eevans3@bloomberg.net
Before it's here, it's on the Bloomberg Terminal.
LEARN MORE