Peace Talks
Elliott and Arconic Are Now in It Together
Improving operations won't be easy even with a refreshed board and new CEO.
By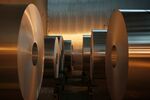 ARCONIC INC
-0.27
At Closing, April 20st
The bitter boardroom battle at Arconic Inc. is over and Elliott Management Corp. is walking away with a victory. Now comes the hard part.
The $12 billion metal parts maker on Monday said it had reached a settlement with the activist investor over its push for a new CEO and refreshed board to correct operational deficiencies. The agreement allows Arconic to avoid what was likely to be a defeat at a shareholder vote scheduled for later this week after influential proxy advisory firms largely sided with Elliott.
The public back and forth spanned less than four months, but the drama was wearing some investors out. Arconic appears to have realized its "we alone can fix it" message was ringing hollow and conceded that a strategy change is necessary. Elliott seems to have given up its arguably excessive push to also handpick a board-based operational oversight committee, but it clearly made up for that concession in other ways. After instituting such a substantial overhaul, Elliott has earned the right to shareholders' praise -- or their scorn -- for whatever happens next.
First, let's break down the settlement. Going into this week, this was the dynamic at play: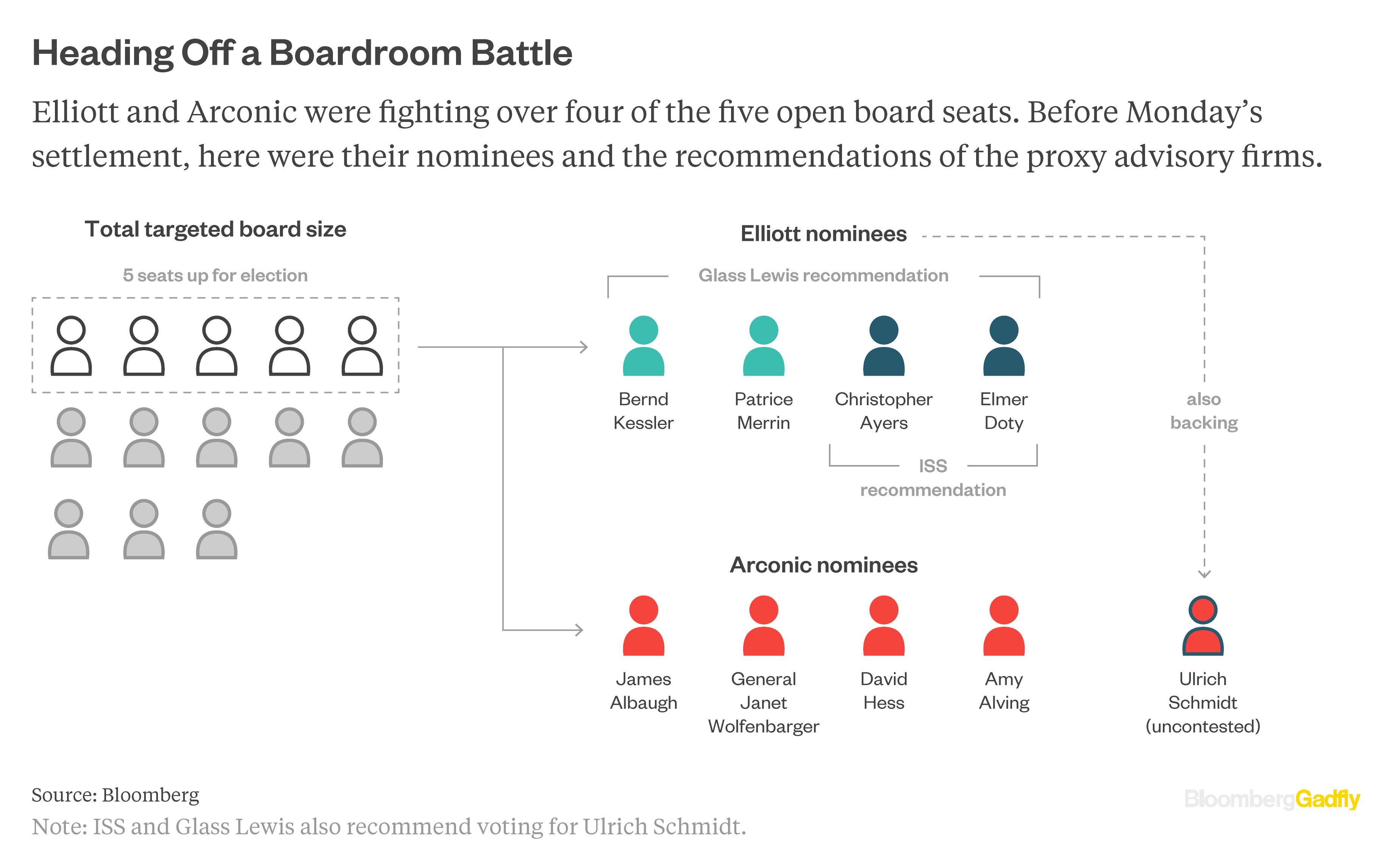 The new mutually agreed-upon board slate will consist of the Elliott nominees that got backing from proxy advisory firm ISS -- Christopher Ayers and Elmer Doty -- as well as Patrice Merrin. From the Arconic side, David Hess, a former United Technologies Corp. executive who joined the board only in March and became interim CEO following Klaus Kleinfeld's bizarre ouster the next month, will stay on. So will Ulrich Schmidt, the one management candidate that Elliott didn't contest, having successfully negotiated his directorship in 2016 ahead of the spinoff of the Alcoa Corp. mining and smelting operations.
That fills the five seats up for election this year. One of Elliott's new director candidates will be added to the committee searching for Kleinfeld's permanent replacement and the activist investor itself will get the opportunity to meet with prospective CEOs. It's unusual for one investor to have such direct involvement in the hiring process and it's worth wondering how other large holders might feel about that. But, that said, it seems to be working out OK thus far at CSX Corp. and Elliott already has some public investor support for its preferred candidate, former Spirit AeroSystems Holdings Inc. CEO Larry Lawson.
Arconic also said that board member L. Rafael Reif will resign, allowing one of its other nominees, Jim Albaugh, to take his place.
One of the ironic things about this boardroom battle is that despite all the twists and turns, each side was offering a shakeup. The ouster of Kleinfeld and earlier decisions by two other long-term Arconic directors to resign (citing other "business interests") cleared out a number of those who oversaw the capital allocation missteps, operational shortcomings and corporate governance misfires of the past. The replacement of Reif, who's been on the board since 2015 and didn't have as much relevant operational expertise, with former Boeing Co. executive Albaugh furthers Elliott's goal for a refresh even if he's not one of the activist's nominees. 
This has been an interesting fight in a number of ways, but part of what's made it unique has been the lack of low-hanging fruit for Elliott in the form of say, a dividend or breakup that could quickly add value. Instead, the activist has focused on digging into Arconic's operations and laying out a clear turnaround plan. The CEO is out, the board is refreshed and now the company needs to execute on improving margins, meeting earnings targets and cutting costs.  
It won't be easy. Several analysts have said Elliott's call to get margins at Arconic's engineered products unit more in line with rival Precision Castparts (owned by Warren Buffett's Berkshire Hathaway Inc.) is overly optimistic. Boeing and Airbus SE are pressuring suppliers like Arconic to cut their prices and customers like General Electric Co. and United Technologies are looking to eventually in-source a lot of their components manufacturing with 3D printing. Those same analysts have nevertheless generally agreed with Elliott that there's room for improvement at Arconic.
The ultimate effectiveness of Elliott's turnaround pitch will be closely watched, both by Arconic holders who rallied to its cause and to other activist investors contemplating similar campaigns. The clock is now ticking. 
-- Christopher Cannon and Elaine He contributed graphics to this story
To contact the author of this story:
Brooke Sutherland in New York at bsutherland7@bloomberg.net
To contact the editor responsible for this story:
Beth Williams at bewilliams@bloomberg.net
Before it's here, it's on the Bloomberg Terminal.
LEARN MORE