Another week, another target unveiled by activist investor Elliott Management Corp.
This time, it's Athenahealth, one of the fastest-growing companies in health-care technology. Run by Jonathan Bush -- the outspoken cousin of President George W. Bush and brother of Billy Bush -- the $5 billion software company is one of the most compelling yet frustrating players in the sector. 
Elliott on Thursday announced it had taken a 9.2 percent stake in Athenahealth, calling it undervalued and saying it wants the board to shake up operations and maybe explore a sale. The company's management quirks and recent poor performance may make it prime takeout bait. Its shares surged by as much as 22 percent on Thursday.
There's plenty to like about the company. Bush has built a company with an interesting vision -- bringing cloud-based software to the often technologically prehistoric health-care world. With some 88 million patient records and a network of roughly 100,000 medical providers, his company has built a commanding market position. 
But Bush's unconventional approach to management and public-speaking style – he once dismissed short sellers by saying, "I'm already rich, who cares" -- are less commendable. (Short sellers, including David Einhorn's Greenlight Capital, have long been skeptical of Athenahealth, placing it among the most-shorted large U.S. software-as-a-service companies.) 
Athenahealth's time as a public company has been marked by extreme volatility and frequent disappointment. Its shares fell nearly 20 percent after its first-quarter earnings report in April, when it missed revenue and EPS estimates and lowered its full-year guidance. Several times in recent years, management has set and then missed aggressive growth targets. Its shares have declined substantially after each of its past six earnings reports. Before Thursday's jump, the stock was down more than 18 percent over the past year and 48 percent since its 2014 peak. 
Though revenue has been growing, loose spending has hurt profit margins. Athenahealth has a "minister of fun" and what appears to be a somewhat party-intensive corporate culture. A Fortune article described its annual conference as "the Animal House of corporate gatherings." Not to begrudge anybody their fun, but this fits a pattern of wastefulness; the company bought a vacation resort in Maine for the conference and spent about $200 million on a corporate campus where it plans to build beer gardens.  
Athenahealth has also had to defend high-profile executive departures, including the surprise exit of its Chief Financial Officer about a year ago, on short notice after less than two years on the job. That exit required Bush to assure investors there was "no dragon in the closet."
All this suggests there's a lot of room for improvement at Athenahealth, making it an attractive target, especially at its current valuation -- a discount to other software companies that are growing at a similar pace: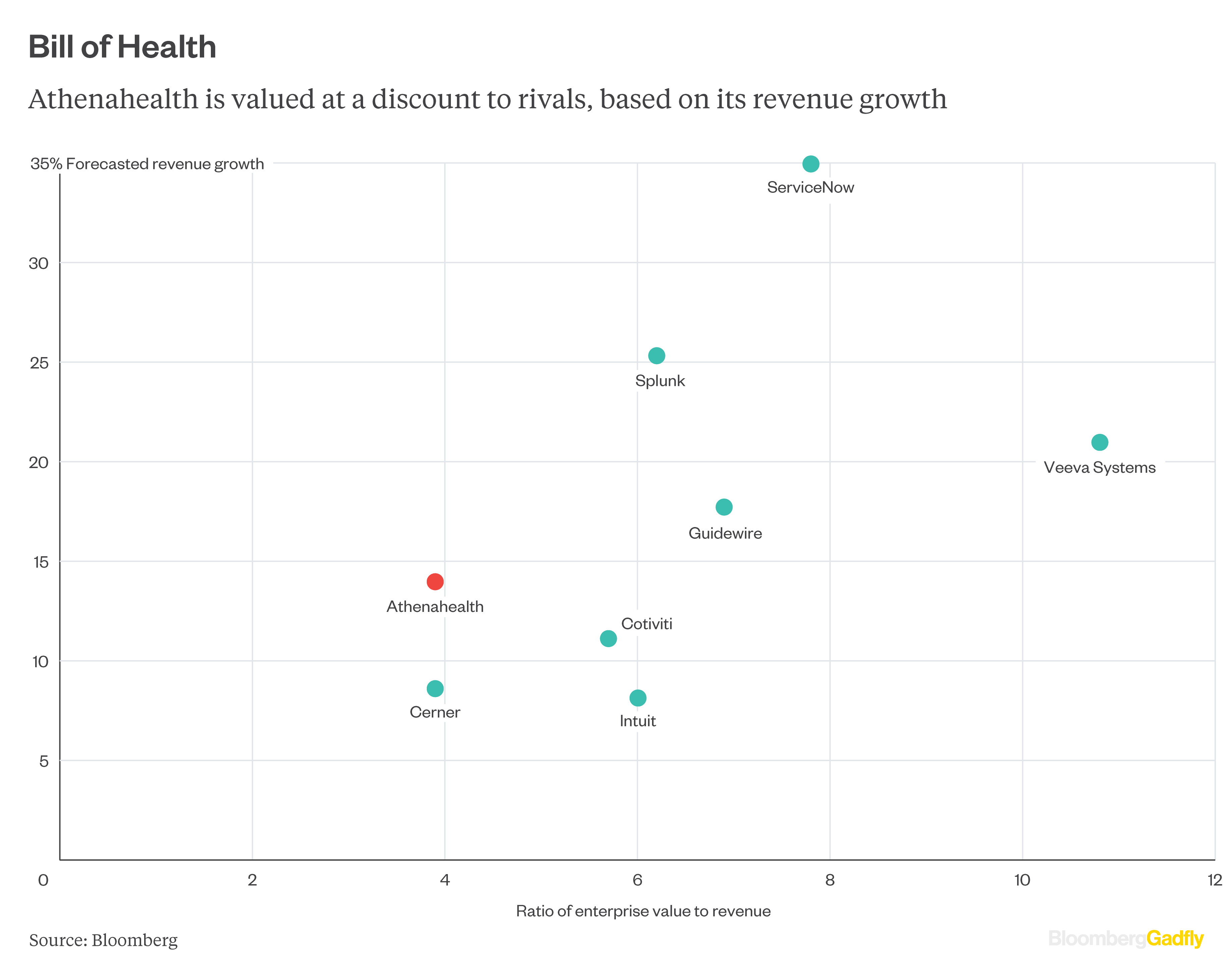 Athenahealth's possible suitors include rivals such as slower-growing Cerner Corp. or industry behemoth International Business Machines Corp., which has its own health care-focused suite of cloud-based products. Managed-care providers such as UnitedHealth Group Inc. and Aetna Inc. could snap it up, as could private equity firms. One possible combination could involve pairing Athenahealth with closely held rival Epic Systems Corp. 
The industry faces near-term headwinds -- for one thing, hospitals aren't especially keen to make new software investments when the whole health-care system may be dramatically reformed. But there is long-term growth potential, with opportunities to gain market share when providers upgrade their technology. 
Elliott has made a cottage industry of prodding underperforming software companies into action, including outright sales. If that's the game plan here, then Athenahealth shouldn't have too much trouble finding a buyer. 
-- With assistance from Chloe Whiteaker
This column does not necessarily reflect the opinion of Bloomberg LP and its owners.
To contact the authors of this story:
Max Nisen in New York at mnisen@bloomberg.net
Gillian Tan in New York at gtan129@bloomberg.net
To contact the editor responsible for this story:
Mark Gongloff at mgongloff1@bloomberg.net