Cross-Border Roadblock
CIBC's Close Call Is Cold Comfort for Canadian Banks
Until the financial situation stabilizes in Canada, further deals like the one for PrivateBancorp will be few and far between.
By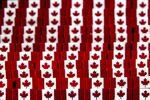 CAN IMPERIAL BK OF COMMERCE
-0.06
At Closing, April 20th
HOME CAPITAL GROUP INC
+0.38
At Closing, April 20th
Canadian Imperial Bank of Commerce's top executives can breathe now.
The Canadian lender's acquisition of PrivateBancorp Inc. -- first announced 11 months ago and sweetened not once, but twice in the past six weeks -- on Friday received approval from the Chicago bank's shareholders. It wasn't a sure thing, with at least one proxy adviser recommending that investors vote it down, in part because the value of the cash-and-stock offer was slipping. That happened as CIBC's shares were dragged lower for reasons including issues at Canadian mortgage lender Home Capital Group Inc., which sapped confidence in the country's banks and triggered debt downgrades.
By voting to go forward with the deal, PrivateBancorp shareholders are banking on the company's future as part of CIBC. And as I've written, CIBC's diversification away from Canada into the faster-growing U.S. market should help it thrive long term. But enjoy this happy ending while you can, because this type of cross-border bank deal isn't likely to happen again soon. 
Some of CIBC's peers already have a solid presence in the U.S., but bulking up any further  -- at least in the near term -- will likely be an uphill battle. Already, the knock-on effect on Canadian lenders since the Ontario Securities Commission accused Home Capital and its executives of misleading investors over fraudulent mortgage loan applications has led to depressed valuations and it's possible this could worsen. 
Canadian bank stocks still trade at a premium to most of their would-be U.S. targets, in part because of their higher profitability. But it's hard to see them using their shares as currency for a deal unless they rebound. And because of possibly sizable swings in stock prices, a mostly cash or all-cash deal would be better-received by a target company's shareholders (as the sweetened PrivateBancorp deal showed). 
The sliding value of the Canadian dollar --  the worst-performing currency among Group of 10 nations this year -- may also hinder dealmaking now.
I wrote earlier this week that U.S. regional banks are well aware that consolidation is needed. But until the situation stabilizes in Canada, it's likely to stop at the border. 
To contact the author of this story:
Gillian Tan in New York at gtan129@bloomberg.net
To contact the editor responsible for this story:
Beth Williams at bewilliams@bloomberg.net
Before it's here, it's on the Bloomberg Terminal.
LEARN MORE