Not So Wonderful Tonight
A Lesson From Eric Clapton for a Luckless Boss
Email gaffe has a serious side too.
By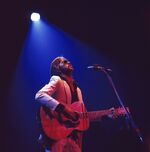 BARCLAYS PLC
-3.50
At Closing, May 24th
Jes Staley's embarrassing email exchange with a prankster could have been worse. No attachment was clicked on, no data leaked and no cash wired to Nigerian princes. (His fondness for Eric Clapton is a matter of taste.) But for a CEO already trying to draw a line under a misguided attempt to unmask a Barclays whistleblower, the unsophisticated nature of the hoax -- and his response -- doesn't look great in terms of judgement or leadership.
The hoax itself, reported by the FT's Alphaville blog, was the email equivalent of a prank phone call. Staley's trust was won by a Gmail address purporting to belong to Barclays chairman John McFarlane. The impersonation was so convincing that Staley responded not once but twice.
There's a basic lesson here for a bank CEO about being a tad more alert to what shows up in his inbox. While the incident didn't do any serious damage (except maybe to Staley's self-esteem), there are genuine risks from scam emails. Barclays considers itself a leader on cyber-security.
The content of Staley's messages is troubling too. And not just the cringe-worthy reference to the Clapton-esque "fearlessness" of McFarlane's guitar playing -- or the lauding of his chairman as a "unique man".
Staley was responding warmly to an email that mocked a "brusque" and "ill-informed" investor who'd sought to oust him at Wednesday's annual meeting, according to Alphaville. The Barclays CEO praised McFarlane for his support, highlighting his chairman's "sense of theater" and his "guile". 
You could dismiss this as banter between colleagues. But it does seem to rather lack the humility and contrition that was on public display at the shareholder meeting, where Staley apologized again for the whistle-blower affair that McFarlane attributed in part to his inexperience in a CEO role. It's unfortunate that this gaffe should follow so swiftly.
While most investors backed Staley at the meeting, Bloomberg News has reported that one large U.K. investor sold some of its stake because of the whistle-blower incident.
In fairness, the email hoax raises more questions about internal credibility than any new threat to his future or turnaround strategy. But employees are important. Some of Staley's industry peers reckon he's been given leeway that staff lower down the ladder wouldn't get.
We still don't know all the facts about his attempt to chase down an anonymous whistle-blower using company resources, or about a reported dispute with KKR that could cost the bank business, or even about this email hoax. But rank-and-file bankers and traders want to know the same rules apply at the top as to them.
Given Barclays is still in turnaround mode and needs up to 18 months to deliver an acceptable return to investors, this isn't a good time for Staley to be stumbling on questions of judgement and governance. Clapton's nickname is Slowhand. The Barclays boss might want to think about that when he's next hovering over the send button.
To contact the author of this story:
Lionel Laurent in London at llaurent2@bloomberg.net
To contact the editor responsible for this story:
James Boxell at jboxell@bloomberg.net
Before it's here, it's on the Bloomberg Terminal.
LEARN MORE