Thank goodness the fates of retail and the U.S. economy are not tied to the darkening future of department stores. 
Macy's Inc. shares tumbled Thursday after the department-store chain reported sales had fallen in the first quarter from a year earlier, the ninth such quarterly decline in a row. What's worse, the sales drop followed a 6.1 percent decline in the same quarter a year earlier. And instead of concrete plans for fixing Macy's problems, new CEO Jeff Gennette offered trite one-liners about growing e-commerce and "stabilizing" the brick-and-mortar business. 
Retail stocks broadly fell on Thursday -- including even Amazon.com Inc. -- as investors worried about what Macy's dismal performance meant for the industry.
A rash of bankruptcies and store closures, along with Amazon's relentless rise, have led to widespread fears about the death of traditional retail. The U.S. has lost more than 50,000 retail jobs in the past three months. And the industry is certainly struggling to keep up with rapid change, as consumers cut back on spending while shifting more of what they do spend online. 
But Macy's is not the retail proxy it once was, back when the only place shoppers could get a Coach bag or a Ralph Lauren jacket was at the downtown department store. At $25 billion in annual sales, a drop in the $5 trillion U.S. retail bucket, Macy's performance should not be a read on the broader industry. 
And for now, at least, U.S. retail sales overall are rising every year, according to Census Bureau data. The industry as a whole is growing. 
That's not the case for department stores and some specialty stores, where the beginning of the end officially started a few years ago and the finish line is still a long slog away. 
According to Census data, sales at department stores, specialty clothing shops, electronics and appliances stores, and office-supply retailers are actually shrinking. Fewer people are going into these stores, and their sales have been falling for years. For this particular group, this is akin to a recession. 
Just as Wal-Mart Stores Inc. crushed mom-and-pop stores with the supercenter, Amazon's online supercenter is sucking the life from department and specialty stores. At the same time, off-price giants such as TJ Maxx parent TJX Cos. and beauty superstar Ulta Beauty Inc. are also taking market share from Macy's and its ilk.
But the retail industry does go on, even if its biggest players change.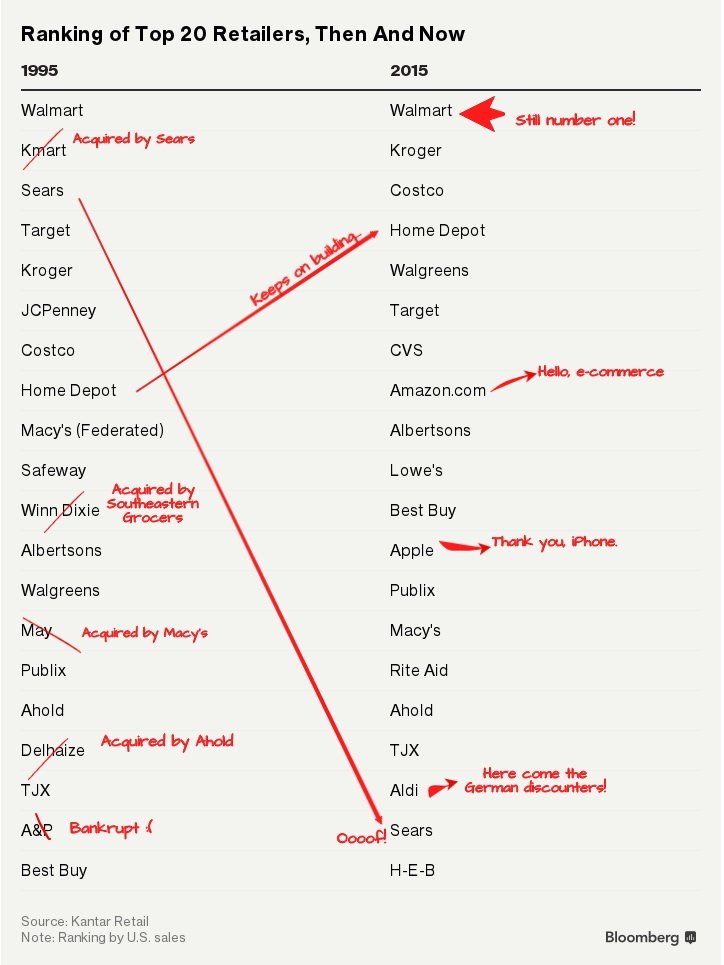 And it's worth noting, for the growing number of investors shorting retail stocks, that it can take a very long time to kill a retailer.
Take Sears Holding Corp., clearly in decline but still bringing in $22 billion a year in sales -- nearly as much as Macy's. CEO Eddie Lampert, in a rare phone interview with the Chicago Tribune this week, mocked critics who predicted the chain's demise decades ago.
There are too many people -- including vendors, suppliers and mall owners -- invested in keeping big department stores afloat for all of them to die very quickly. And bond markets and private equity investors keep happily extending lifelines to Sears and other chains. 
Eventually the lights will go out for many of these department stores. But that day of reckoning isn't here yet.
This column does not necessarily reflect the opinion of Bloomberg LP and its owners.
To contact the author of this story:
Shelly Banjo in New York at sbanjo@bloomberg.net
To contact the editor responsible for this story:
Mark Gongloff at mgongloff1@bloomberg.net