Shiny, Unhappy People
Madison Avenue Takes a Darker Turn
Unilever shows the screws are tightening on the ad giants.
By and
UNILEVER PLC
+45.00
As of 6:53 AM EDT
WPP PLC
+15.00
As of 6:53 AM EDT
Ads for consumer goods are often populated by happy-looking people blessed with blue skies and permanent sunshine. For the folk on Madison Avenue, they've started to take a darker turn.
The world's second-biggest advertiser, Unilever Plc, is on a push to improve profitability to placate shareholders after it rebuffed a takeover by Kraft Heinz Foods Co. It wants to cut the 7.7 billion euros ($8.2 billion) it spent last year to promote its brands, including Lipton, Knorr, and Dove, and halve the number of agencies it uses for creative work.
That's obviously going to hurt Unilever's ad land suppliers, chief among them WPP Plc. Martin Sorrell's company got about 3 percent of its revenue last year doing creative work for the Anglo-Dutch consumer giant, as well as placing its ads across TV, radio and online.
Plus there's a strong chance that the contagion will spread to other packaged foods and consumer goods makers. They're all struggling with weak growth, and are having to compensate by slashing costs to fatten margins. 
"Unilever has dropped a big stone into the water," says Deborah Aitken of Bloomberg Intelligence. It generated 57 percent of its sales from emerging markets in 2016, and is a major competitor in food, home products and personal care, so the ripples will spread far and wide.

Unilever wants to cut brand and marketing and overhead expenses by 2 billion euros in a two-year, 6 billion euro cost-cutting program. Creative will bear the brunt. All those jingles, taglines, and online video ads are more expensive to produce than the old 30-second TV spots of decades past. Thankfully for Sorrell, Unilever renewed its media-buying contract -- higher-margin work than creative -- in late 2015. WPP kept the business.
That said, Unilever will demand more from its agencies both on price and quality of the creative work this time. It wants 30 percent fewer ads and for campaigns to run longer. The pressure is on WPP's Ogilvy and JWT units to keep their roles as Unilever's lead creative agency, while Interpublic's McCann Lowe, Omnicom Group Inc.'s DDB and Publicis Groupe SA's Bartle Bogle Hegarty will try to muscle in.
With both WPP and Unilever promising fatter margins this year, something has to give.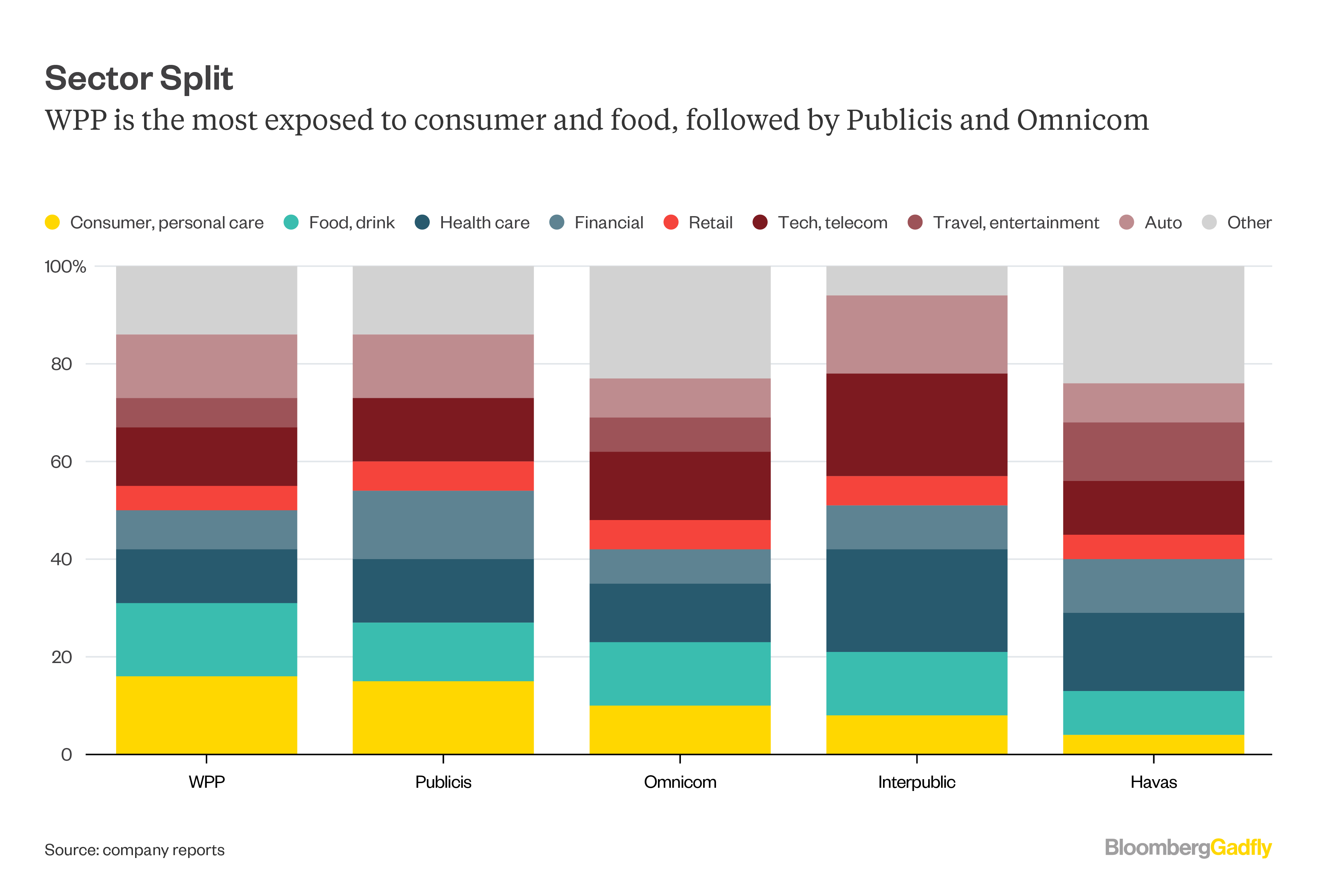 The chill in consumer goods comes as Madison Avenue is in somewhat of a funk. Global ad sales will grow at just 3.6 percent this year, down from 4 percent in 2016, according to Bloomberg Intelligence. The demands from clients to do more with less date back to the 2008 financial crisis. But Unilever is taking things to a new level.
Add on the rise of online giants Google and Facebook Inc. and the pressure on veteran ad men like Sorrell and Publicis's Maurice Levy has never been greater. Shares in those firms have fallen this year by 4.5 percent and 1.6 percent respectively, worse than the U.S. And U.K. indices.
Importantly, the honeymoon period of big brands loving all things digital is over. They want proof that all the dollars they've shifted from old media to the web are actually working. Procter & Gamble Co., the only company to spend more than Unilever on advertising, is on a crusade against "crappy ads" and has the agencies and web companies in its sights. 
There's one shred of comfort in ad land. The Unilevers and P&Gs of the world can't risk brand damage by scrimping too much on campaigns. Margins are important but sales are too. If the agencies can see this as a moment to genuinely lift their game -- especially online -- they might restore some of that old sparkle.
To contact the authors of this story:
Leila Abboud in Paris at labboud@bloomberg.net
Andrea Felsted in London at afelsted@bloomberg.net
To contact the editor responsible for this story:
James Boxell at jboxell@bloomberg.net
Before it's here, it's on the Bloomberg Terminal.
LEARN MORE