On Your Bike
China Has Smarter Places to Park Money
The rise of Uber means fewer people are driving to work, while automated vehicles might make many lots redundant.
By
If there's one message to take away from Asian buyers' heated interest in French parking lot operator Indigo, it's that investors remain hungry for yield and assets are scarce. But those steering away from their traditional targets in the hope of infrastructure-like returns from car spaces should be wary.
With fewer car parks being built in city centers, parking-lot owners have become a hot commodity. Both Indigo and Q-Park NV, an operator that's being sold by Dutch insurance companies and pension funds, have thousands of assets dotted around Europe, and Indigo is also present in North and South America, and the Middle East. Ardian SAS and Predica, part of Credit Agricole SA, are aiming to net about 4 billion euros ($4.3 billion) for Indigo, valuing it at 13 to 14 times earnings. Q-Park could go for more than 2.4 billion euros.
Those aren't small numbers, which speaks to the dearth of big, reasonably yielding assets with low upkeep costs. Chinese firms appear particularly keen, with Li Ka-shing's Cheung Kong Infrastructure Holdings Ltd., China Oceanwide Holdings Group Co. and Fosun International Ltd. all expressing interest in Indigo, according to people familiar with the matter.
One upside of investing in parking lots is that, with city populations expanding and urban work forces rising, demand often outstrips supply. Operators can put up prices. Yields also tend to be somewhat recession-proof. Infra Park SAS, the holding company for Indigo, posted an 8.2 percent increase in revenue last year to 860.1 million euros, with all regions outside of France growing. Group Ebitda came in at 305.4 million euro in 2016, a jump of 8.7 percent: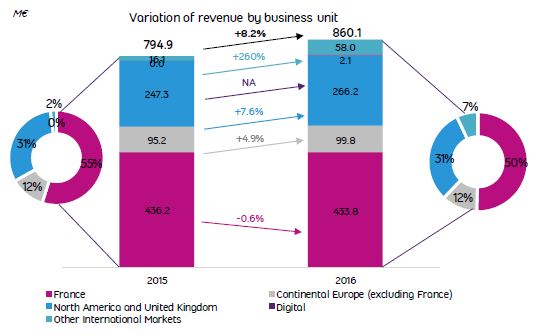 But a parking lot isn't the same as a utility that can count on many decades of electricity demand, generating steady income flows akin to what investors in some of Li's companies expect. Apps such as Uber mean fewer people are driving to work, and the advent of new technologies is challenging the parking industry also. In every city, there are hundreds of unused spaces in private or council car parks, and even homes, that aren't generating any revenue, and could. An Airbnb Inc.-type business model has the capacity to seriously disrupt the status quo. Self-driving cars would probably make parking in town for the day redundant also.
And if much of an investment's power is liquidity, then car parks don't fare well, changing hands a lot less frequently than commercial buildings, for instance. Governments can also be a major killjoy. Unlike power distributors, which get multi-year contracts from regulators that help to guarantee returns, car parks' popularity can turn on a dime. Levies imposed by regional or city authorities wary of traffic will only increase in the Western markets where Indigo and Q-Park play, while town planners can make a business district unattractive with the stroke of a pen.
With scant opportunities on the horizon, Asian investors' interest in car parks is understandable, but ill-advised.
To contact the author of this story:
Nisha Gopalan in Hong Kong at ngopalan3@bloomberg.net
To contact the editor responsible for this story:
Katrina Nicholas at knicholas2@bloomberg.net
Before it's here, it's on the Bloomberg Terminal.
LEARN MORE