Disappearing Act
Jamie Dimon Forgot to Mention Mergers Are Part of the Problem
Pesky regulators, lawyers and shareholders aren't the only ones to blame for public companies' disappearing act.
By
JPMORGAN CHASE & CO
-0.52
At Closing, April 24th
For someone who didn't want the Treasury Secretary job, Jamie Dimon sure loves playing the regulation top cop from his pulpit at JPMorgan Chase & Co. He hit at the friction between Washington and Wall Street in his annual letter to the bank's shareholders on Tuesday that in parts had an atypically somber tone about the country and markets. But in a section lamenting the shrinking number of publicly traded companies, Dimon notably left out his own big contribution to the phenomenon: mergers and acquisitions. 
The chart below "should be a cause for concern," Dimon wrote. "It notes that the number of public companies in the United States has declined 45 percent since 1996."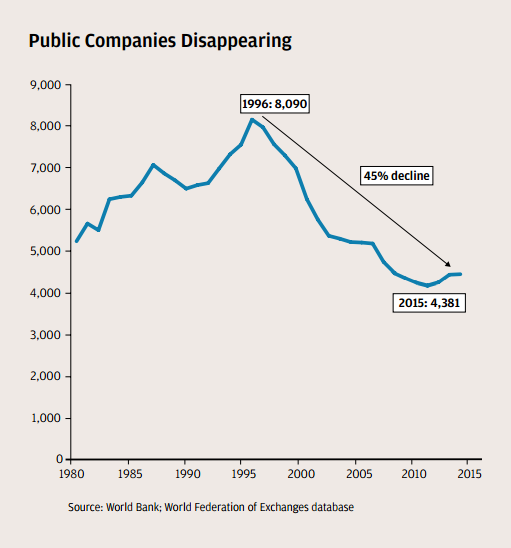 And Dimon's takeaway?
America's public markets have been a key to America's success, and I suspect that years from now, we may regret the damage we have done to them.
It was shame on the pesky securities regulators, the overeager lawyers, the immediate-gratification-seeking shareholders and of course, the antagonistic journalists ... but no mention of the unprecedented mass global consolidation that was urged on by bankers such as JPMorgan's own.
In the last decade, 10,000 public companies globally have been taken over by peers or private equity, with nearly 30 percent of those transactions occurring during the deal boom of the past three years as big corporations became increasingly desperate for growth.
In the top ranks of the league tables during that time? JPMorgan -- and Goldman Sachs Group Inc., Morgan Stanley, Bank of America Corp., etc. Last year alone, JPMorgan generated $3.3 billion just from advisory and equity-underwriting fees. 
Back in 2015, the National Bureau of Economic Research published a report revealing how the conventional wisdom behind the drop in stock-market listings -- that it was too costly and onerous to be a public company following the Sarbanes-Oxley Act of 2002 -- didn't capture the whole picture. My Bloomberg View colleague Barry Ritholtz wrote about it here, explaining that mergers and acquisitions were a far larger source of the U.S. delistings -- 45 percent from 1997 to 2012, to be exact. 
Meanwhile, initial public offerings have dropped off substantially, with just 80 priced in the U.S. in the past 12 months, versus well over 100 in both 2013 and 2014. 1 That is due to a combination of the reasons Dimon listed in his letter, including the risk of attracting short-term-oriented shareholders, who may agitate for changes that are fruitful at first but potentially harmful in the long run.
But again, each time a company targeted by activist investors follows through with some sort of proposed deal scenario -- whether a breakup, spinoff, divestiture, takeover, what have you -- some banker out there is pocketing fat fees. M&A guru Warren Buffett went long-winded on the topic of banker-fee-driven dealmaking in his letter to shareholders in March 2015. He chided the "banking fraternity" for yo-yo-ing between encouraging acquisitions/then breakups/then acquisitions, all the while saying it's for the sake of unlocking shareholder value. 
The point of this column isn't to wag a finger at banks (in fact, I wrote recently about the brightening outlook for the industry). But JPMorgan has been among the direct beneficiaries of the wave of M&A and shareholder activism, which are very real causes of the declining number of public companies that has Dimon so concerned. He can't be a voice of reason without addressing his own conflict. 
To contact the author of this story:
Tara Lachapelle in New York at tlachapelle@bloomberg.net
To contact the editor responsible for this story:
Beth Williams at bewilliams@bloomberg.net
Before it's here, it's on the Bloomberg Terminal.
LEARN MORE