Bailing Out
Buyout Firms Head for the Exit
The best days for firms to sell shares in Europe may already have passed.
By
Buyout firms have wasted no time taking advantage of this year's buoyant market conditions to sell shares in their European investments.
January and February saw 23 exits by buyout and venture capital firms in the region, breaking the record set in 2015 -- although, at $3.2 billion, the total value of stock sold was a little lower.
With elections looming in France and the Netherlands, political uncertainty is driving the rush for the door. But regional oddities were also at work: a spike of sell-downs in Sweden followed a mini-boom in initial public offerings in country over the last two years. Shareholders had a window to sell between the companies reporting results and mid-term school holidays.
There are signs that investors may have had their fill, and now they're getting pickier.
February was a month of two halves. Of the 16 exits by private equity firms, the early ones attracted strong demand -- six sellers were able to sell their holdings for less than 3.8 percent below the prevailing market price. Bain Capital LP and Advent International were able to sell shares in Worldpay Group Plc and DFS Furniture Plc at a discount of less than 2 percent.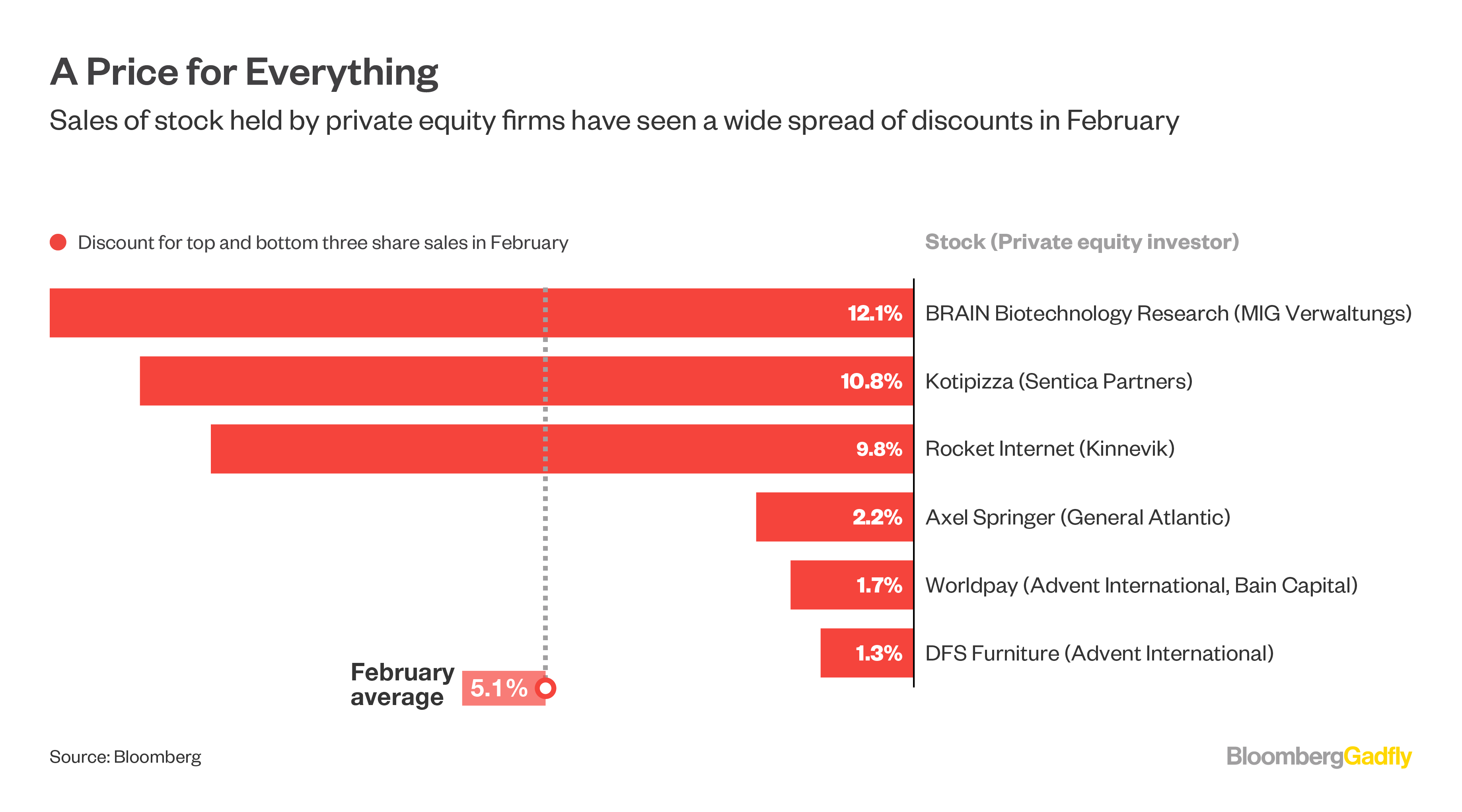 But the second half was tougher: six deals required discounts of 4.7 percent or more. When Kinnevik AB sold shares in Rocket Internet SE, it did so at a 10 percent discount -- despite Rocket being a relatively well-known stock.
One explanation for the shift of sentiment may be that the transactions at the start of the month didn't perform well. Worldpay remains below the price at which the private equity firms cut their stake, likewise shares of German publisher Axel Springer SE spent much of the month below their placing price.
It looks like sellers are now having to offer stock at a steeper discount to find buyers. Bayer AG's sale of 1.5 billion euros ($1.6 billion) of shares in Covestro AG this week was long expected. But the deal required a 6.4 percent discount to get done -- surprisingly large given the maker of plastic coatings has been a good performer.
The best days for firms to cut their shareholdings may already have passed.
--Gadfly's Elaine He contributed graphics.
To contact the author of this story:
Chris Hughes in London at chughes89@bloomberg.net
To contact the editor responsible for this story:
Edward Evans at eevans3@bloomberg.net
Before it's here, it's on the Bloomberg Terminal.
LEARN MORE