The technology industry's Super Bowl bubble is inflating again.
During Sunday's football extravaganza, 15 tech companies aired national commercials, according to a Gadfly analysis of Kantar Media data on the TV advertisements. That was more than the 13 tech company commercials in last year's Super Bowl. 
According to the Gadfly analysis, tech companies including Google, a trio of video game companies and Airbnb represented the largest category of Super Bowl advertisers, measured by the number of unique companies that ran at least one ad during the game, halftime or overtime. (Gadfly's industry categories were broader than Kantar's. According to the firm's analysis, auto manufacturers were the top advertiser in the game with seven parent companies purchasing at least one spot.)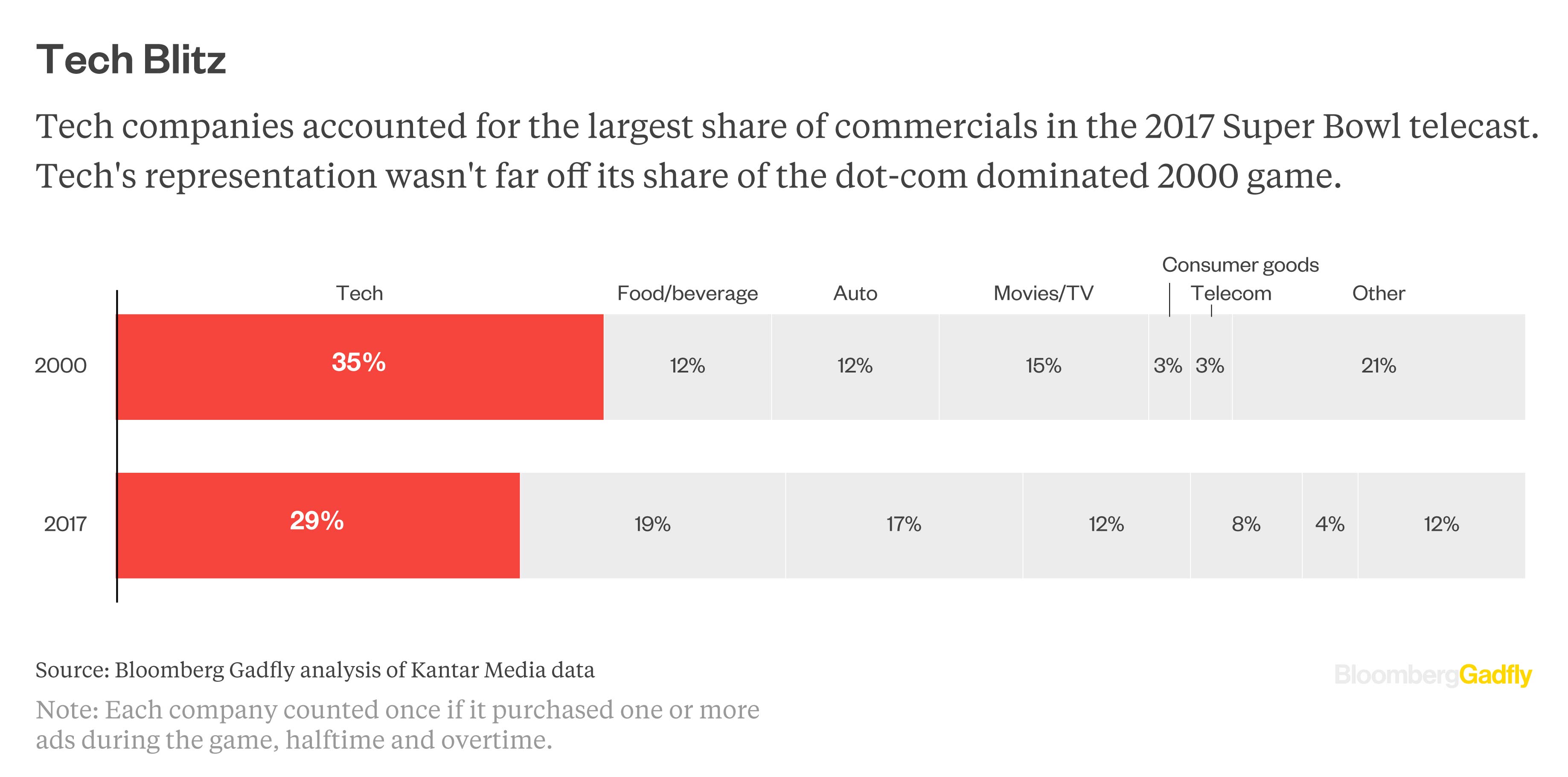 Importantly, this year's game topped the number of tech company advertisers in the Super Bowl after the 1999 season. That year's telecast featured commercials from a now notorious lineup of dot-com era startups, including Pets.com. Within months of the big game, the company had run out of money and closed its doors. This year's Super Bowl had far more ad spots than the 2000 game, which means the 2017 Super Bowl wasn't a record if measured by the tech industry's share of total commercial spots.
Still, it's clear from the number of tech companies splurging up to $5 million each for 30-second TV commercials that the industry has more than gotten over its onetime distaste for mass market advertising to promote its products. In the old days, only sick or uncool companies needed to market themselves with TV commercials. (Even that iconic 1984 Apple Super Bowl ad came when the company wasn't in the best of health.)
Many of the tech advertisers in this year's Super Bowl didn't or couldn't have have existed in 2000. Three of this year's advertisers were makers of video games: Machine Zone Inc.'s Mobile Strike, Top Games and Wargaming. Two of the three make intense smartphone games that would have melted a circa 1999 Nokia candy bar phone. Brian Chesky, the CEO and co-founder of 2017 Super Bowl advertiser Airbnb Inc., was 18 years old when Pets.com was spending nearly its last dime on its 2000 Super Bowl ad. 
Another theme for this year's class of tech Super Bowl commercials was competing products. Apart from the three video games, there were Super Bowl commercials from three companies -- Wix, Squarespace and GoDaddy -- that sell website addresses and help people and companies create their own websites. And there were commercials from voice-activated home speakers from both Alphabet Inc.'s Google and Amazon.com Inc. If you're one of the rare birds with both an Amazon Echo and a Google Home speaker, congratulations. You won the tech Super Bowl of the Super Bowl.  
This column does not necessarily reflect the opinion of Bloomberg LP and its owners.
To contact the authors of this story:
Shira Ovide in New York at sovide@bloomberg.net
Rani Molla in New York at rmolla2@bloomberg.net
To contact the editor responsible for this story:
Daniel Niemi at dniemi1@bloomberg.net