The 1970s sci-fi movie "Rollerball" imagined a distant future -- 2018, to be precise -- in which athletes compete in a brutal team game that ends in many of their deaths. Turns out the dystopia came early, electronically at least.
There's a global and growing audience for live competitive video games, or eSports, where players inflict virtual carnage on each other in titles such as Call of Duty or do battle in digital versions of conventional sports like football.
As eSports bars replace sports pubs, soccer players trade in cleats for control pads and live streaming audiences match the Super Bowl's, it's tempting to think the future belongs to eSports royalty Scump and Nadeshot rather than Ronaldo or Beckham.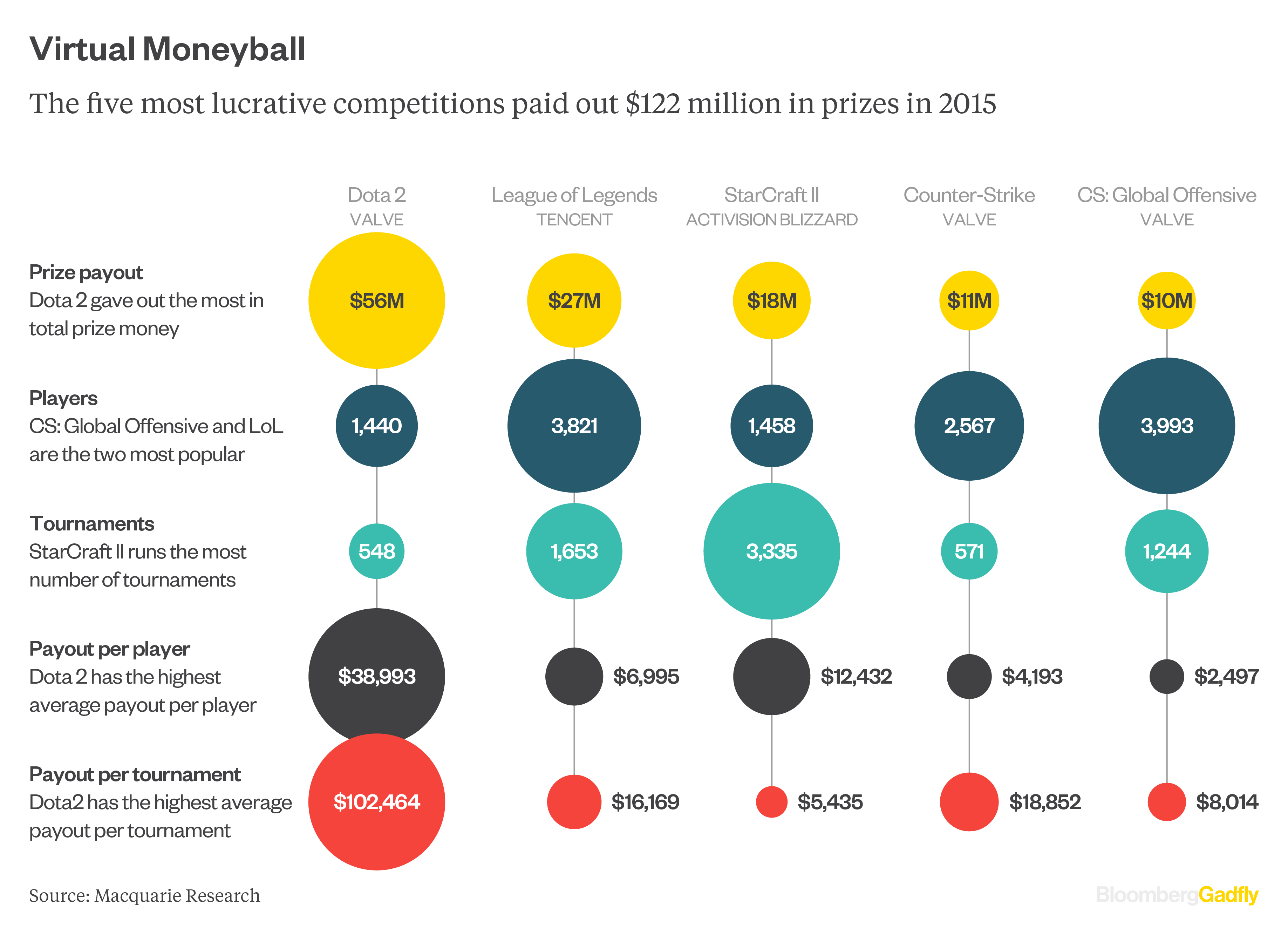 With young viewers turned off by traditional sports, companies want to replace old revenue streams with an electronic replica. ESPN is broadcasting tournaments, PepsiCo Inc. is sponsoring professional players and deals are being struck with Major League Baseball and Chinese tech giant Tencent Holdings Ltd. With an estimated online audience of 225 million, and tens of thousands turning up to tournaments, eSports hardly seems to need an "e".
But turning all of this into profit is tricky. There will be injuries.
Despite those hefty viewing figures, direct revenue from eSports is still small: less than $300 million yearly, though indirect sales are bigger. That compares with a console and PC games market worth $50 billion. ESports are growing at a rapid clip -- Bloomberg Intelligence estimates annual growth of about 30 percent -- but it's a speck in a world where the English Premier League raked in $4 billion last year. Even if the industry grew by an optimistic 50 percent a year for the next 10 years it would still be niche, according to Deloitte's Duncan Stewart.
Plus the fan base is concentrated around 18-to-34-year-old men -- about 75 percent of it by some estimates. Big advertisers such as banks and carmakers are keen to reach TV-shunning millennials. But if eSports can't find a broader audience, including more women, its usefulness for selling people stuff will be limited.
Companies such as Tencent, Activision Blizzard Inc., Sony Corp. and Electronic Arts Inc. have the best chance of exploiting eSports. Tournaments and live streams are a way to extend the lifespan of games, which are expensive to produce. That said, their eSports investments haven't yet turned into more profit.
Tencent has the most promising model. Its purchase of games studio Riot, maker of League of Legends, gives it control of events, licensing and marketing and puts star players on the payroll. In a fragmented industry, it's probably an advantage to integrate ownership.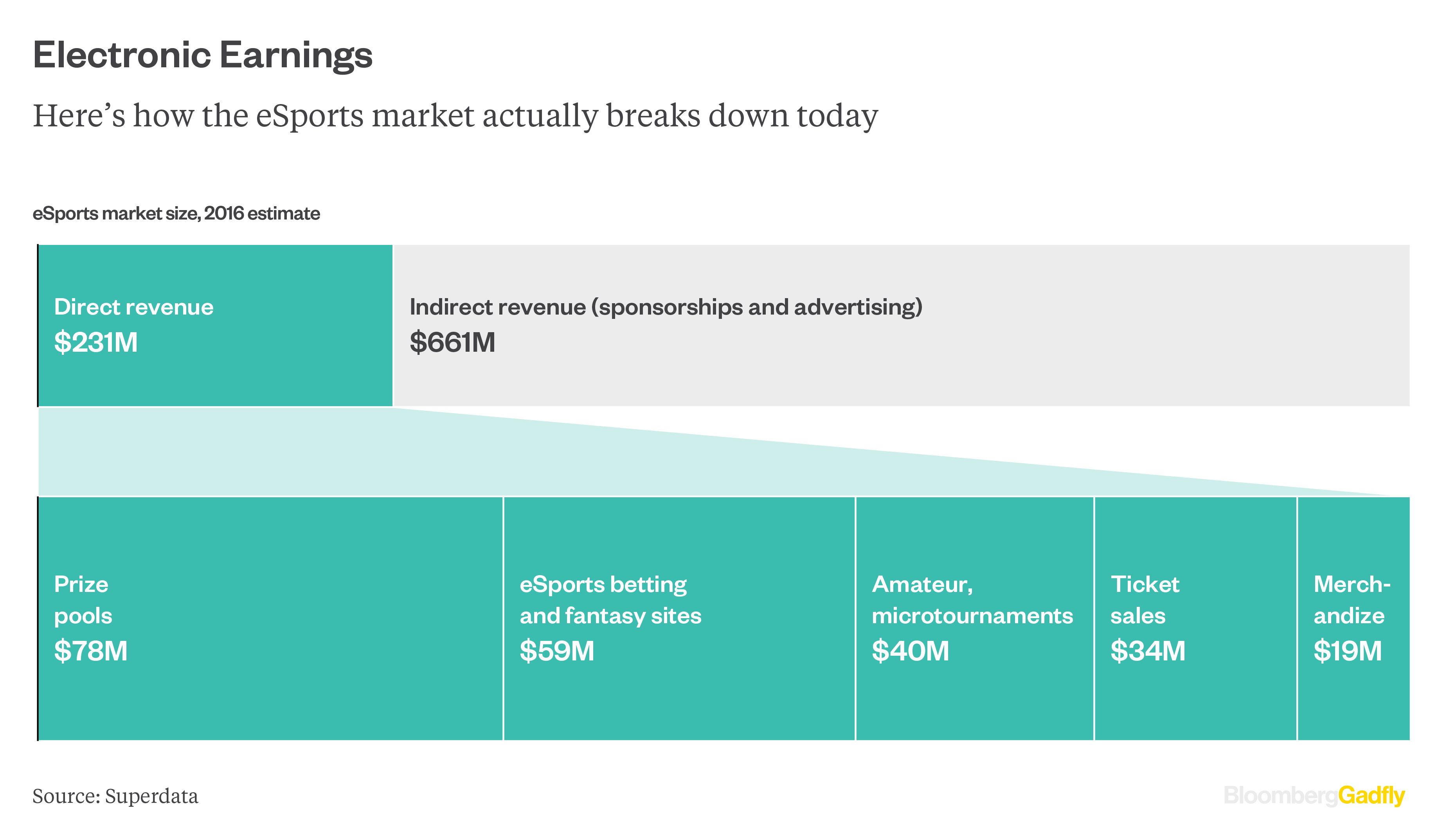 For media companies such as Time Warner Inc. and Sky Plc, also trying to make money from this content, things will be tougher. ESports is very different from the TV baseball and football games watched by 50-somethings. It is interactive: star players chat with viewers as games are broadcast on Amazon's Twitch streaming service, and British company Gfinity has launched a "bedroom to podium" event that will draft regular gamers to compete with the pros.
Given the vibe, media companies and advertisers will have to be cunning to avoid alienating the eSports fanboys. Interrupting them with 30-second ad spots won't cut it. The TV and ad guys are desperate to replace lost sports viewers. But this really isn't their arena.
Elaine He contributed graphics.
This column does not necessarily reflect the opinion of Bloomberg LP and its owners.
(Corrects details in first chart.)
To contact the authors of this story:
Lionel Laurent in London at llaurent2@bloomberg.net
Leila Abboud in Paris at labboud@bloomberg.net
To contact the editor responsible for this story:
James Boxell at jboxell@bloomberg.net