Fuel Mirage
U.S. Senators Should Learn to Love OPEC
It's much easier to make mistakes in a $100 oil world than in a $50 one.
By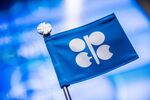 OPEC's oil-market management and in particular its repeated attempts to raise prices have done more than any other single factor to boost U.S. oil production and set America on the road to some sort of energy independence, whatever that might be.
Far from vilifying OPEC, U.S. senators should be erecting statues to the 13 men who are helping to "make America great again."
In a written question for the record, Senator Ed Markey asked secretary of state nominee Rex Tillerson whether he agreed "that the United States should unequivocally reject any efforts by OPEC to collaborate to manipulate oil markets and take all measures within our power to reduce OPEC's ability to artificially limit production or increase prices."

Tillerson's response: 
Yes. While it is very important for the United States to engage with other oil producing nations, I do not believe that we should collaborate with OPEC to manipulate oil markets.
He said nothing about taking measures against OPEC.
Some may see that as a reflection of Tillerson's long oil industry career, but I think it runs deeper.
The U.S. shale industry wouldn't have taken off as it did, creating all those jobs along the way, if OPEC hadn't cut oil supplies after the 2008 price crash and then managed things to keep costs above $100 a barrel. Entrepreneurship, ingenuity and mineral rights all played their part in the shale boom, but the take-up of technology wouldn't have been anywhere near as fast or extensive if somebody else hadn't given up their own market share. Besides, it's much easier to make mistakes and learn what works and what doesn't in a $100 oil world than in a $50 one.
If you're not convinced, then take a look at what happened when OPEC stopped manipulating oil markets.
In June 2014, the group decided to roll over its official output target of 30 million barrels a day for another six months. Before it next met in November, actual production had risen by about 1 million barrels and oil had dropped by 30 percent, pushing WTI down to $73.69. And that was before Saudi Arabia persuaded other members to abandon restraint. Once the restrictions were lifted and volumes rose further, prices collapsed, sending WTI to a 13-year low of $26.21 a barrel.
Was that in America's interest? Well it certainly cut gasoline prices, which was a bonus for drivers, and it put money back in consumers' pockets. But it had a delayed negative effect on U.S. GDP growth, which fell from around 3 percent as oil prices started to weaken to close to 1.5 percent amid $50 oil. Oh, and it decimated the U.S. oil patch, with a loss of about 14 percent of the workforce.
Now, if like Ed Markey, you're an "environmental hero", that might seem like a good thing. But I'm not so sure.
Yes, high prices increase the rewards for exploitation of the black stuff and make it profitable to produce oil that might otherwise stay in the ground. But they also make it much easier for frontier renewable-energy technologies to break in. Just as $100 oil supported the birth of U.S. shale oil, it's done the same for wind and solar power, too. That's one of the reasons there was so little outcry from European governments over rising oil prices in the early 2000s -- they made it much easier to pursue green-energy policies.
The short-term benefits to oil of high prices, underwritten by OPEC output cuts, may ultimately serve to hasten its demise.
Tillerson's response should warm the hearts of oil fans and detractors alike. No, the U.S. won't join OPEC's market management. It's quite happy to let others bear the burden of supporting prices. But it won't condemn the practice either. OPEC's market machinations will boost the U.S. oil sector in the immediate future, but hasten crude's demise as the world's primary fuel source longer term.
To contact the author of this story:
Julian Lee in London at jlee1627@bloomberg.net
To contact the editor responsible for this story:
Katrina Nicholas at knicholas2@bloomberg.net
Before it's here, it's on the Bloomberg Terminal.
LEARN MORE