Tesco Plc's move to acquire cash-and-carry wholesaler Booker Group Plc is a bid by Britain's biggest grocer to tackle a serious problem that faces all of the nation's big supermarkets. It's also a cunning succession plan. 
The deal makes strategic sense. Tesco can transform some of the excess space in its big hypermarkets into Booker distribution centers.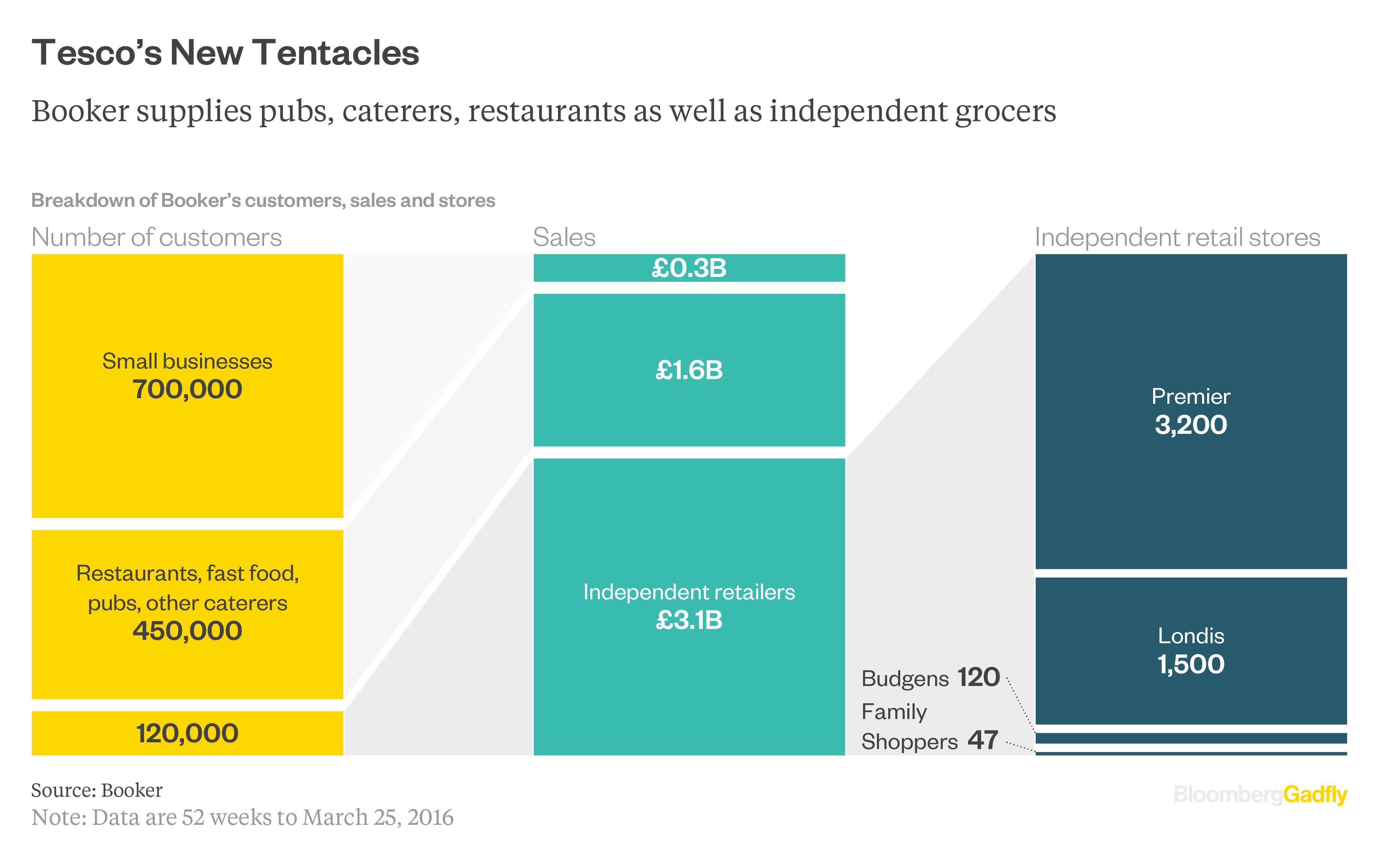 It's not the first supermarket to try to reinvent itself through a left-field bid. J Sainsbury Plc gobbled up home goods retailer Argos last year in a deal that was all about filling spare capacity in its stores with Argos concessions. There's not much logic in Sainsbury bulking up in toys and electronics, where Amazon dominates. Tesco's plan is more coherent -- Amazon still hasn't really cracked food delivery. In fact, it has probably missed a trick in not buying Booker itself.
Tesco also gains access to the fast-growing restaurant and takeaway market, given that one of the key planks of Booker's strategy has been to build its presence in the catering sector.
And it's helpful that Tesco gets its hands on Booker's cash generation, which will come in handy as Tesco resumes paying a dividend in the year to February 2018.
There's another big bonus. Tesco bags Charles Wilson, the chief executive who has transformed Booker from a heavily indebted business to the unsung hero of British food retail.
While the big four supermarkets have floundered, Booker has quietly prospered. As Gadfly has noted, the company has outperformed Apple Inc. in its total return to shareholders over the past five years.
Wilson will join Tesco's board and executive committee in a prominent position. He's been mooted as a possible leader of Tesco before, but was always committed to Booker, and to his 6 percent shareholding. Incidentally, that's now worth about 240 million pounds ($300.6 million) under the terms of the Tesco deal.
Wilson must now be the favorite to succeed current chief executive Dave Lewis when he decides the time is right for his next big job.
It might look like an expensive way of succession planning. But whichever way you look at it, Tesco gets the better deal here.
As of mid-morning on Friday, the combined value of the two businesses was up by 1.9 billion pounds. But Tesco was the real winner -- its market capitalization is up by 1.4 billion pounds. It's hard to see the financial benefits of the deal being worth that much, based on Tesco's initial projected cost savings. 
True, Booker shareholders get a 12 percent premium -- worth about 400 million pounds. But that's not much compensation for being absorbed by Tesco, whose investors will reap most of the future benefits of the deal. Booker's will have about 16 percent of the combined group. They also become burdened by a lot of the problems that Lewis has been grappling with.
Tesco's recovery from a long slump in sales is embryonic, and it continues to face competition from the German no-frills supermarkets, which are still expanding their store base apace. It also has a heavy debt burden and pension deficit. 
There is also the likelihood of lengthy and destabilizing regulatory inquiries. The deal gives Tesco huge buying power, and it will become the dominant supplier to a raft of convenience stores that it competes with.
Wilson may be a great manager, and folding Booker and his expertise into Tesco will bolster the lumbering business. But he could have done a better job in securing a bigger share of those benefits for his shareholders. That leaves the door open for a rival to gatecrash -- possibly Amazon -- so scuppering Tesco's succession ambitions. 
--With assistance from Gadfly's Elaine He
This column does not necessarily reflect the opinion of Bloomberg LP and its owners.
To contact the authors of this story:
Andrea Felsted in London at afelsted@bloomberg.net
Chris Hughes in London at chughes89@bloomberg.net
To contact the editor responsible for this story:
Jennifer Ryan at jryan13@bloomberg.net