We hear you now, Verizon. Loud and clear.
Verizon Communications Inc., the largest U.S. wireless provider, is reportedly exploring a merger of extra-mega proportions with Charter Communications Inc. Charter is the $104 billion company that not long ago bought the brand everybody loves to hate: Time Warner Cable (the two now sell their services under the friendlier name of Spectrum). So yes, this means Verizon, Charter and Time Warner Cable could all become one gigantic company...and the sender of your phone, cable and Wi-Fi bill each month.  
It's a tie-up that would have been considered dead on arrival during the Obama administration but entered the realm of possibility once Donald Trump placed his hand on those bibles last Friday and Republicans took over. Billionaire media mogul John Malone even foreshadowed it when he said curiously this month that the Trump presidency may herald a new era of consolidation in the industry. Malone was showing his hand there -- Verizon CEO Lowell McAdam is said to have already approached Greg Maffei, who runs Malone's Liberty Media Corp., which also partially owns Charter. Try to keep up.
AT&T Inc. announced its own megamerger in October for Time Warner Inc., the owner of television networks HBO, TBS and CNN (and not to be confused with Time Warner Cable). The deal will give the No. 2 U.S. wireless provider its Hollywood close-up: video content, which subscribers increasingly want to watch on their phones. By acquiring Charter, Verizon would deepen its presence behind the scenes, controlling more of the pipes and eclipse Comcast Corp. as the country's biggest internet provider.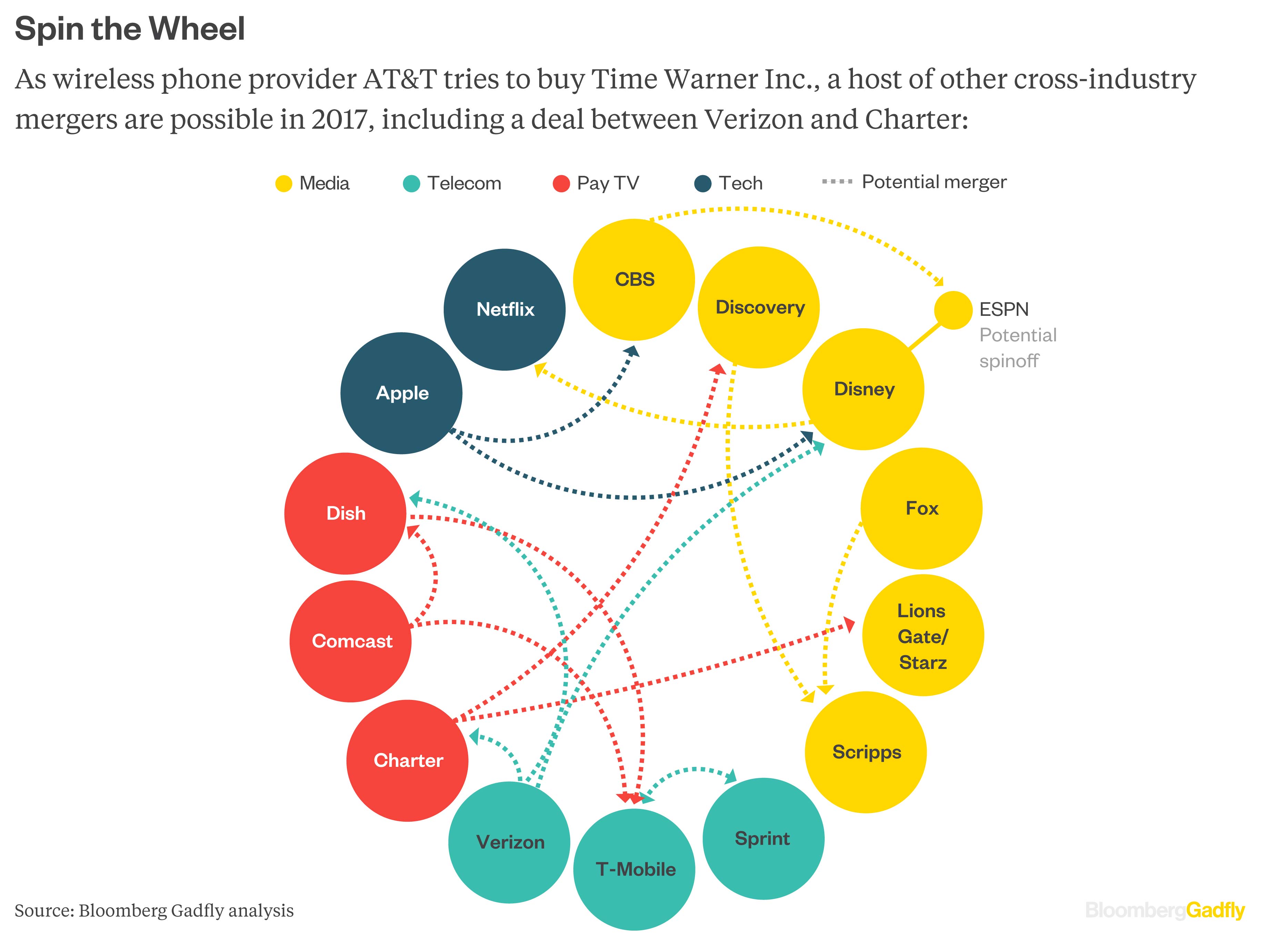 This distinction is key -- and not just because it reveals two markedly different growth strategies by Verizon and AT&T, which will be interesting to observe and debate. There's also the fact that Trump has repeatedly admonished AT&T and Time Warner for their merger, which he said would concentrate too much power "in the hands of too few." He may have a point, but at the same time, combining AT&T and Time Warner wouldn't lessen competition because the companies don't compete with one another. Verizon and Charter do play in the same sandbox, however. So does the Trump administration make these deals possible or stand in the way of them? It can't be both.
That's not to say a Verizon-Charter deal will be blocked. One can envision their offerings being bundled into a cheaper all-in-one package to lure customers. And they don't have much geographic overlap either. But should this merger happen, it wouldn't make sense to block the AT&T-Time Warner deal on the grounds of it being harmful to customers. 
Let's not get ahead of ourselves, though. Verizon and Charter discussions, if true, sound very early-stage still, and ironing out the terms is going to be difficult and a tough sell to Wall Street. Verizon shares are down about 1 percent on the news. And according to Bloomberg's merger calculator, it would take a lot of synergies for this deal not to be dilutive to the company's earnings. A lot. Deals reliant on synergies tend to be the prickliest. 
But hey, good news for Comcast and Sprint: there's potentially one less buyer competing for T-Mobile. 
--Rani Molla assisted with graphics.
This column does not necessarily reflect the opinion of Bloomberg LP and its owners.
How soon is unclear. A person familiar with the matter told Bloomberg News that Verizon's long-time advisers have studied Charter among about 10 other deal options, and CNBC's David Faber said there aren't yet any significant talks between the two companies. 

Malone also went as far to say that three major cable providers (hmm, I wonder who) could get together and buy T-Mobile US Inc., the industry's hottest takeover target.
To contact the author of this story:
Tara Lachapelle in New York at tlachapelle@bloomberg.net
To contact the editor responsible for this story:
Beth Williams at bewilliams@bloomberg.net