President Donald Trump, the self-proclaimed king of debt, may end up with a revolt on his hands.
He wants to spend billions of dollars to rebuild American highways and bridges to double economic growth to about 4 percent a year. He wants to preserve medical benefits for the poor and elderly. And he's selected someone to oversee the national budget who's fundamentally opposed to huge piles of debt and pledges to reduce the nation's deficit.
This recipe doesn't add up, either in theory or practice. Even if Trump finances his promised infrastructure plans entirely by cutting other government services, the nation's debt load is forecast to surge by trillions of dollars over the next decade.
Trump faces two big problems when grappling with the U.S. debt load: an aging population that's becoming sicker and inauspicious bond math. If Trump succeeds in fostering substantially higher growth rates, as he's promised, then interest rates will most likely rise much more than forecast. That'll make it materially more expensive for the nation to service its debt.
Even without much more growth, the U.S. deficit will likely increase as interest rates rise. That's according to the Congressional Budget Office, a nonpartisan group that analyzes the U.S. economy, which just released its forecast for the nation's deficit and debt load over the next decade.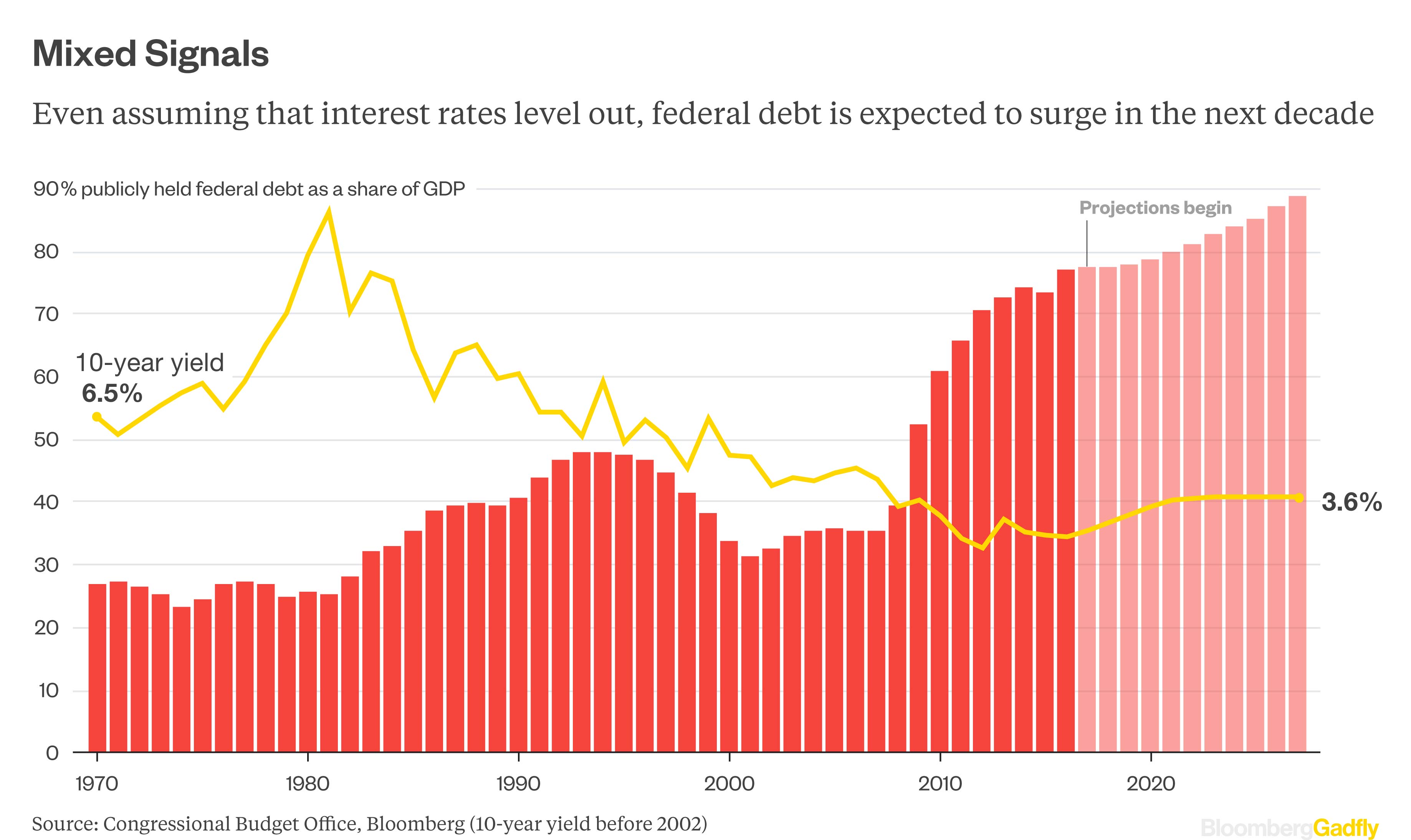 Its baseline scenario calls for gradually rising benchmark borrowing costs, with 10-year Treasury yields leveling out at about 3.6 percent by 2022 from about 2.5 percent today. Even with that relatively modest projection, CBO analysts wrote that "the government's interest payments on that debt rise sharply over the next 10 years -- nearly tripling in nominal terms and almost doubling relative to GDP." 
Interest expense will rise to $768 billion in 2027 from $270 billion in 2017 under the CBO's base-case scenario.
But let's say Trump succeeds in his attempt to foster more economic growth. That'll mean that inflation will rise, prompting investors to demand higher U.S. Treasury yields to offset steadily rising consumer prices. Jeffrey Gundlach, the bond guru who runs DoubleLine Capital, said after the election that U.S. 10-year government bond yields could reach 6 percent in five years.

In that case, the interest expense would balloon much more than expected, substantially eating into the nation's budget.
To make matters worse, Trump faces some self-made challenges to carrying out his spending programs. Namely, he nominated Republican Representative Mick Mulvaney to be his budget chief, who said the nation's $20 trillion national debt needs to be "addressed sooner rather than later." In testimony before the Senate this week, he compared the U.S. debt load to ordinary American families owing more than a quarter million dollars on credit cards.
Meanwhile, foreign investors are already backing away from U.S. debt because of strengthening domestic economies and uncertain policies of the new administration. According to recent data from the European Central Bank, investors in the euro zone were net sellers of foreign bonds for the first time in four years. And China's holdings of U.S. Treasuries dropped by the most since 2011 in November. So yields in the U.S. may rise from ultra-low levels regardless of the nation's growth rate.
For the king of debt, all of this makes for an unruly kingdom. It will be impossible for Trump to make good on all his promises.
This column does not necessarily reflect the opinion of Bloomberg LP and its owners.
To contact the authors of this story:
Lisa Abramowicz in New York at labramowicz@bloomberg.net
Rani Molla in New York at rmolla2@bloomberg.net
To contact the editor responsible for this story:
Daniel Niemi at dniemi1@bloomberg.net