Amid the pomp, red baseball caps and star-studded roster of entertainers at President Donald Trump's inauguration, it's been all too easy to overlook the unpredictable interplay of politics and energy markets.
Luckily, Wyoming is here to remind us.
Two Republican state senators are sponsoring a bill that would penalize Wyoming's utilities if they sell power generated from utility-scale wind or solar installations within the state. If passed, any utility doing so after 2019 would incur a penalty of $10 per megawatt hour, which equates to about 12 percent of Wyoming's average retail electricity price.
Apart from its stunning vistas, Wyoming is known as a coal state (one of the bill's sponsors represents a place called Carbon County, among others). Some 40 percent of U.S. coal is mined in Wyoming, which sits atop the Powder River Basin, and almost 90 percent of the state's electricity derives from burning the stuff.
So the local economy has suffered as prices of coal and natural gas -- Wyoming also produces a lot of that -- have collapsed: GDP fell more than 8 percent between 2014 and mid-2016, with more than two-thirds of that decline related to the mining sector (which includes gas production). 
In the meantime, Wyoming's mountainous vistas also mean wind power has gone from virtually nothing a decade ago to about 8 percent of the state's electricity generation in 2015, according to figures from the Energy Information Administration. And that is despite the state, unusually, having no renewable portfolio standard requirements and, uniquely, instituting a small tax on wind power back in 2012.
The problem is, wind (and solar) farms don't just compete with fossil fuels. They also epitomize a chronic problem facing many established American industries like mining: automation. Once built, these newer technologies aren't exactly labor-intensive. Their biggest cost is for the capital used to build them.
Maybe that's one rationale for the bill: Nothing raises the cost of capital quite like regulatory uncertainty.
There's also likely a heavy dose of symbolism involved. The bill, in effect, is the opposite of the renewable portfolio standards in force in many other states, encouraging older technologies rather than new ones. Given that sparsely populated Wyoming exports two-thirds of its electricity anyway, perhaps the idea is to strike a blow against the idea of politicians picking winners of any type when it comes to energy supply.
If it is, though, it's too late anyway.
While much has been made of the nefarious impact of the Obama administration's Clean Power Plan on coal, those regulations -- even if they somehow survived the new administration -- weren't due to hit until after 2020. What has really hurt coal is competition from cheap natural gas.
As Bloomberg New Energy Finance pointed out in a recent report called "Can Trump Resurrect U.S. Coal?", it is true that other, non-carbon-related regulations have raised the cost of producing power with coal, such as those dealing with toxic emissions such as mercury and handling residues. BNEF's analysis implies that almost 60 percent of Wyoming's coal-fired generation capacity may require upgrades -- read: spending -- to comply with the latest federal requirements due to high output of wastewater and use of unlined ponds to store coal ash.
The new administration may well roll some of these back or refrain from enforcing them. That won't persuade anyone to actually build a new coal-fired power plant, though. Even if some regulatory relief transpires over the next four-to-eight years, investors and creditors would still be taking a bet on that relief lasting another several decades.
Meanwhile, cheaper gas -- which is also relatively insulated from future carbon regulation compared to coal -- and the continuing drop in renewable-energy technology costs would continue to loom in the background.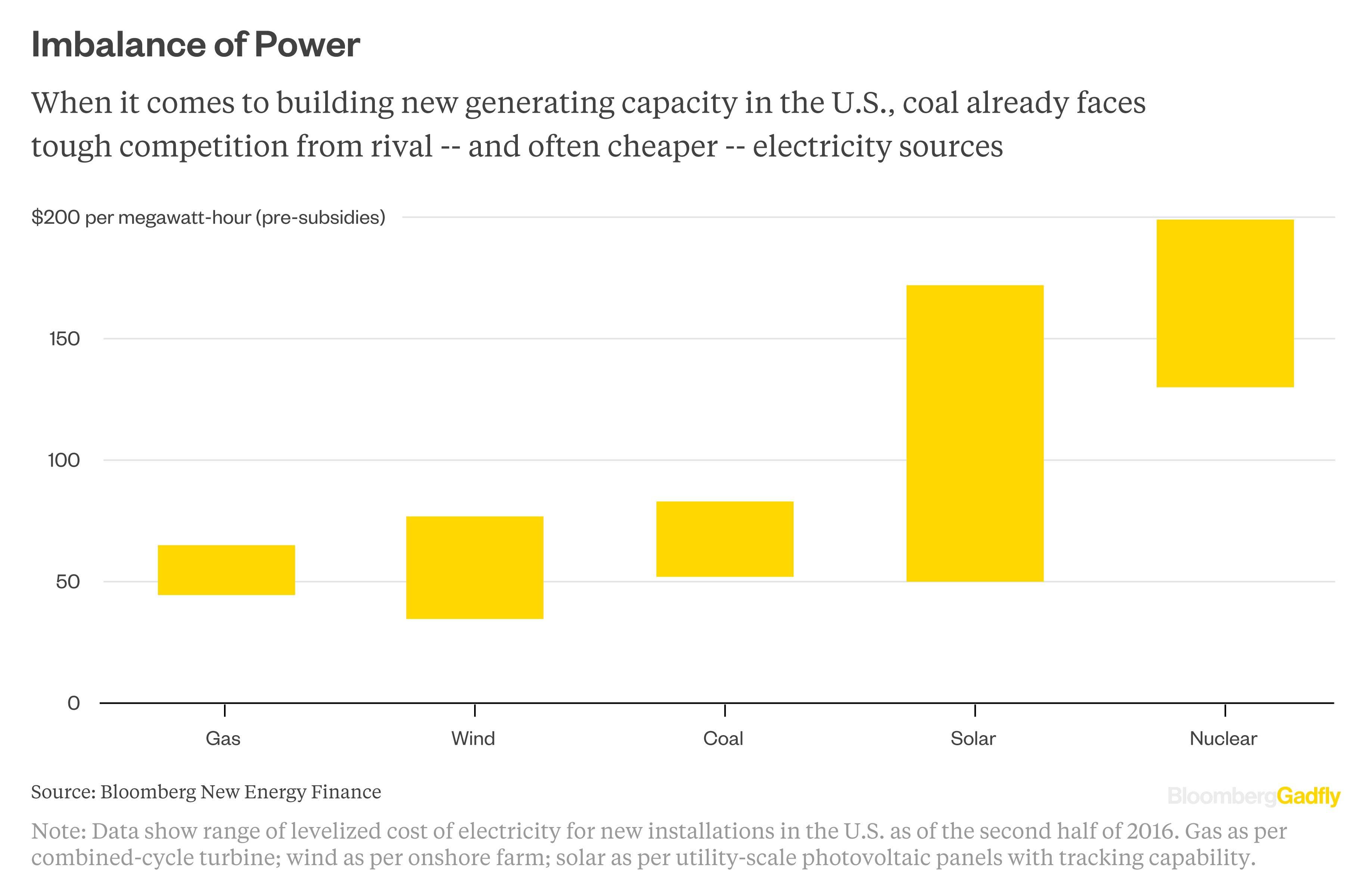 Instead, President Trump's energy policies -- such as we understand them at this point -- will likely help to keep some older coal plants running that might have otherwise closed down.
But even this will place a burden on generators.
That's because the president appears to want to keep all sorts of old power plants open, whether they use coal, gas, or uranium. Regarding the latter, even though New York state just pushed successfully for the Indian Point nuclear plant to close soon, several more upstate are going to be kept viable with subsidies; something also seen in Illinois. These plants emit no carbon and, by the way, employ a lot of people, so expect other states to follow suit. The president also wants to encourage more coal mining and fracking for natural gas.
What does keeping all that supply open -- and encouraging more where possible -- mean in a U.S. electricity market where demand hasn't grown for a decade? Deflation.
One of the surest signs of this is the sudden appearance of activists Elliott Management Corp. and Bluescape Energy Partners at NRG Energy Inc. The two funds recently announced they had taken a 9.4 percent stake, combined, in the merchant power generator.
They aren't betting on a big upswing in power demand or prices.
Rather, NRG's relatively high cost base and its ability to drop assets to its listed subsidiary, NRG Yield Inc., offer levers that can be pulled to squeeze out some extra profits regardless of the environment. The move comes soon after a brief spell of excitement around rival Dynegy Inc. Again, that wasn't because of improving market fundamentals, but due to rumors about a potential, if unlikely, leveraged buyout -- which soon gave way to more pessimism.
Power generators, like Wyoming's coal industry, are being squeezed by multiple forces around demand, excess capacity, falling renewable-technology costs, and a wave of cheap natural gas. All are things that cannot be fully arrested, and may actually be sharpened, by the new president's policies. If the Wyoming bill symbolizes anything, it is vulnerability in the face of implacable trends. 
-- "Imbalance of Power" graphic by Rani Molla
This column does not necessarily reflect the opinion of Bloomberg LP and its owners.
To contact the author of this story:
Liam Denning in New York at ldenning1@bloomberg.net
To contact the editor responsible for this story:
Mark Gongloff at mgongloff1@bloomberg.net