Praxair Inc. shareholders have been able to console themselves with one thought as their company bends over backwards to secure a merger with Linde AG: the stock market might put a higher valuation on what will be the world's biggest supplier of industrial gases.
They shouldn't take it for granted. The supporting evidence from past deals is mixed.
Praxair and Linde are still hammering out a final agreement on their all-stock merger of equals. For now, Praxair has agreed to pay a small premium to Linde, as if in a takeover -- even though both sides will contribute equally to the board, as if in a merger. That concession will be worth it if the market treats the combination more favorably than Praxair and Linde today.
The idea has some plausibility. With its shares traded in both New York and Frankfurt, the new company -- to be called Linde -- will attract many followers by virtue of its size and scope. The production of industrial gas is reasonably standardized around the world, making it easier to improve efficiency by crunching the two operations together. A possible spin-off of Linde's low-margin engineering unit may also help.
Praxair's share price hovered at just above 19 times estimated forward earnings before the merger talks became public. Linde had struggled to get above 18, according to Bloomberg data. A warm reception might see the new Linde retain Praxair's multiple or even trade up -- instead of trading as a blend of the old ratings. So far, Praxair's multiple has held reasonably steady. Linde's has gained, creating 3 billion euros ($3.2 billion) of value for its shareholders.
Some big all-stock deals have pulled off the revaluation feat. Some haven't. The evidence is inconsistent at best.
Take the biggest mergers announced between in 2011 and 2015.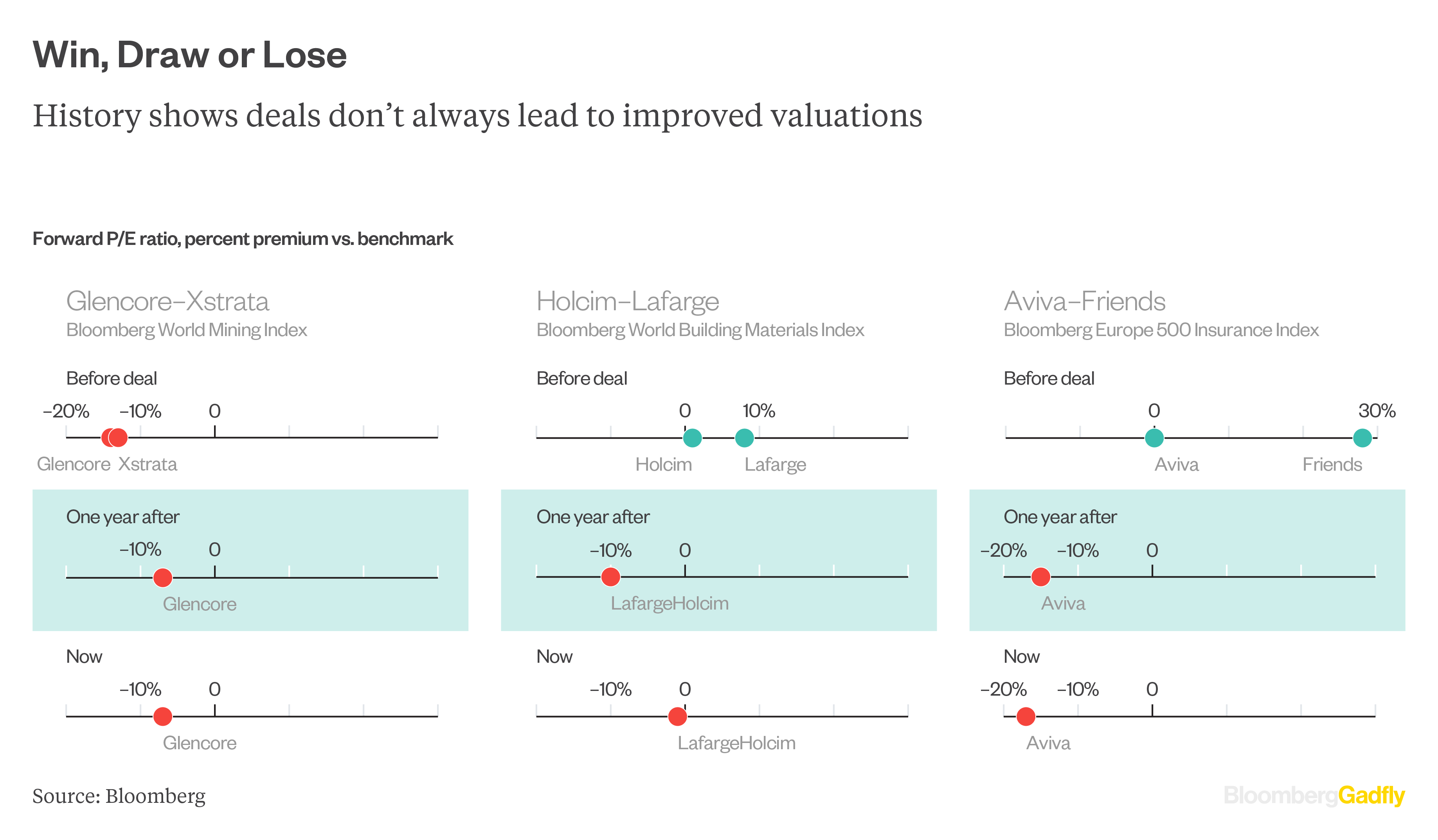 Commodity trader Glencore Plc and miner Xstrata Ltd. both traded at a rough 15 percent discount to their peers in the global mining industry before their union was announced in 2012. A year after the deal was completed, that gap had been cut in half.
Swiss cement producer Holcim had traded in line with its peers in the global building-materials industry before it announced a merger with higher-rated rival Lafarge in 2014. A year after completion, a 10 percent discount to the rest of the industry had opened up. That has since closed and LafargeHolcim once more trades in line with the rest of the sector.
Allergan Plc's acquisition of Warner Chilcott Plc in 2013 also helped the drugmaker to substantially narrow its valuation shortfall against its peers.
A year on from CenturyLink Inc.'s purchase of Qwest Communications International Inc. in 2011, the buyer's discount had evaporated -- only for it to return later. Aviva Plc traded in line with its fellow European insurers when it agreed to buy Friends Life Group Ltd. in 2014. It now trades at less than its peers, in part because investors have soured on Aviva's expansion in low-growth Britain after Brexit. Meanwhile, it's far from clear the big all-stock deals in the U.S. energy and utilities sector in recent years have created any durable revaluations.
So there you have it: deals are highly individual beasts. It's possible a combined Praxair-Linde will re-rate. But history shows there's no certainty of financial alchemy in M&A.
--Gadfly's Elaine He contributed graphics.
This column does not necessarily reflect the opinion of Bloomberg LP and its owners.
To contact the author of this story:
Chris Hughes in London at chughes89@bloomberg.net
To contact the editor responsible for this story:
Edward Evans at eevans3@bloomberg.net