Investment Drought
Donald Trump and the Gift of Capex
Business investment shows little sign of rebounding next year.
By
Christmas is a time for giving. Yet people often struggle to decide what gift they'd like because they already have what they need.
The world economy has a similar problem: a surfeit of industrial capacity caused by over-investment and weak demand.
As oil and other commodity prices rise, investors are asking whether 2017 will see companies finally lift capital spending after a long fallow period. A rebound would support productivity as well as growth and, in the U.S., it would help President-elect Donald Trump keep his promises to "bring back jobs."
But surplus production capacity in industries from steel to shipping mean a big splurge in capex is unlikely. When there's a lot of slack in the system, businesses don't need to invest as much. In the U.S., capacity utilization remains discouraging. Federal Reserve chair Janet Yellen said this month that business investment "remains soft."
Then look at China's steel industry, whose over-capacity has blighted prices for the metal worldwide. Don't expect this problem to disappear in a year.
If China closes too many plants too fast, the country's banks would have to realize massive losses and hundreds of thousands of people will be left unemployed -- a recipe for social unrest. And if Trump keeps provoking China, it may be less inclined to tackle the outflow of surplus steel exports that's caused so much pain for steelmakers in the U.S and Europe.
Then there are miners and energy companies. Rebounding prices for nickel, copper and coal could encourage some additional spending. But there's little chance of a repeat of the massive mining capex splurge we saw at the start of this decade.
Companies like Glencore Plc and Anglo American Plc are now focused on cutting debt and boosting cashflow. And if they do open their wallets, miners are likely to use up spare capacity before they develop new resources.
The same could be said for the oil industry. While higher prices have lifted activity in the U.S., capex budgets for next year look pretty miserly: Chevron Corp. plans to spend 40 percent less in 2017 than it did in 2015.
Shipping's prospects look even bleaker. Orders for new container ships have all but dried up due to spare capacity that has crushed freight rates and profit. This chart, from a recent A.P. Moller-Maersk A/S presentation, shows the sharp drop.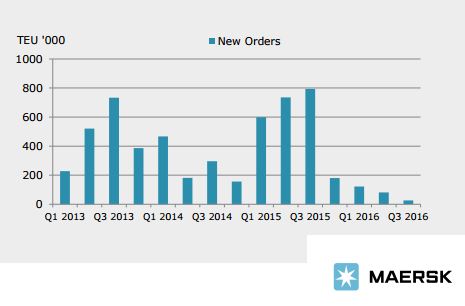 Until now, the booming auto industry has been investing heavily as it tried to develop more fuel efficient vehicles. But even here the outlook is mixed.
China's boom in auto sales -- where a tax cut helped sales to jump 20 percent in November alone -- doesn't look sustainable. Nor does the smaller, credit-fuelled boom in U.S. sales. 2017 doesn't look like the year to build a new plant.
Finally, consider how able and willing companies will be to finance new investment. Over recent years, they've loaded up on cheap debt, which they've often used to fund share buybacks and M&A, rather than fund investment.
Interest rates are starting to head up, meaning the hurdle companies have to jump to make a return on their investment will be higher.
And of course, there's Trump. Only he knows what he'll do in office and he seems to change his mind almost daily. Faced with that uncertainty, many companies may decide to wait and see.
Ultimately, the only thing that might really change companies' minds is a sustained recovery in global demand. In other words, time to quit prevaricating and decide what you want for Christmas.
To contact the author of this story:
Chris Bryant in Frankfurt at cbryant32@bloomberg.net
To contact the editor responsible for this story:
Edward Evans at eevans3@bloomberg.net
Before it's here, it's on the Bloomberg Terminal.
LEARN MORE