Don't blame taxes if China auto sales suffer next year.
Thursday's announcement that the levy on small-engine cars will be raised from the current 5 percent has been greeted with deep gloom in many quarters. Even analyst forecasts that sales growth will slow to 4 percent in 2017 from 13 percent this year "seem optimistic" given the rising charge, Matthew Stover, an analyst with Susquehanna Financial Group, told Bloomberg News.
If all cars were purchased for cash at the official listed price, such a tax-centric view might be justified -- but anyone who's ever been to an auto dealer knows that's not typically the case.
To be sure, the surprise cut from 10 percent in October 2015 aided a spike in registrations in cars affected by the change, which have smaller than 1.6-liter engines. But, oddly, the pick-up in sales was well underway by the time the rule was enacted, an indication something else was clearly going on.
The best clue comes from looking at China's interest rates. Official benchmarks were slashed during the course of 2015 to record-low levels, and three-month Shibor fell from 4.8975 percent at the start of April to 2.8565 percent two months later.
Interest rates have long been recognized as having an outsized impact on people's willingness to buy costly, long-lasting durable goods such as automobiles. High rates in the U.S. significantly depressed spending during the 1980s, according to a 1987 paper by economist Greg Mankiw, and the fluctuations in car purchases during the course of the decade make a better match to changes in the federal funds rate than they do to declining marginal income taxes.
An alternative history of the sales boom that's turned China into the world's biggest auto market hinges not on changes in taxes, but on finance.
There are now 25 regulated auto-finance companies in the country, since the first, a joint venture between SAIC Motor Corp. and General Motors Co., was established in 2004. Outstanding auto loans increased more than 10-fold from 25.5 billion yuan ($3.7 billion) in 2007 to 320.4 billion yuan in 2014, according to the China Banking Regulatory Commission.
Loans extended by the car-finance arms of GM, BMW AG and Volkswagen AG alone increased by 58 percent between 2013 and 2015, according to data from recent bond prospectuses. The market as a whole was worth 850 billion yuan last year and will increase 18 percent to 1 trillion yuan in 2016, an August Research In China report shows.
There's ample room for further growth, with Deloitte putting the market at 2 trillion yuan by 2020.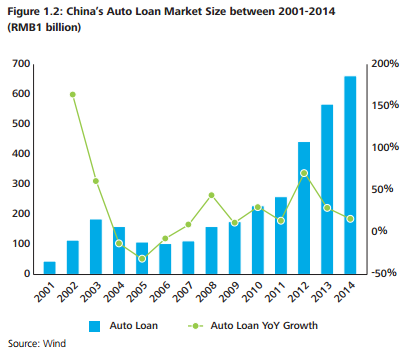 Just 20 percent of new cars in China were bought with credit in 2014, compared to 84 percent in the U.S., and leasing -- which according to Gadfly's Chris Bryant has grown so huge in North America and Europe it threatens to derail the entire car industry -- is used for less than 2 percent of purchases.
The real question for China's car market is whether the sort of loan growth seen in recent years will continue or grind to a halt. With the yield on 10-year government debt surging by a record 22 basis points Thursday and bonds selling off around the world on the prospect of higher U.S. rates, the odds of the latter scenario look distinctly higher.
That, rather than single-digit adjustments to tax rates, will decide whether 2017 sees a boom or a bust.
This column does not necessarily reflect the opinion of Bloomberg LP and its owners.
To contact the author of this story:
David Fickling in Sydney at dfickling@bloomberg.net
To contact the editor responsible for this story:
Katrina Nicholas at knicholas2@bloomberg.net