Mind the Gap in Tech Startup Valuations
Everyone thinks they're different. That's often not the case.
By
FEDEX CORP
-3.26
At Closing, April 24th
Silicon Valley can sometimes feel like Lake Wobegon, the fictional town where all children are above average. 
All technology startups say they're doing something fundamentally different from any company that came before and deserve higher valuations as a result. WeWork Cos. doesn't want to be valued like a company that sublets office space, although that's what it is. Uber Technologies Inc. doesn't want to be valued like a taxi or car service company because its ambition is to be taxis, rental car companies, public transit and FedEx rolled into one. And Wish doesn't want to be valued with the typical tiny revenue multiples of e-commerce firms.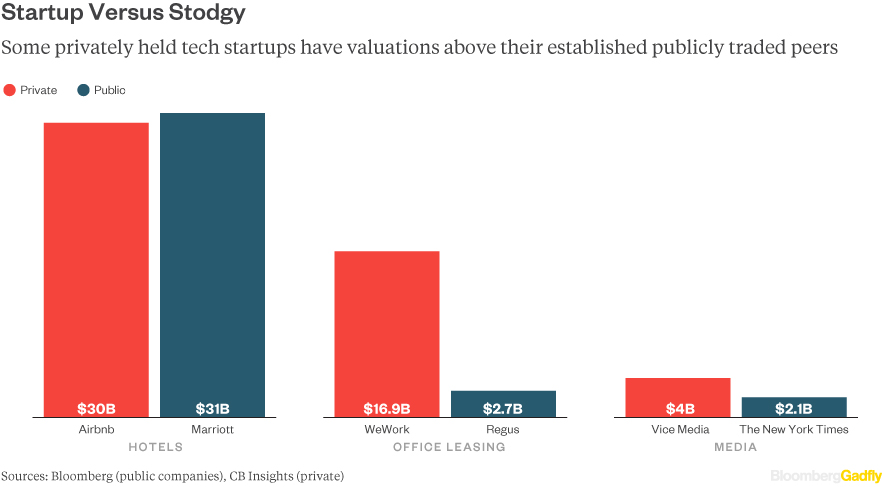 Sometimes startups are doing something fundamentally different that expands a once-niche market and should be valued as such. Most of the time they are not. It's not always obvious which is which.
There's a test case of this valuation divide in Stripe Inc., a San Francisco startup that says it processes billions of dollars in digital payments on websites such as Best Buy, Lyft and the Salvation Army. A recent stock sale gave Stripe a headline valuation of about $9.2 billion. 1
The private sale made Stripe among the 20 most valuable "unicorns," the awful but handy moniker for private tech companies valued at $1 billion or more. And it made Stripe look out of step with valuations of public companies that also handle digital payments. 
Stripe doesn't disclose its financials, but let's assume it does 80 percent of the total payment volume of Square Inc., which topped $46 billion in the last 12 months. Stripe might take a cut of about 2.5 to 2.9 percent of transactions, estimates Bloomberg Intelligence analyst David Ritter, which would mean roughly $925 million to $1.1 billion in revenue for Stripe from those fees. That would make Stripe's valuation in the neighborhood of 9 to 10 times its revenue for the last year. 2  
That is a valuation more like an internet company than like a boring company that handles credit card transactions. Big and boring public payments company Global Payments Inc. trades at about three times its revenue over the last 12 months, according to Bloomberg data. First Data Corp., which is essential plumbing of the global payments system, is trading at about one times its trailing yearly revenue. Square is at 2.4 and PayPal Holdings Inc. is at 4.6. None of those are perfect peers for Stripe. But Stripe's multiple is at least double any of its peer-ish firms. 
And that's exactly the point. Stripe doesn't want to be valued like a boring digital payments company because it believes it's not a boring digital payments company. It says it is expanding the market for digital payments by making it much easier for any website or app to start collecting money. There's some truth to this. And Stripe is also most likely growing more rapidly than the dullard payments companies. It is most active in fast-growing online and mobile commerce while other payments firms are established with physical retailers.
Stripe therefore likely deserves a premium valuation, although perhaps not this big. 
Granted, none of this multiple math matters while Stripe is private. When a company goes public, however, it needs to navigate what can be a dangerous canyon between its valuation multiple as a private company and the brutal spreadsheet reality of public market investors. 
Bessemer Venture Partners in February estimated the average cloud software startup was valued at 14 times annual recurring revenue in private stock sales during the prior six months, while public cloud companies were trading at less than four times their estimated revenue for the next 12 months. Bessemer's conclusion: The private versus public valuation gap can't last. 3  
Recent history has shown closing the gap can bring carnage. Tech companies that started to go public around late 2014 with fat valuations as private companies had to take haircuts. Tech companies including Box Inc., Hortonworks Inc., New Relic Inc. and Square went public at valuations lower than they had as private companies. Some of those companies have done fine as public stocks, but taking a valuation hit at the IPO was another hurdle for a young company to overcome.
Some startup investors say they're worried about the multiple disconnect between startups and their public peers. If most public software companies trade at 5 to 10 times forward revenue, then it doesn't make sense to finance them at valuations of 20 times forward revenue and expect their companies will be the ones that defy the average.
Expect to hear this debate more as Silicon Valley's unicorns mature. When more of those companies hit the stock market, some of them will continue to be high-valuation outliers. But many more will fall into the canyon between private and public market multiples. 
-- with chart assistance from Rani Molla.
Public service announcement: Private company valuations are at best semi-fictional numbers.

News reports have said Stripe is approaching Square's volume of total payments. PayPal's Braintree -- the best comparable peer to Stripe -- said its average revenue rate as a percent of sales volume was 2.65 percent in the third quarter, below it and Stripe's advertised rate of 2.9 percent plus 30 cents per transaction. These rough estimates for Stripe are no doubt wrong, but they are probably not crazy wrong.
To contact the author of this story:
Shira Ovide in New York at sovide@bloomberg.net
To contact the editor responsible for this story:
Daniel Niemi at dniemi1@bloomberg.net
Before it's here, it's on the Bloomberg Terminal.
LEARN MORE