Energy Transfer and the Art of Transference
Ordinary investors bear the brunt of its Sunoco Logistics deal.
By
ENERGY TRANSFER PARTNERS LP
+0.06
At Closing, April 20st
ENERGY TRANSFER EQUITY LP
-0.24
At Closing, April 20st
When the Energy Transfer family of companies announces a deal, it pays to look at the details -- from a philosophical point of view, anyway. Because, if you are a limited partner in the web of companies run by Kelcy Warren, your lack of ability to affect the outcome means, details or no, you'll have to live with the consequences.
The latest one, whereby Sunoco Logistics Partners LP will buy Energy Transfer Partners LP for about $21 billion, is Warren's biggest since Energy Transfer Equity LP's ill-fated tilt at The Williams Cos. Inc., which collapsed earlier this year. Ostensibly, the Williams deal foundered on a tax technicality -- but only after months of Energy Transfer twisting and turning against the original terms of the deal.
The big problem there was a $6 billion check that Energy Transfer, in the midst of a meltdown in the pipelines sector, could ill afford.
This need to shore up finances also explains Monday's all-paper deal. The crucial detail, though, is who takes the pain in doing that.
First, the dramatis personae: At the apex of the Energy Transfer patriarchy is Energy Transfer Equity, in which Warren owns an 18 percent stake. This entity owns various stakes and interests in a clutch of other master limited partnerships. The key one is its general partner interest in Energy Transfer Partners.
Being the general partner allows one to not only call the shots but also earn so-called "incentive distribution rights," or a cut of the underlying MLP's cash flow that rises as distributions increase. These payments make up the core of Energy Transfer Equity's cash flow.
The thing is, Energy Transfer Partners is a bit strapped, what with these incentive payments, ordinary investor payouts and its capex bill. Debt-to-Ebitda rose to 5.3 times in the third quarter, according to CreditSights, and the parent has actually waived about $900 million of incentive payments through the end of 2018. Despite holding distributions flat for the past year, Energy Transfer Partners still can't fund payouts from its operating cash flow:
Keeping Energy Transfer Partners' credit rating at investment grade -- it's perched on the edge right now -- is paramount to keeping regulators and clients onside.
Just cutting Energy Transfer Partners' distributions is the obvious way to shuffle cash from equity investors toward creditors but also would savage those incentive payments.
So ordinary investors in Energy Transfer Partners will get a stealth dividend cut instead. They will receive 1.5 units of Sunoco Logistics Partners for every unit they own. Sunoco Logistics Partners' quarterly dividend is just 51 cents per unit. Multiply that by 1.5, and Energy Transfer Partners' investors will see their quarterly payout drop from $1.06 to 77 cents -- a cut of 27 percent. Ouch.
Does Energy Transfer Equity suffer to the same degree? No, because of all the new units being created in Sunoco Logistics Partners to fund the deal. The incentive payments on those, even at the lower per-unit payment, mean that, all else equal, the total cash being kicked up to Energy Transfer Equity will drop by perhaps less than $500 million, or 17 percent, across 2017 and 2018 compared to what they might have received otherwise -- assuming the underlying MLPs could have soldiered on. On Monday evening's call, management said that, absent a deal, at least some of the waivers on incentive payments would likely have been extended.
This ticks a number of boxes. At the level of the underlying partnerships, it saves about $630 million a year of precious cash -- roughly equivalent to the entire annual distributions to common investors that Sunoco Logistics Partners pays now.
Meanwhile, having reset the dividend lower, the Energy Transfer group can more credibly sell a growth story to investors from here.
And, with Energy Transfer Partners' own cash flow taking less of a hit, it has a better chance of avoiding a distribution cut of its own and retains the potential for future gains (on this front, it echoes the heads-I-win-tails-you-lose preferreds Energy Transfer Equity issued to Warren and other insiders in March). It is telling that while units in the two MLPs fell sharply on Monday, Energy Transfer Equity's rose.
For ordinary investors, there is, of course, the hope that, despite the pain, this puts the Energy Transfer complex on a sounder footing for the future.
This is backed up by the promise of synergies to offset their pain; $200 million a year by 2019 in this case. Here are three reasons why investors may roll their eyes at this:
First, recall that, during the twisty-turny phase of the Williams saga, Energy Transfer took the bold (Pythonesque?) step of trashing its own synergies estimates. (I'm guessing these latest ones will stand, though).
Second, even taken at face value, those synergies, discounted at 10 percent and assuming $100 million of upfront costs, are worth perhaps $2 per Energy Transfer Partners unit in today's money. That isn't much compensation, given the upfront $1.16 cut to annual dividends, which is much more tangible.
Third, more philosophically, if this sort of deal is required to reap synergies from the various bits of the Energy Transfer group, then what exactly is the benefit of the Energy Transfer group? Take a look at what this will all look like -- after the deal simplifies things (this is a slide taken from Monday evening's presentation):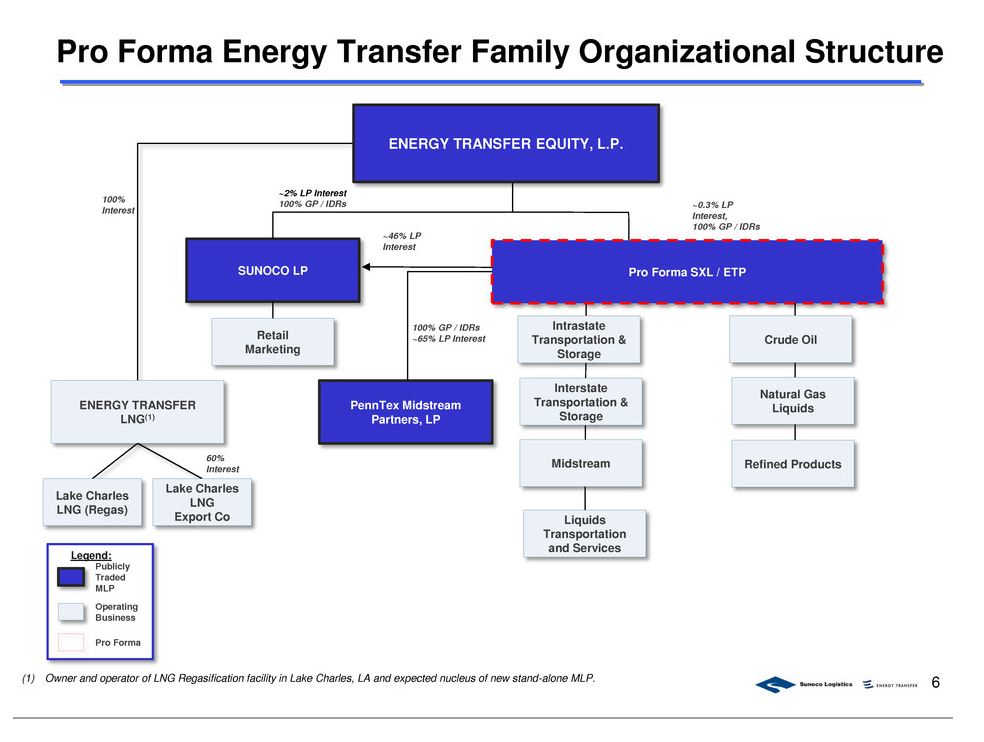 There might well be something to be gained from all that complexity. Just not necessarily for you.
To contact the author of this story:
Liam Denning in New York at ldenning1@bloomberg.net
To contact the editor responsible for this story:
Mark Gongloff at mgongloff1@bloomberg.net
Before it's here, it's on the Bloomberg Terminal.
LEARN MORE