A Donald Trump presidential win, coupled with Republicans taking both the House and Senate, would suggest a Democratic campaign pillar -- calling to raise the federal minimum wage to $15 per hour, from the $7.25 rate set in 2009 -- is dead in the water. Not so fast.
Make no mistake, starting wages in the U.S. are still going to go up. It's a reality restaurants, retailers, hotels, and other establishments that rely on low-wage labor must reckon with as rising costs and flat-lining sales growth bite deeper into corporate profits. 
It's true there's little to no chance of seeing a $15 federal minimum wage in the next four years. But that was unlikely even if Hillary Clinton had won the presidency. Back in 2014, President Obama made raising the federal minimum wage to $10.10 per hour central to his economic agenda. Congressional gridlock made it impossible. 
So instead, states -- 17 of them plus Washington, D.C.-- passed their own measures, which brought the total number of states with wages higher than the federal minimum to 29 plus D.C. By 2020, 14 states and D.C. will have minimum wages above Obama's proposed amount, representing about 34 percent of the U.S. population. The percentage of hourly paid workers earning the prevailing minimum wage or less declined to 3.3 percent in 2015, from 3.9 percent in 2014, according to the U.S. Bureau of Labor Statistics.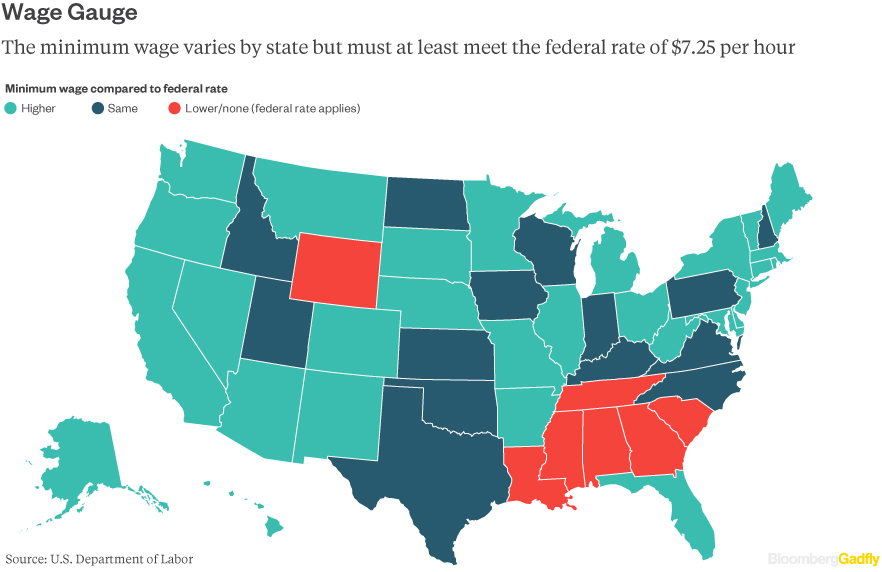 Arizona, Colorado, Maine, and Washington voted Tuesday to raise state minimum wages, meaning a quarter of the U.S. population will be subject to a $12 minimum wage or higher by 2020, providing a likely path other states will follow. 
And for the states that don't follow through with higher minimum-wage laws, it's likely the labor market will take employers there anyway. 
This trend is most pervasive in the restaurant industry. Almost two-thirds of workers earning the minimum wage or less in 2015 were employed in service occupations, mostly in food preparation- and serving-related jobs, according to the BLS. 
And wages for workers in restaurants and bars have been rising at nearly double the pace of overall wages.
The discrepancy widens when comparing the change in wages of restaurant workers to employees at grocery stores, which have seen wages drop in recent months. 
Wage growth is emboldening restaurant workers to quit their jobs at a much faster clip. And as this so-called "quits" rate is a leading indicator of higher earnings, it's likely the wage increases across the restaurant industry will continue. 
Others can wax ad nauseam about why raising minimum wages is good or bad for the economy. I'll just point out that the outcome for the restaurant industry has been an obliteration of profits.
As restaurants generally spend about a third of their revenue on labor, compared with around 12 percent to 14 percent at grocery stores, it's likely the profit hits will continue to rack up among restaurant chains. 
For now, many restaurants are bringing on fewer new employees; hiring in October decelerated to its slowest pace since February of 2011. Average weekly hours worked at restaurants have also declined in nine of the past 10 months. 
But such measures won't be enough to counter rising labor costs, particularly at a time when restaurant sales industry-wide are tanking.
--Gadfly's Rani Molla contributed graphics. 
This column does not necessarily reflect the opinion of Bloomberg LP and its owners.
To contact the author of this story:
Shelly Banjo in New York at sbanjo@bloomberg.net
To contact the editor responsible for this story:
Mark Gongloff at mgongloff1@bloomberg.net