If Trump Didn't Hate Wind Power, He'd Love Vestas
Shares tanked today, but returned 1,900 percent in four years.
By
VESTAS WIND SYSTEMS A/S
+1.90
At Closing, April 25th
Donald Trump doesn't like wind turbines because he claims they kill "all your birds" (including, presumably, on his golf courses). So it's hard to imagine him liking the latest idea from Vestas Wind Systems A/S to harvest energy from the wind: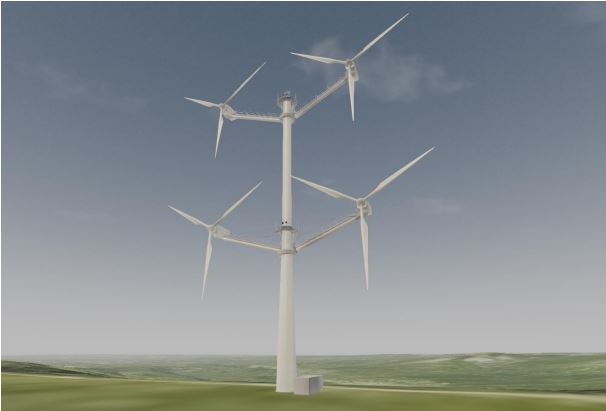 The multi-rotor concept is, however, a decent visual metaphor for the Danish company's ability to generate money.
After warning of a slowdown in the U.S., Vestas stock fell 7 percent on Tuesday. Yet its order and profit growth is increasingly linked to maintenance services, rather than selling wind machinery, so that selloff may be a little overdone.
Services made up 58 percent of the company's 17.1 billion euro ($18.9 billion) order backlog at the end of October, about 8 percentage points higher than a year ago. These contracts typically last between five and 10 years, so they're a reliable source of revenue -- in 2015 they accounted for 13.5 per cent of the total. They're very profitable. 
Because of regulatory uncertainty, turbine demand is more capricious. If there's a threat to production incentives, customers tend to rush through orders to take advantage before any change. If incentives are renewed, then people tend to slow purchases because there's no reason to hurry. It's a lumpy business.
Last December, Congress voted to renew the Production Tax Credit, supporting wind farm investment in the U.S. Vestas turbine deliveries in the Americas have jumped by more than a third this year (in megawatt terms). But its managers now think activity could fall next year.
That's unwelcome, because the Americas accounted for more than 40 percent of turbine deliveries last year. But the stellar growth at Vestas was always going to be hard to sustain. Operating profit jumped 87 percent year-on-year in the third quarter and sales may reach as much as 10.5 billion euros in 2016, a quarter more than a year ago. You can't keep that up for long.
Back in August, the stock was pricing in a lot going right. Vestas fetched almost 20 times estimated earnings, a hefty premium to other European capital goods companies. Today, it trades on less than 16 times estimated earnings, a discount to the industrial sector.
That seems quite harsh. Thanks to lower fixed costs and lean manufacturing techniques, operating profit margins could reach 14 percent this year, about double the average for European industrials. And after a wave of M&A, the wind industry is now highly consolidated, unlike solar.
Excluding China, General Electric and Vestas control almost half the global onshore wind market, according to Barclays. Having fewer competitors is usually good for pricing.
Nor should one exaggerate the threat to wind power from a Trump presidency. Vestas executives claim the PTC system has bi-partisan support and still see the U.S. as a strong market beyond 2020.   
In any case, onshore wind is now cost-competitive with coal and gas-fired power generation in many markets, according to Bloomberg New Energy Finance. The Paris climate agreement should motivate countries to continue investing. So while growth rates may slow, demand is unlikely to fall off a cliff. 
Someone who purchased Vestas stock in November 2012 (when it was slashing jobs because of overcapacity) would have made a 1,900 percent return. Trump loves winners. Were he not a bird lover, golf-course builder and climate-change skeptic, he'd surely be a Vestas fan too.
To contact the author of this story:
Chris Bryant in Frankfurt at cbryant32@bloomberg.net
To contact the editor responsible for this story:
James Boxell at jboxell@bloomberg.net
Before it's here, it's on the Bloomberg Terminal.
LEARN MORE