The U.S. presidential election has made everything feel radioactive; biotech stocks are no exception.
A single Hillary Clinton tweet decrying high drug prices sent the Nasdaq Biotech Index (NBI) down 4.7 percent in one day in September 2015. Worry about the potential policy (and drug-pricing) ramifications of a Democratic sweep of the presidency and both houses of Congress has provoked a renewed funk in biotech shares lately.
Since Donald Trump's candidacy and poll numbers began to dissolve into a shouty, orange puddle around October 2, the NBI has dropped as much as 8 percent.
The index tends to rise when Trump performs well and fall when Hillary takes a serious polling lead. But recent stock swings suggest investors are dramatically overrating the potential impact of a Clinton victory and the possibility of a sweep.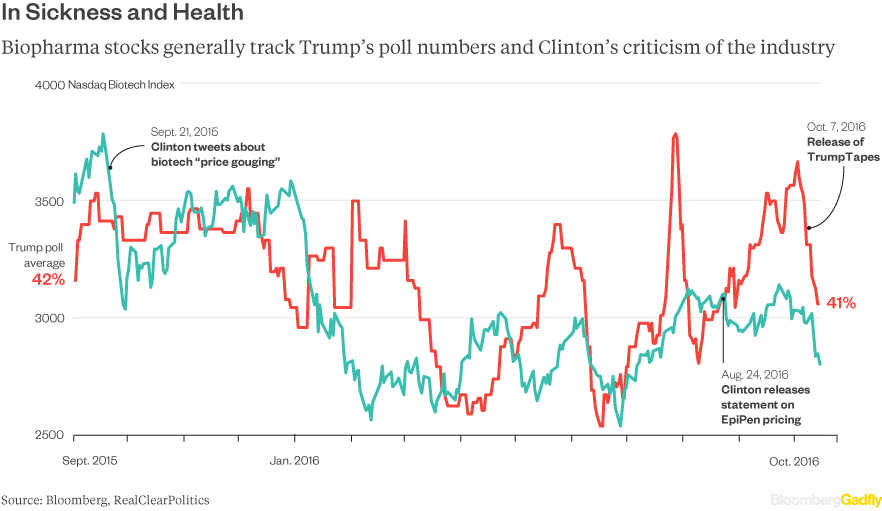 Health care is the only sector on the Nasdaq Composite Index to have declined this year, and it's declined a whole lot.
Big biotechs are some of the most highly weighted stocks in the Nasdaq health care index, and they're dragging it down. 
Meanwhile, six of the 10 worst performers in the S&P 500 this year are biopharma firms. 
Biotech stocks seem to be pricing in a worst-case scenario, followed by several more worst-case scenarios. 
Some of this is understandable. Hillary has been strongly critical of drugmakers. If her full health-care platform were to become law, it would likely be a drag on drugmakers big and small. The platform, among other initiatives, supports letting Medicare directly negotiate prices with drug companies. But that's not likely to happen, even if Trump's putrid poll numbers hold. 
Getting substantive pricing legislation passed would likely require Democratic majorities in both the House and the Senate; the Republican party has been consistently hostile to regulating drug pricing, and bipartisanship is in short supply.  
There's a real possibility the Senate will change hands in November. FiveThirtyEight currently has the probability of the Democrats winning the Senate at 74.1 percent. But any majority is likely to be slim; the most likely outcome is that the Democrats pick up five seats to get a 51-49 majority.
In order to take back the House, meanwhile, Democrats need to flip 30 Republican seats, a Herculean task. The odds of a switch have increased as Trump's campaign has imploded. Prediction market PredictIt now implies an 18 percent chance of a changeover, up from 14 percent earlier in the month. But those are still slim odds. 
Even a sweep would be no guarantee a broad drug-pricing initiative will become law. The Affordable Care Act had to be substantially watered down (RIP public option) in order to secure passage in 2010, even though Democrats controlled both houses of Congress. The party lost a filibuster-proof 60-seat super-majority in the Senate, and 34 Democrats in the House voted against the law. FiveThirtyEight puts the chances of a Democratic Senate super-majority following this election at less than 0.1 percent.
Pharma spends more on lobbying than any other industry by a substantial margin, and has been quite adept at protecting its pricing power in the U.S.
That doesn't mean the election's end will be a biotech panacea; pricing pressure won't vanish on November 9.
More medicines are being approved by the FDA than ever. This year has been a bit slow for approvals, but 2015 marked a 66-year high. And there are uniquely expensive treatments on the FDA's docket, from potential cures for genetic illnesses to potent combinations of immune-boosting cancer drugs. It's all great news for patients, but someone has to pay. 
If Clinton wins, her administration will almost certainly push policies intended to reduce prices, even if they're unlikely to pass. It's the popular thing to do: More than 80 percent of Americans support letting the government negotiate drug prices for Medicare beneficiaries, according to a poll from the Kaiser Family Foundation -- including 68 percent of Republicans. That's likely to keep drug pricing in the headlines. 
Scrutiny of individual companies isn't going anywhere. Vermont Senator Bernie Sanders, no longer in the presidential race but retaining his outrage, sent the share price of Ariad down as much as 15 percent on Friday with a tweet critical of a cancer-drug price hike.
It's unlikely to be all sunshine and rainbows when biotech investors poke their heads out of the bunker they've been in for the past year or so. But they're not going to see a dystopian nightmare of price controls and drug rationing, and biotech may finally be able to sustain a rally for more than a few weeks. 
With chart assistance from Rani Molla
This column does not necessarily reflect the opinion of Bloomberg LP and its owners.
To contact the author of this story:
Max Nisen in New York at mnisen@bloomberg.net
To contact the editor responsible for this story:
Mark Gongloff at mgongloff1@bloomberg.net