It's becoming difficult to see how the lowest-rated U.S. junk bonds can continue to rally.

They've posted their best performance since 2009, with more than a 30 percent return so far this year. And now investors from Goldman Sachs Asset Management to Highland Capital are starting to become nervous about this debt, and with good reason: If there's any sort of economic shock at all, these notes are poised to lose a lot. And some sort of shock is entirely possible in the near future.
These notes have benefited from two overwhelming factors this year:

1) New stimulus efforts in Japan and Europe have pushed investors into the most-speculative notes, especially those in the U.S.
2) Oil prices have rallied from the lows reached earlier this year, giving some highly indebted energy companies more time to survive after seeing their corporate lives flash before their eyes last year.
There are signs that both dynamics are reaching their limits.
Central bankers in Europe and Japan are running out of ways to stimulate their economies after deploying negative-rate policies that are eroding the stability of their financial systems. Instead of trying to add stimulus, policy makers in both regions are being forced to tweak existing bond-buying programs to keep them viable. 

And oil prices have rallied, but not as much as energy junk bonds, which have gained more than 49 percent since the end of February. This has propelled gains on the broader high-yield market.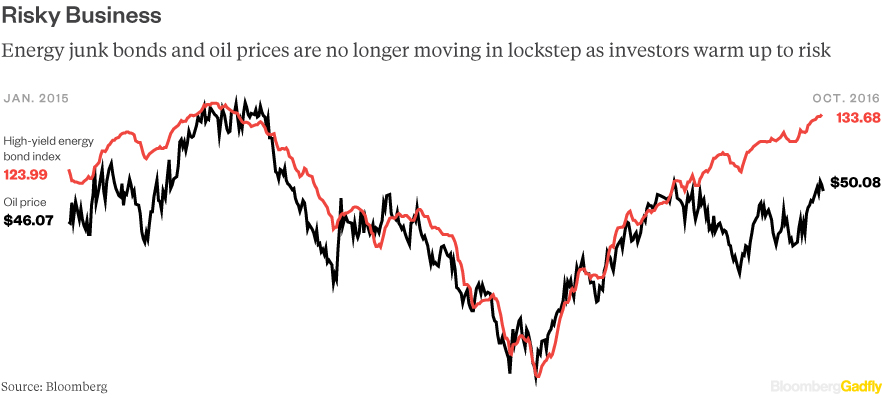 It's highly unlikely that that these energy bonds can maintain their momentum unless oil prices jump or central bankers find new and improved ways to persuade investors to buy risky stuff for relatively little return. 

Oil prices have been waffling between $40 and a little more than $50 a barrel for more than six months. Even a tentative agreement among crude-producing nations to curb output most likely wouldn't be enough to jolt values far out of this range.

Meanwhile, current prices aren't high enough to sustain the current momentum in these bonds. That's because a "significant amount" of the lowest-rated unsecured bonds of energy companies are pricing in oil at $70 a barrel over the longer term, Jefferies analyst Michael Carley said in a Bloomberg News article. 
Taking a step back, why should the lowest, most-leveraged junk bonds continue to do well? This debt should do best when an economy is steadily growing, interest rates are low and companies have bright futures.

But U.S. companies are facing an earnings recession, the Federal Reserve is poised to raise rates again within the next few months and companies are borrowing at a faster pace than they're increasing their incomes. To truly amp up the pessimism meter, take a look at Europe, which is increasingly fractured about how to deal with its fragile banking system, tenuous relationship with its shared currency and the region's stubbornly slow expansion.

"Credit markets probably won't behave particularly positively with any of that," said Michael Swell, co-head of global portfolio management at Goldman Sachs Asset Management. "It's not going to be a pretty environment for credit," with the lowest-rated bonds particularly susceptible to shocks.

It's been a terrific year for buyers of the most-beaten up debt. But it's hard to see how the coming months are going to be as kind to them.

-- with chart assistance from Rani Molla
This column does not necessarily reflect the opinion of Bloomberg LP and its owners.
To contact the author of this story:
Lisa Abramowicz in New York at labramowicz@bloomberg.net
To contact the editor responsible for this story:
Daniel Niemi at dniemi1@bloomberg.net