Five Charts Explaining Why Snapchat's Worth $25 Billion
Its IPO will be expensive, but it's already in social media's elite.
By and
SNAP INC - A
+0.15
At Closing, June 15th
FACEBOOK INC-A
-0.96
At Closing, June 15th
Even if you're over 30, you can't ignore Snapchat anymore. (Sorry.) The app company with more than 150 million mostly young daily users may soon be the biggest IPO star since Alibaba hit the public markets in 2014.
Snapchat's parent company 1 has started preparing filings for an IPO and is targeting the first quarter of 2017 to sell shares to the public. That would be about six years after Snapchat got its start as an idea for a Stanford University class project. The company's offering could value Snapchat at $25 billion or more, the Wall Street Journal reported. 
Don't be embarrassed if you don't know Snapchat. The app lets people take photos or short videos with their phones, then add captions, doodles or other fun annotations and send those "snaps" to friends. People can also assemble their snippets into "Stories" that function as visual diaries of their day. Snaps and stories aren't meant to be permanent records like Facebook posts, but rather ephemera that disappear after at most 24 hours.
That ephemera has generated a massive and addicted audience. Roughly 235 million people use Snapchat monthly, Bloomberg Intelligence has estimated -- far shy of Facebook's 1.71 billion monthly users but closing in on Twitter. And Snapchat users are rabid. On average, people who use Snapchat spend roughly 10 minutes a day with the app, according to a Cantor Fitzgerald analysis, compared with Instagram's 6.4 minutes. 2
Crucially for Snapchat's business ambitions, its audience is in a highly coveted demographic. About 70 percent of 18- to 24-year-old Americans with smartphones use Snapchat. That near ubiquity among the young is remarkable for a segment of the population that doesn't spend time or money as older generations do. Just one in five millennials has ever eaten a Big Mac, for example, and people under 35 have been cutting back on the time they spend watching TV.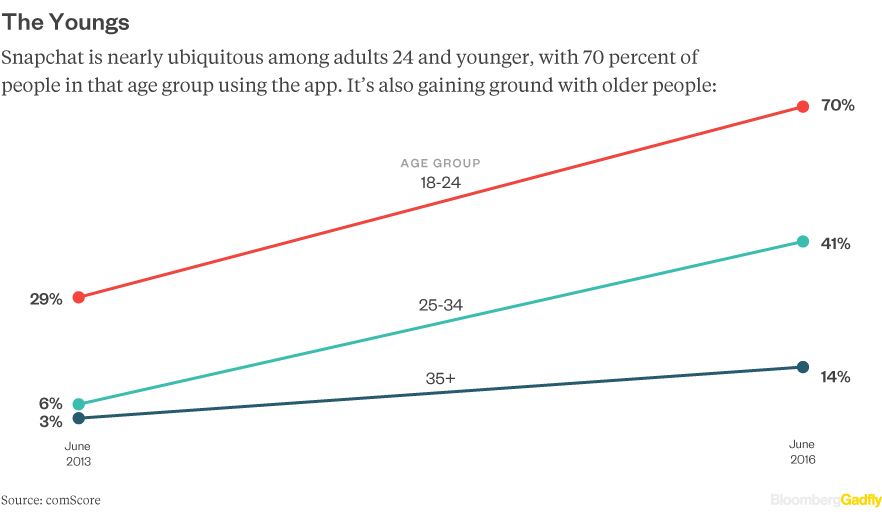 Snapchat has capitalized financially by pitching itself as the best place to market to younger people. Companies such as DreamWorks and Jim Beam have bought full-screen video ads that appear inside of Stories -- both those assembled by media companies including BuzzFeed and Cosmopolitan, and in those built around users' public video diaries from live events.
And roughly one quarter of Snapchat's ad sales come from other types of paid content such as "lenses," a feature that turns people's selfie photos into virtual taco heads or vomiting candy corn. The company's revenue is expected to soar to nearly $2 billion in 2018 from less than $60 million last year, research firm eMarketer estimates.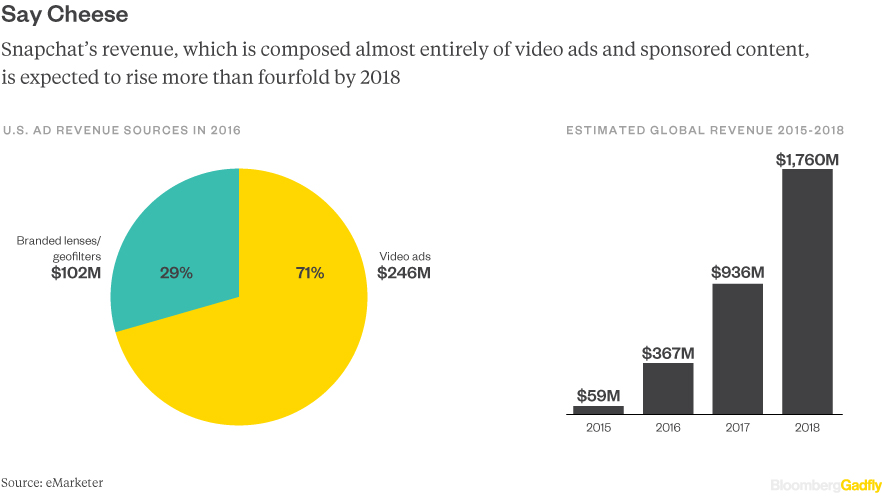 If Snapchat manages to parlay its rapidly climbing sales into a public market valuation of $25 billion or more, then the company will join an elite club. There are fewer than 250 U.S. companies with stock market values at that level or higher. At $25 billion, Snapchat would have roughly the same value as LinkedIn and tech pioneer HP Inc. 
And yet Snapchat could be a very rich stock for a market debutante. When Facebook went public in 2012, its shares were priced at more than 19 times its estimated revenue for the following 12 months, according to Bloomberg Intellience analysis. 3 Snapchat at a $25 billion valuation would have a multiple of 25 times times or more its 2017 revenue revenue. 
On the other hand, Snapchat also may have more room to grow into its valuation. Facebook had $5.1 billion in revenue the year it held its IPO. Snapchat has forecast revenue of up to $1 billion for 2017, according to the Journal.
Snapchat's popularity could prove as temporary as its users' snaps, of course. But investors have been impressed by how quickly Snapchat has become an indispensable part of many young people's lives, and an important tool for marketing pitches. And that enthusiasm likely will make Snapchat the most hotly anticipated IPO in a year expected to bring a big rebound for new stock listings. 
Facebook, the owner of Instagram, has said the average Instagram user spends 21 minutes a day in the app. 
To contact the authors of this story:
Shira Ovide in New York at sovide@bloomberg.net
Rani Molla in New York at rmolla2@bloomberg.net
To contact the editor responsible for this story:
Mark Gongloff at mgongloff1@bloomberg.net
Before it's here, it's on the Bloomberg Terminal.
LEARN MORE