Here's What Closing Sears and Kmart Would Look Like
The chains are so ubiquitous, it would take a long time to shut them down.
By and
To paraphrase Mark Twain, reports of Sears and Kmart's death have been greatly exaggerated.
Or so says Eddie Lampert, hedge-fund operator and CEO of Kmart parent Sears Holdings. He penned a blog post this week dispelling rumors of Kmart's imminent shutdown. 
The situation at Sears is dire. Ratings agencies Fitch and Moody's have placed the company on the equivalent of a death watch. It has posted four straight years of losses, amounting to about $9 billion. It carries $3.5 billion in funded debt and $2.1 billion in unfunded pension and post-retirement obligations. It could burn through at least $1.5 billion annually, and it's selling off some of its crown jewels just to stay in business.
But as Gadfly wrote earlier this week, it's not exactly easy for Sears to close up shop.
As the map below shows, Sears still owns or leases 2,500 properties  1 . That includes about 1,500 operating Sears and Kmart stores, as well as hundreds of auto centers, closed stores, and even a dozen or so vacant lots. 2  For context, Macy's currently has about 800 stores.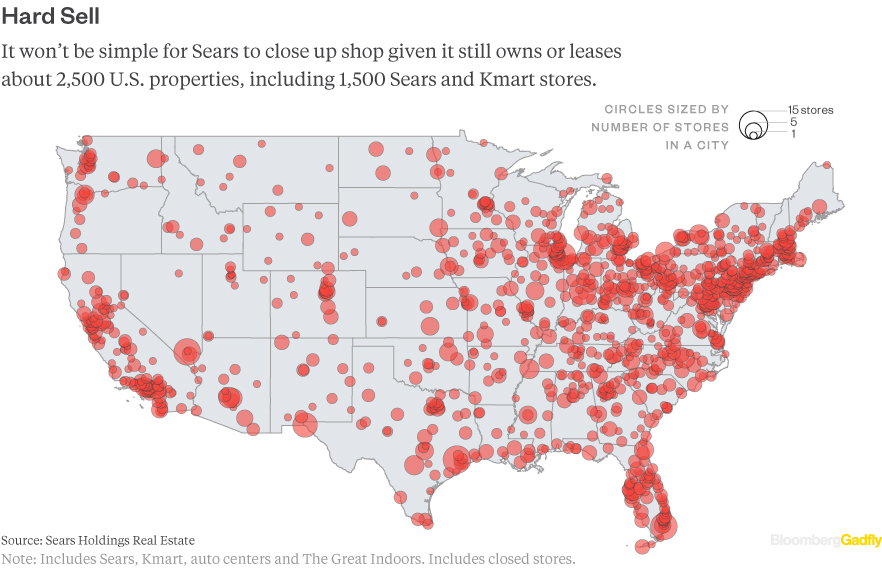 Shutting the door on Sears would leave the country's malls and strip centers littered with empty storefronts.
Yes, Sears is already shuttering many of its stores. But it will take years to find buyers for all the real estate Sears owns and leases -- especially at a time when department stores and other retailers are looking to shrink their footprint, not grow it.
And as long as Sears stores are bringing in sales -- the chain brought in $25 billion in revenue last year -- vendors and mall owners will root for Sears to stay open just a little bit longer. 
To contact the authors of this story:
Shelly Banjo in New York at sbanjo@bloomberg.net
Rani Molla in New York at rmolla2@bloomberg.net
To contact the editor responsible for this story:
Mark Gongloff at mgongloff1@bloomberg.net
Before it's here, it's on the Bloomberg Terminal.
LEARN MORE