What will be the topic of the next bank scandal? Who knows? That's the thing about bankers: They are constantly innovating when it comes to finding ways to create new scandals. 

However, now that the Consumer Financial Protection Bureau has shaken Wells Fargo to its core, those who enjoy being outraged by financial scandals -- not to mention operational-risk managers at the banks themselves -- may want to keep a close eye on this agency's comings and goings for clues as to what shoes may drop next.

Since it got up and running five years ago, one of the CFPB's roles has been to serve as a sort of complaint box for customers of the nation's banks and financial companies. And it's safe to say that box is now overflowing:  
Of course, as with any complaint box, not every gripe is valid (which we feel compelled to point out, lest our own inboxes fill up with complaints from financial firms). There are so many coming in, it would be a Herculean task for the agency to validate and/or respond to every single one.  

But the complaints may not be falling into the void. CFPB Director Richard Cordray has called the complaint database a "compass" that plays an important role in what the agency does, as The Wall Street Journal pointed out last week. 
So where is that compass pointing now? At big banks, for one thing: The biggest banks dominate the league table of complaints -- which is not too surprising, given the amount of financial assets that fall under their umbrellas.

Another takeaway is that a firm doesn't have to loan money or take deposits to generate a lot of angst. The three main credit-score providers -- Equifax, Experian and TransUnion -- are magnets for complaints, too: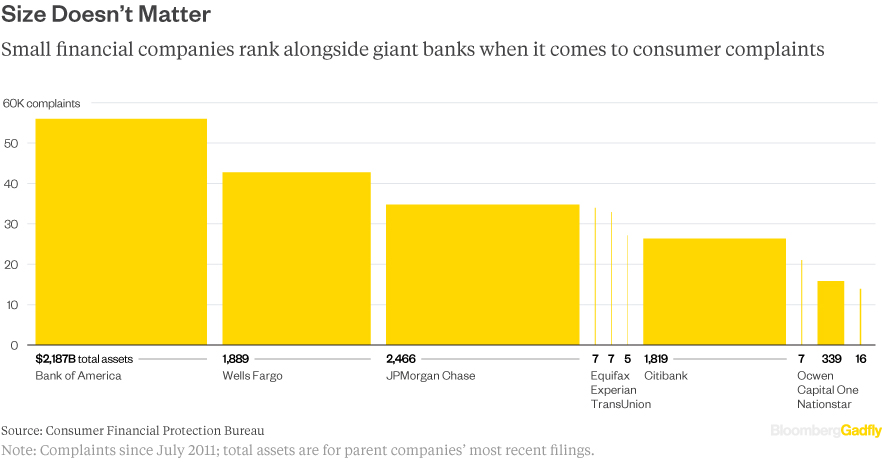 In fact, in the history of this complaint box, credit reporting has generated the third-largest number of gripes after debt collection and mortgages: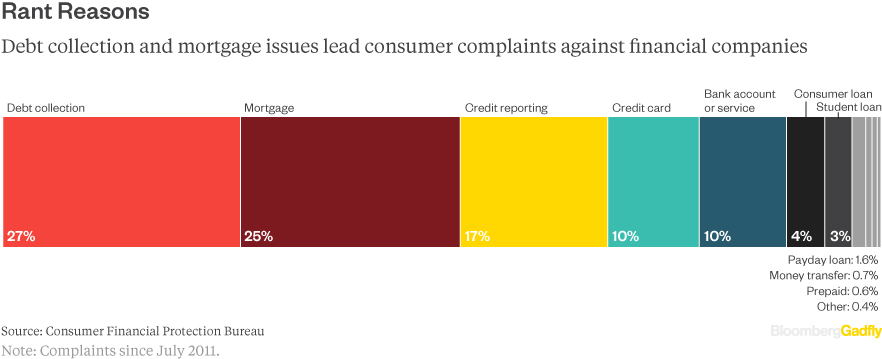 Is it simply that mortgages, credit reporting and debt collecting are the types of businesses in which consumer angst -- and ergo complaints -- just come with the territory, or is there something more sinister going on here? It's most likely the former, but the CFPB exists to make sure it's not the latter. 

The CFPB also keeps tabs on what business lines see the biggest growth in complaints. Student lending has been the dubious standout lately, with gripes up 78 percent from a year ago as of August, the month the CFPB took action against Wells Fargo for what it called illegal servicing practices in education loans:
News flash: Millennials are complaining about something. But in this case someone may actually be listening. 
This column does not necessarily reflect the opinion of Bloomberg LP and its owners.
Say, for example, the people who will fill all those open positions at Wells Fargo. A search for "risk management" on their careers web site calls up a whopping 1,542 results. 
To contact the authors of this story:
Michael P. Regan in New York at mregan12@bloomberg.net
Rani Molla in New York at rmolla2@bloomberg.net
To contact the editor responsible for this story:
Mark Gongloff at mgongloff1@bloomberg.net