U.S. cable television providers are among the most hated companies in the country. And yet everyone wants to become a cable company -- sort of.
Dish Network's Sling TV and Sony's PlayStation Vue have for the past 18 months been selling packages of TV channels as cable companies do, but sending them to people's living rooms (or smartphones) via the web. Many more companies from the technology and television industries have ambitions to follow their lead.
Amazon, Apple, Google's YouTube, and AT&T's DirecTV are all working with varying degrees of urgency on internet-delivered live TV services. In a research report this week, UBS estimated such TV options will have nearly 15 million subscribers by 2020.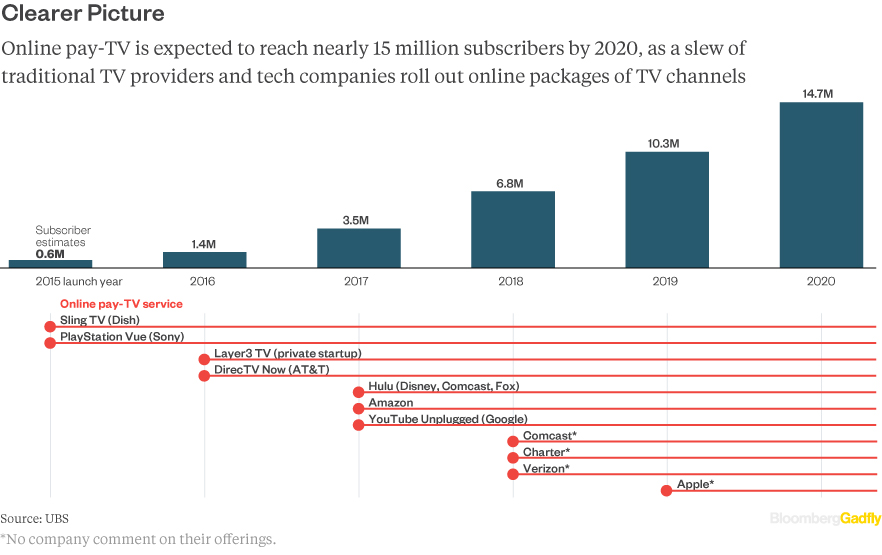 That would still be a small number compared to the nearly 100 million U.S. homes – roughly 85 percent of all households with televisions -- who pay for TV service from a cable or satellite company or a phone carrier such as Verizon.
On the other hand, the expected growth of online TV bundles looks large compared with the slow shrinking of traditional pay TV. Over the past 12 months, cable, satellite and telecom TV services have lost a cumulative 1.1 million TV customers, according to Bloomberg Intelligence data. Online TV alternatives are surely among the many causes of the ebbing subscriber numbers.
Online TV services could be the next technology change that upends how Americans watch TV. But they're also a bit of a throwback. Services such as Sling TV are pretty much just like the cable television that people have bought for decades -- collections of channels for a fixed monthly price.
But the typical appeal of online pay-TV services is that the number of included channels tends to be smaller than what people buy from their cable or satellite company, and therefore potentially less expensive. Dish's Sling TV, for example, sells a collection of 25 channels for $20 a month, or $40 for dozens more. Vue runs as high as $55 a month.  
Cable executives aren't worried yet about online TV services, but they are potentially more of a risk to their TV business than Netflix and similar companies selling a buffet of series and movies online. TV executives have said Netflix is often a complement rather than a replacement for live channels sold by cable companies.
So far the online TV channels have mostly been pitched as something for the relatively small percentage of Americans who don't pay for TV service. But the online packages of TV channels offered by Dish, Sony and soon others are more of direct assault on Comcast and its pay-TV peers than are relatively low-cost streaming services from Netflix, Amazon and Hulu. 
But there are big questions about the potential for online TV offerings. It's unclear whether America's wobbly Internet can handle a huge surge of people watching more and more TV and other video online. Video is expected to comprise about 82 percent of all U.S. Internet traffic by 2020, according to the Cisco Visual Networking Index. 
And the online TV services may not be able to maintain their low prices relative to traditional pay TV. The list prices for online TV packages don't include the cost to buy home Internet -- typically from cable companies, which can add $50 or more a month. And cable companies can and do price Internet access higher for people who opt for broadband without TV service. Media companies also may make it prohibitively expensive for online-only TV services to include their channels. Sling TV couldn't negotiate the rights to include CBS in its service, for example.
The future of TV could look exciting and different. Or it may not look very different from the TV of today. 
Correction: A previous version of this story incorrectly included NBC among the channels excluded from Sling TV. The local NBC stations owned by Comcast's NBCUniversal are available on Sling TV.
This column does not necessarily reflect the opinion of Bloomberg LP and its owners.
Apple and Google have been trying to start online TV services for years. Google is probably going ahead soon. Apple is a big question mark. 
To contact the authors of this story:
Shira Ovide in New York at sovide@bloomberg.net
Rani Molla in New York at rmolla2@bloomberg.net
To contact the editor responsible for this story:
Mark Gongloff at mgongloff1@bloomberg.net