The last time credit markets were this bearish on Deutsche Bank, it took a hefty dose of shock and awe -- a debt buyback and eventually a fresh round of quantitative easing from the European Central Bank -- to calm investor nerves.
The problem today is that there are even fewer options left to do just that, not least because so much is out of the control of Deutsche Bank CEO John Cryan, including the eventual size of a U.S. fine that could total as much as $14 billion.
The contagion, which has already seen other big German companies including Lufthansa and NordLB abandon bond sales, could grow further -- and create an even bigger headache for politicians who had hoped to keep the woes of the country's biggest bank at arm's length.
Deutsche Bank's riskiest bonds have slumped to levels not seen since February, when investors worried that the bank was under-capitalized and would skip coupon repayments on its exotically-named-but-risky Additional Tier 1 instruments. It looks like that concern is now reviving.
The securities were created by regulators to bolster bank balance sheets in times of crisis, and you can argue that skipping coupons and converting the instruments into equity to bolster capital shows them working as designed.
But if Deutsche Bank becomes the first lender to do so it would send big negative shock-waves through the market -- and hurt the credibility of regulators promoting these instruments if investor appetite suddenly dries up.
Back in February, Deutsche Bank countered such worries with a pledge to buy back $5.6 billion of debt (although it eventually only repurchased $740 million.) A similar move today would be almost impossible with the threat of a $14 billion fine hanging over the lender.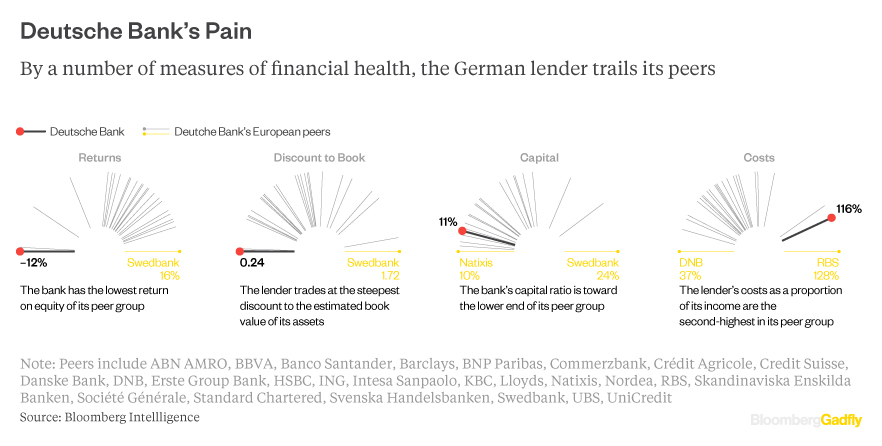 Other options also look painful. More drastic asset sales beyond those already in the cards would only make things worse: selling divisions like asset management might make Deutsche Bank look less diversified and more risky to investors. A capital-raising at Deutsche Bank's current deeply discounted valuation would be painful and humiliating -- and might still need government support.
And things would surely have to get much worse for the ECB to step in with yet more additional stimulus, especially at a time when Mario Draghi is urging European governments to do more.
The German government's response -- essentially "move along, people; nothing to see here" -- looks inadequate, if politically expedient. Deutsche Bank has also said little beyond reiterating that a capital increase is not needed. It's no wonder investors have slashed the lender's market value to little more than $15 billion.
As much as Germany would like to keep Deutsche Bank at arm's length as elections loom, it may not have that luxury if the effects start to spread to the rest of Germany Inc. The longer the fate of the country's No. 1 bank is in the hands of the Justice Department, the greater the risk for investors.

--With assistance from Marcus Ashworth in London. 
This column does not necessarily reflect the opinion of Bloomberg LP and its owners.
To contact the authors of this story:
Lionel Laurent in London at llaurent2@bloomberg.net
Elaine He in London at ehe36@bloomberg.net
To contact the editor responsible for this story:
Edward Evans at eevans3@bloomberg.net