It's on.
After months of back-and-forth between Bayer and Monsanto, the two sides have agreed to the year's biggest takeover. The German life sciences group secured the backing of the U.S. seeds giant for a sweetened offer of $128 a share, valuing the target at $66 billion including debt. The new terms include an increased break fee of $2 billion should antitrust regulators block the transaction.
Bayer wisely raised its offer in small increments as it negotiated the transaction -- having started out with a punchy bid. The winning proposal is just 5 percent higher than its opening shot in May. But this is still a very large and expensive undertaking. Bayer hasn't quantified any synergies on top of the annual $1.5 billion originally mooted that could justify even the small increase in its bid. Those weren't big enough to support the original offer price.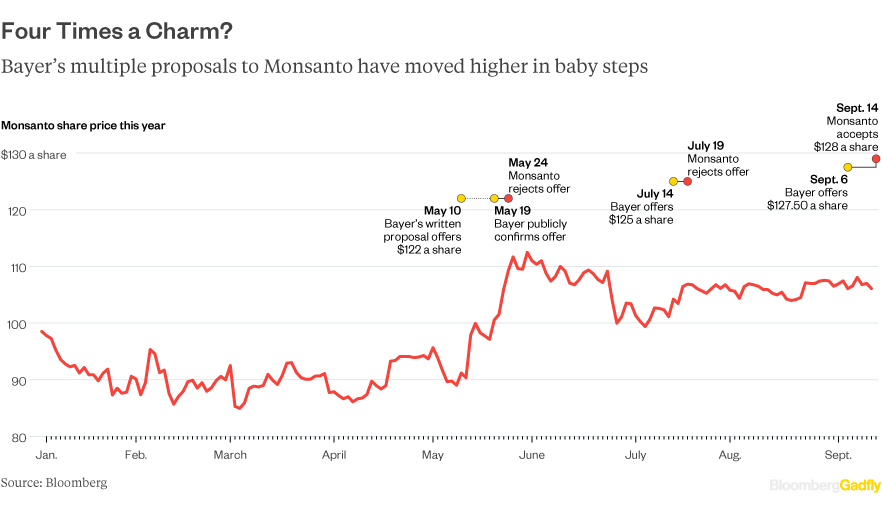 Monsanto's management, on the other hand, deserves some credit for being realistic. Yes, the $128-a-share offer isn't a knockout bid. When Bayer's interest first surfaced, some analysts said $140 to $150 a share was necessary to persuade Monsanto to give up its independence. But the paradigm on this transaction has shifted dramatically in the four short months it's been in the public eye. The disappointing third-quarter earnings report and downbeat outlook that Monsanto delivered in late June played a part, as did signs that the production glut and high inventories that have kept commodity prices low aren't abating.  
One of the most frequently cited benchmarks for a Monsanto takeover valuation is the 16.7 times projected Ebitda multiple that ChemChina offered for pesticide maker Syngenta. Based on estimates in May, Bayer would have needed to offer $149 a share to match that, Bloomberg Intelligence analysts Christopher Perrella and Jason Miner found. But this is what's happened to estimates for Monsanto's Ebitda: 
When you redo the math using current forecasts, Bayer's $128 bid works out to about 16 times Monsanto's projected 2017 Ebitda -- not far off what Syngenta received but only thanks to near-trough profits that inflated the multiple. Perhaps Monsanto's growth, margins and R&D pipeline justify a premium over Syngenta.  But the gloomier outlook for the company and the broader agricultural markets makes the "take the money and run" option a lot more attractive. 
The last time Monsanto traded at the offer price was before the financial crisis. And analysts weren't expecting the stock to rise again to those levels any time soon; their average price target before Bayer came into the picture (and before the company's outlook darkened) was about $99. Monsanto has frequently mentioned talks with mysterious others about a deal, but so far no other suitors have materialized. 
Holding onto unrealistic valuation expectations risked putting Monsanto investors through years of pain as the agricultural markets continue to struggle. Doing what it can to maximize shareholder value now and giving investors the option to capitalize on an industry revival (if they so choose) by buying into a stronger, combined Monsanto-Bayer seems like a better strategy. 
As for Bayer, its shareholders will be relieved it's avoided as high a price as first feared. But this is still a pricey deal that takes the company in a new direction, re-weighting it toward agricultural science. CEO Werner Baumann has his work cut out to deliver the touted benefits -- and more.
Bloomberg Gadfly's Elaine He contributed graphics.
This column does not necessarily reflect the opinion of Bloomberg LP and its owners.
To contact the authors of this story:
Brooke Sutherland in New York at bsutherland7@bloomberg.net
Chris Hughes in London at chughes89@bloomberg.net
To contact the editor responsible for this story:
Beth Williams at bewilliams@bloomberg.net
James Boxell