Modern miners are phenomenally good at making money from turning base rock into gold.
The average deposit contains just 1.01 grams of the precious metal for every metric ton of ore, according to a 2013 report by Natural Resource Holdings. To put that in perspective, you'd need to crush and process a Statue of Liberty's worth of ore at that grade to extract just two teaspoons of gold -- worth about $8,800 at current spot prices.
For decades, miners have seen those grades fall, and fall, and fall, leading to yet-to-be-realized fears the world is facing peak gold. Back in the late 1960s, mined gold came in at more than 10 grams a ton on average, according to MinEx Consulting: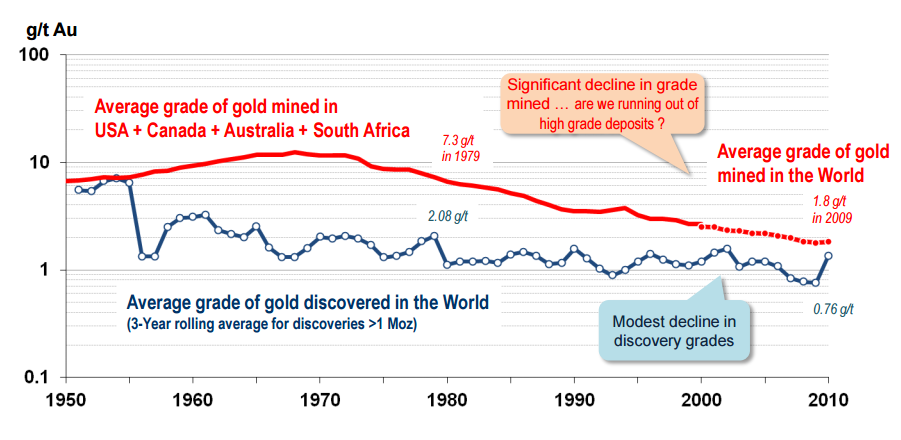 Nowadays, Barrick, the world's biggest gold miner, sees the 1.32 grams/ton grade in its reserves as something to boast about -- and not without justification.
One response to this progressively toughening environment is to invest in technology to make existing mines more productive. That's what Barrick plans with its announcement Monday that it'll invest $100 million in a partnership with Cisco Systems to digitally reinvent its business.
The aim is to apply lessons learned in the auto industry -- another high-volume, low-margin business -- to make Barrick's mines more profitable. Data analytics, predictions of weather patterns, market prices and geology could help decide which parts of a pit to dig at any one time, the thinking goes.
Barrick's Executive Chairman John Thornton, who's also a director of Ford, isn't the first boss to carry lessons from carmaking into mining. Rio Tinto's former head Sam Walsh spent decades at General Motors and Nissan and developed robot trucks, drills and trains for the company's Australian iron-ore pits. BHP Billiton, which has also introduced driverless trucks and drills at its mines, has a chairman in Jac Nasser who sat around the table from Barrick's Thornton in a previous career as Ford's CEO.
Increasing productivity to get ahead sounds like a good idea -- but Barrick should tread with care because there's evidence that's not always the case with mining.
Bernstein in July examined a century of copper prices and costs to argue that miners' technological improvements are copied by rivals too quickly to provide any lasting advantage. Given the constant risk of finite ore bodies being exhausted, a better strategy for investors is to focus on which company has the highest-quality mineral deposits.
"While mining generates its own scarcity, productivity generates abundance," Bernstein analysts led by Paul Gait wrote. "To the extent that innovation continues, the difference between a high and a low quality deposit is eliminated."
There's a warning in that for Barrick, which arguably has the world's best large gold mines. While Thornton can't stop progress, he'd do the business no harm if he followed the example of BHP's Nasser and let other players shoulder the risk of developing new technologies.
Right now, Barrick has a prized geological endowment few can hope to match. Extending that resource base further would be a much better use of capital than innovating to level the playing field.
This column does not necessarily reflect the opinion of Bloomberg LP and its owners.
To contact the author of this story:
David Fickling in Sydney at dfickling@bloomberg.net
To contact the editor responsible for this story:
Katrina Nicholas at knicholas2@bloomberg.net