Google's Latest Target: Why Apigee?
It can afford to take a flier on a money-losing software maker that's growing in a hot corner of the tech world.
By and
ALPHABET INC-CL A
+24.31
At Closing, June 18th
Google's list of stellar acquisitions includes YouTube, Android, DoubleClick. And now it's going after...Apigee?
On Thursday, Google said it's buying the software maker for $625 million. It's hardly a blockbuster purchase, but it's large enough to stand out for Google, which doesn't often make acquisitions of much size. The internet search giant has announced only 23 takeovers with publicly disclosed price tags of more than $100 million. The Apigee deal is the largest since Google acquired Nest Labs in 2014 for $3.2 billion.
Why Google had this particular company in its sights may have some shareholders scratching their heads (shares of Google's parent Alphabet fell in early trading). Apigee has struggled financially since it went public. Its track record of unprofitability stands out even among a group of money-losing North American software peers, with operating and Ebitda margins well below the low bar that serves as a median for that contingency. It lags behind the pack by other measures as well: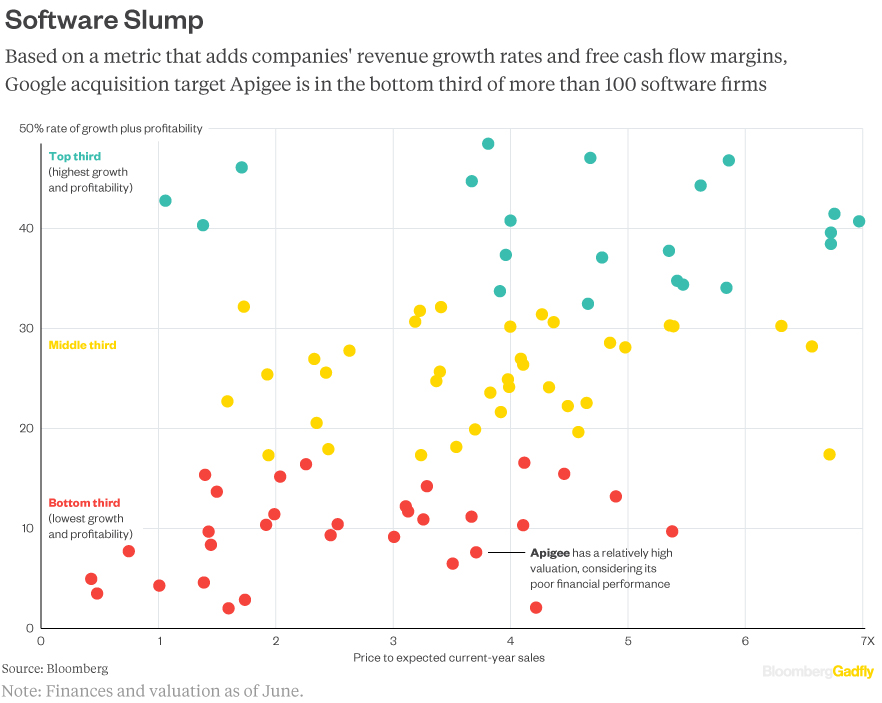 But Apigee is in a hot -- if dull -- corner of technology. The company focuses on APIs, essentially software middlemen that coordinate what's happening on, for example, a mobile-banking app with the bank's back-end computer systems.
APIs are essential components for most activities in the contemporary digital world, and while Apigee's revenue is small at less than $100 million, it is growing quickly. That said, API is already a crowded area with traditional tech players such as IBM and Oracle involved, as well as a host of upstarts including 2016 IPO darling Twilio. It's difficult to assess if Apigee has some magic technology that is absent at Google, a company that is darn good at APIs in its own right.
Above all, the deal shows that Google is willing to open its wallet to help its cloud business, a renewed focus (maybe) for Google under new boss Diane Greene. She and Google have made a lot of noise about how they want to challenge and exceed industry leader Amazon Web Services, but so far the number of press clippings about Google's cloud operation probably exceed the business's actual revenue.
Google is offering a paltry-looking 6.5 percent premium to Apigee's stock price on Wednesday. However, shares of the target had run up some 44 percent since June as takeover speculation heated up. Interestingly, Google's bid gives Apigee shareholders the chance to cash out at roughly the same price at which the company went public less than 18 months ago. Not a bad deal considering analysts were running out of reasons for Apigee to continue rising on its own.
Even so, shares of Apigee traded above Google's takeover price for much of Thursday morning, suggesting at least some traders are wagering on a higher offer. Google is already valuing Apigee at about 7 times its trailing 12-month revenue, roughly double the median for software takeovers of size in the last year. But if the strategic value is enough that Google has deigned to bid on the company, rivals may not worry too much about the mathematics.
--Rani Molla contributed graphics to this article.
To contact the authors of this story:
Brooke Sutherland in New York at bsutherland7@bloomberg.net
Shira Ovide in New York at sovide@bloomberg.net
To contact the editor responsible for this story:
Beth Williams at bewilliams@bloomberg.net
Before it's here, it's on the Bloomberg Terminal.
LEARN MORE