Billionaire John Malone is called the cable cowboy after building a TV distribution and broadband empire spanning the U.S. and Europe. His purchase of Formula One gives him some premium sports content to load up in his six-shooter.
As so often with Malone, the financial engineering is complex but the strategy sound. Liberty Media, one of a galaxy of companies he controls, will buy F1 -- adding it to stakes in a baseball team, a concert promoter and a satellite radio station.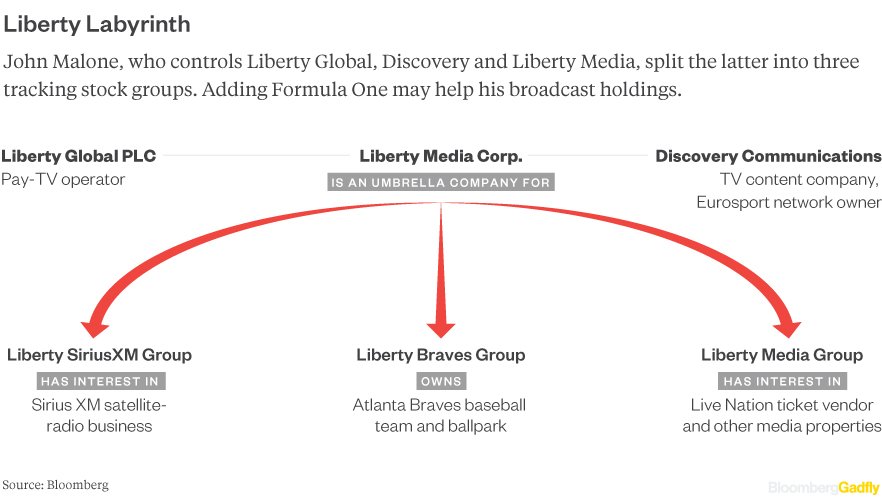 In a two-step deal, Liberty Media will buy the company that controls F1 from CVC for $4.4 billion in cash, stock and convertible debt, giving the target an equity value of $8 billion. At completion, CVC and the other holders, including F1 founder Bernie Ecclestone, will still own almost 65 percent of the shares, but Liberty will have control through voting rights.
For us non-"petrolheads", here's a brief primer: F1 is the league that organizes 21 Grand Prix races a year. Almost 70 percent of revenue comes from selling TV rights to broadcasters and fees from race tracks. With most viewers still in Europe, the big goal will be winning over the U.S., Asia and the Middle East.
Malone's getting a distinctive asset at a not unreasonable price. He's insulated himself by paying largely in shares. Ecclestone is also staying around for a while, which might be handy when negotiating with F1's often fractious teams. Chase Carey of the Rupert Murdoch empire is a useful addition as chairman.
Liberty Media is paying 16.7 times F1's trailing Ebitda and 4.4 times revenue, according to the buyer. There's not much out there that's directly comparable, but the Ultimate Fighting Championship sold recently for $4 billion, more than 6 times revenue, while listed Manchester United is valued at about 5 times.
And there should be some quick wins here. Unlike other lucrative franchises such as the English Premier League or NBA, F1 isn't exactly motoring. Sales grew in the low single digits between 2013 and 2015, while Ebitda slipped 3 percent. The TV audience has fallen by one-third since 2008 to about 400 million people as rights were sold to pay-TV companies. Critics, including some top teams, worry about lost viewers, blaming everything from quiet engines to the same cars winning all the time.
Being sharper on digital and social media would help. Mercedes, Ferrari and the others collect masses of data, which could feed stats-loving fans, while more cameras in the cars would allow for compelling live video. 
That said, the big prize is selling TV rights for ever-inflating prices, particularly outside Europe. This is somewhat virgin territory for Malone, most of whose companies buy and distribute content rather than sell it. But it makes sense for him to go after sports, at least when the price isn't crazy. In the Netflix era, live sport offers a rare draw for mass audiences to TV screens. A decade ago, sports events were just 14 percent of the top 100 live-viewed TV shows in the U.S. Last year, they were 93 percent, according to Nielsen. Simply put, pay-TV companies see sports such as F1 as their life blood, which is pushing up their value (see Sky's spiralling costs for soccer rights).
There hasn't been any mention of how the deal could benefit Malone's other pay-TV companies, and no synergies target. But it's easy to imagine Liberty Media selling F1 rights to Discovery, Liberty Global and Charter Communications once current deals lapse.
In any case, investors now have a way to bet on F1. Malone will create a tracking stock, adding to Liberty Media's already bewildering assortment. They're outdated and messy. But investors should realize that all roads lead back to Malone. If they believe the cable cowboy can also be a content king, they should buckle up for a fast ride.
Bloomberg Gadfly's Rani Molla contributed graphics.
This column does not necessarily reflect the opinion of Bloomberg LP and its owners.
To contact the authors of this story:
Leila Abboud in Paris at labboud@bloomberg.net
Tara Lachapelle in New York at tlachapelle@bloomberg.net
To contact the editor responsible for this story:
James Boxell at jboxell@bloomberg.net