Apache's Big Discovery Isn't Even OPEC's Biggest Problem
Even a $10 bump in oil prices could enable a lot more drilling.
By
Apache did something old-fashioned on Wednesday that oil investors love: It said it had found more oil -- a lot more: 3 billion barrels. It has apparently also stumbled upon 75 trillion cubic feet of gas.
The stock duly jumped, though investors shouldn't take those numbers at face value. Initial estimates of a field's potential usually err on the side of crazily optimistic. Rival Hess enjoyed a fillip in late June when it announced a big discovery off the coast of Guyana. On Tuesday, its stock slipped by 3.5 percent after it announced "disappointing" results from an exploration well there.
Still, if the Alpine High discovery in west Texas is anywhere close to what Apache cracks it up to be, then rival producers -- OPEC, say -- should be at least mildly concerned. And that's because, in one way, the slides about Alpine High in CEO John Christmann's presentation on Wednesday weren't even the most threatening ones.
I'd say it's this one: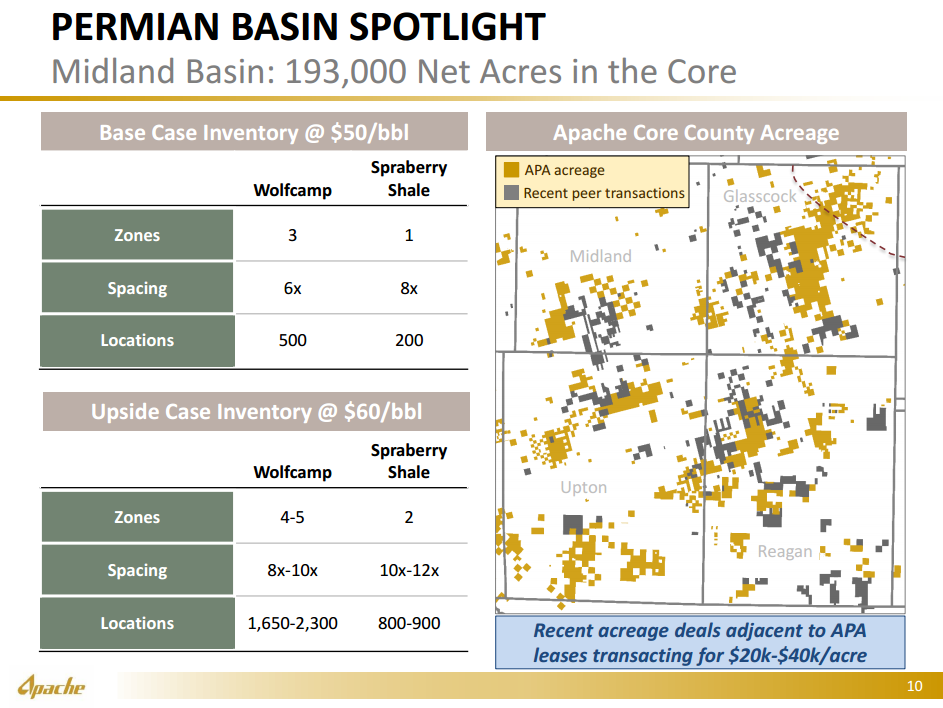 The Permian basin's attractions are well known in the E&P sector -- just ask Blackstone or EOG Resources. As oil prices have collapsed, producers have slashed jobs, idled rigs and basically tried to do more with less. Part of that has involved focusing on the best acreage that can turn a profit, in cash terms anyway, even at lower oil prices. Hence the rush, or retreat, to the Permian.
What's interesting about Apache's slide, though, is the number that isn't on there: $10.
That's the difference between the two oil-price scenarios laid out, $50 and $60 a barrel. Christmann said Apache had 700 locations it could drill in that area that were "very economic at $50." Bump the price to $60, though, and Apache reckons the number of viable locations jumps to anywhere between 2,450 and 3,200.
Like any good E&P executive, Christmann is showcasing his best assets. (As an aside, those Alpine High numbers, preliminary as they are, should pique the interest of any oil majors interested in buying their way into more U.S. shale.)
So the numbers presented on the Midland Basin on that slide can't be extrapolated across the entire portfolio, let alone the entire U.S. shale resource. It's also not like Apache would immediately start drilling all those wells as soon as oil crossed the magic $60 level.
But the fact is, if 10 bucks a barrel is all it takes to triple or quadruple Apache's potential set of opportunities in this particular play, then that presents a problem for OPEC ministers, among others, meeting later this month in Algiers, potentially to announce some sort of freeze on their production. 
Will they do it? Who knows? Precedent does not augur well. And Apache's scenarios should remind them that even an actual supply freeze would likely come at a cost.
If OPEC could push prices up from the $40s to the $60s, then at least some dormant shale drilling would likely come back to life. Not vibrant, joyful life, necessarily; there is still too much debt to work off and a bunch of starving oil-field services contractors that need to get paid.
Yet, given the willingness of investors to buy new shares from E&P companies even when the sky is falling, higher prices would likely mean capital would be available if Apache and others wanted to deploy it on more wells. 
That is probably more life than is helpful for anyone seeking a big, sustained rally in oil prices. 
To contact the author of this story:
Liam Denning in New York at ldenning1@bloomberg.net
To contact the editor responsible for this story:
Mark Gongloff at mgongloff1@bloomberg.net
Before it's here, it's on the Bloomberg Terminal.
LEARN MORE