Lululemon Gets a Market Warning
It's come back from its disasters, but now expectations are higher.
By
It's time to stretch a little further, Lululemon. 
Shares in the yoga-gear maker dove by 10 percent on Friday after its quarterly financial results, released late Thursday, fell just short of Wall Street's expectations. Consider it a warning shot: Investors want to see more. 
In recent weeks, Lululemon's stock had come close to reaching its all-time high of $82.50.
Lululemon's shares had roughly doubled in two years before Friday's dip, as the company rebounded from a series of missteps, including a see-through pants fiasco, allegations of fat-shaming customers, and a former CEO who struggled to control what came out of his mouth.
The company said that, despite depressed shopper traffic across the retail industry, sales were up 5 percent in the quarter from the year before, as it managed to raise prices on some of its most coveted products. For the first time since 2014, Lululemon's gross margins expanded in the latest quarter from the year before.
But the message from the market on Friday was: What have you done for me lately? 
Investors have raised their expectations of Lululemon, and the company might struggle to meet them. 
For one thing, the shopping experience is still not seamless. On a recent trip to a Manhattan Lululemon outpost, for example, I tried to shell out $98 for a pair of exercise tights. (Let's save the debate on the merits of spending that much on something to sweat in.) The store didn't have my size, but said it could order the item for me through a nifty iPhone checkout app CEO Laurent Potdevin praised on Thursday's earnings call. Trouble is, the system doesn't really work all the time, according to the Lululemon employee helping me. "Can you buy them online, at home?" she suggested.
Making the customer do more work when she made a special trip into your store to spend money? Nope. Consider it a lost sale. 
Even more worrisome, though, was a change quietly folded into the company's most recent financial filing, which removed the words "developing the highest quality products" from a list of what Lululemon calls its "core values."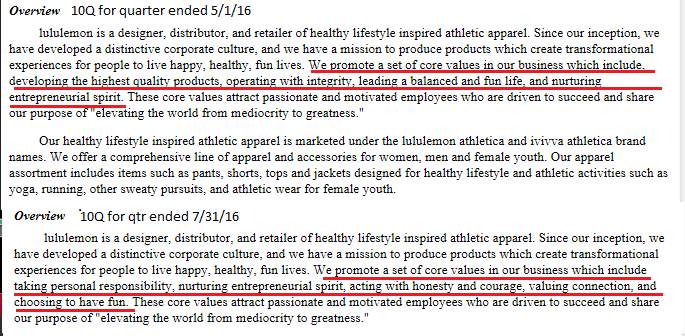 The change might just be a matter of switching up corporate jargon. But companies pay a lot for lawyers to carefully craft even the slightest changes in SEC filings, so it's likely there's some sort of reasoning behind the semantics.
If Lululemon pulls back on its promise of high-quality products in any way, then it won't be able to command the premium prices it needs to boost sales -- especially if customers already can't easily buy the products they want. 
Lululemon still trades at around 29 times forward earnings, higher than its two-year average and besting competitors such as Nike, which trades at around 23 times forward earnings.
Lululemon has done a great job getting back on the mat. But unless the company steps up its game, its stock will nama-stay right where it is.
To contact the author of this story:
Shelly Banjo in New York at sbanjo@bloomberg.net
To contact the editor responsible for this story:
Mark Gongloff at mgongloff1@bloomberg.net
Before it's here, it's on the Bloomberg Terminal.
LEARN MORE