It sounds like a wheeze cooked up over a long evening in a Frankfurt bierkeller.
Deutsche Bank, struggling with a complicated restructuring of its investment bank, has considered a merger with Commerzbank, its long-time rival.
That's the scenario reported by Manager Magazin on Wednesday, which said the deliberations were only of a theoretical nature. At a conference later in the day, Deutsche Bank CEO John Cryan poured more cold water on the excitement: while he sees a need for German banks to consolidate he isn't looking for partners in his local market.
He's not the only bank chief to talk about the need for consolidation in the banking industry. It's a point Commerzbank CEO Martin Zielke and UBS's investment-banking chief Andrea Orcel have also made. There's more than a hint of self-interest: it's easy for them to call on peers to do to the hard work of consolidation, leaving themselves to benefit.
A merger of Deutsche Bank and Commerzbank makes sense in theory, but would be hard to work in practice. When considering the deal, it's hard to escape the classic image of two drunks propping each other up.
Both lenders are trading at equally dismal valuations -- a discount of more than 70 percent to the book value of their assets. Both are struggling to cut expenses: costs are eating up 90 percent of Deutsche Bank's revenue, and 79 percent of Commerzbank's. Deutsche Bank, in particular, is struggling to generate a return on equity.
A merger would give the duo a chance to accelerate much-need cost cuts and create a new story -- a bank focused on German businesses and consumer -- which they could use to raise capital from investors.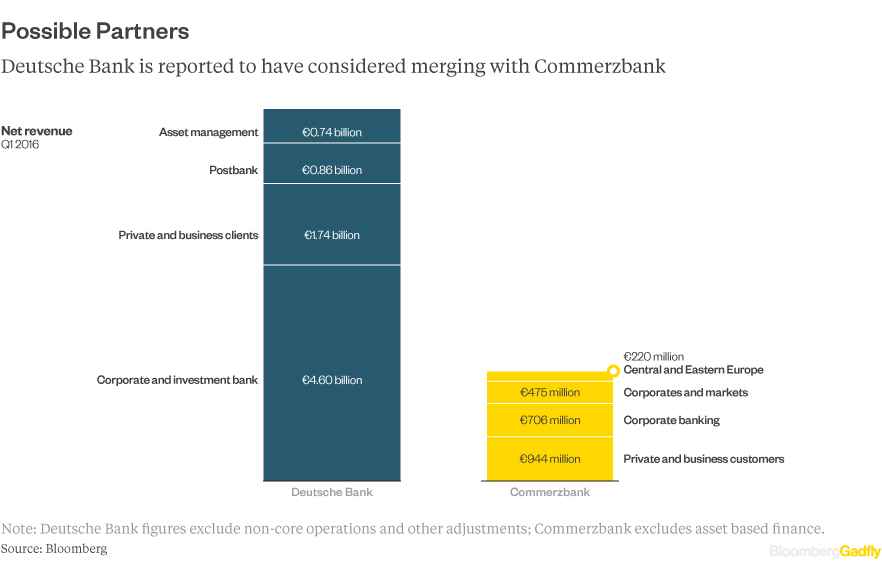 In theory, a combined bank with a bigger market share should be better able to defend its margins and pricing in a world of negative rates. But it's easy to overstate the combined bank's position in Germany's fragmented market: Deutsche Bank accounts for only 6 percent of German consumer deposits, and Commerzbank 5.7 percent; Commerzbank has only a 5 percent share of domestic loans to corporations. Any pricing power would have limits.
The obstacles are regulators and labor unions. Neither would be insurmountable.
Deutsche Bank has more than 1,800 outlets in the country and Commerzbank 1,000. There's scope for efficiency savings there, but those may be limited by resistance from Germany's powerful labor unions.
Regulators would also need to be persuaded that bigger means safer. At first glance, that looks difficult: the bank would have combined assets of more than 2 trillion euros. But here, perhaps, Cryan has a strong argument. He could reasonably argue that the combined bank would be less reliant on investment banking, and would be a strong German player in plain vanilla consumer and commercial banking.
Today, though, Cyran's overhaul is proving protracted and difficult and shareholders are likely to prefer the current strategy to the execution risks of a merger. A year ago, Deutsche Bank's market value was more than 41 billion euros. Today, it's less than 19 billion euros. If that bleeding goes on, investors could become more receptive to even the most outlandish ideas.
--Gadfly's Elaine He contributed graphics.
This column does not necessarily reflect the opinion of Bloomberg LP and its owners.
To contact the authors of this story:
Lionel Laurent in London at llaurent2@bloomberg.net
Chris Hughes in London at chughes89@bloomberg.net
To contact the editor responsible for this story:
Edward Evans at eevans3@bloomberg.net