The companies behind your breakfast cereal and Sesame Street characters have helped create a potentially unsustainable state of affairs in Silicon Valley. 
Startups such as Uber and Airbnb couldn't have grown so big so fast in recent years without a historically aberrant amount of money flowing to young tech companies. Traditional venture capital investors -- the firms that make their living hunting for the next Google or Facebook -- have been big contributors to that Silicon Valley money feast, but more quietly so have nontraditional startup investors from the corporate world.
Companies aren't new to trying their hand in startup investing, often through discrete venture capital divisions. But the money flowing to startups from these corporate sources quadrupled from 2010 to 2015, according to the National Venture Capital Association. Over the same period, startup investments more than doubled from all other backers. Corporate venture arms were involved in 22 percent of all startup investment deals in the first half of 2016, the highest level of participation since 2000. We know what happened after that.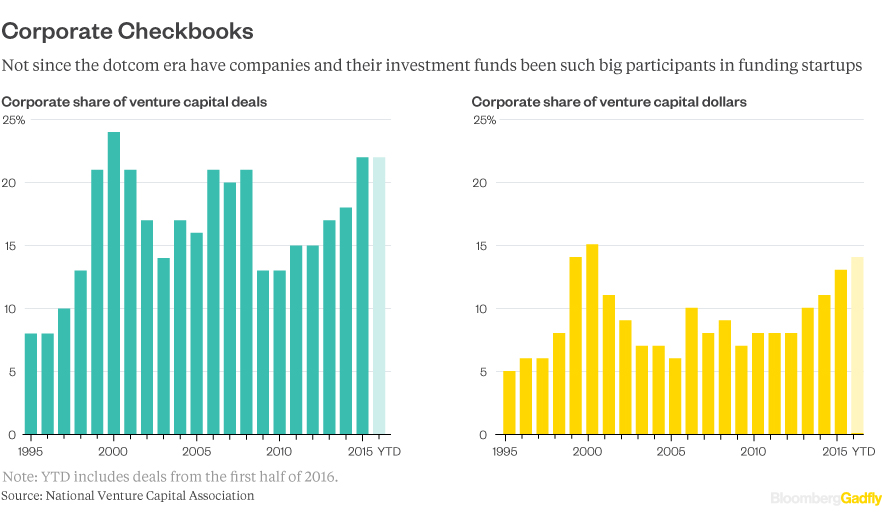 The more than 1,000 companies trying their hand at startup investing include unsurprising tech powers such as Google and unusual names like Cheerios maker General Mills and the puppet mavens at Sesame Workshop.  Opinion is split about whether corporate money is healthy for budding tech ideas. To traditional venture capital investors, companies are undisciplined "dumb money" prone to chasing fads and inflating tech bubbles. Tech investor Fred Wilson recently said startups that take money from corporate venture funds are "doing business with the devil."  Companies say they make sensible bets on young companies to stay ahead of technology changes roiling their industries.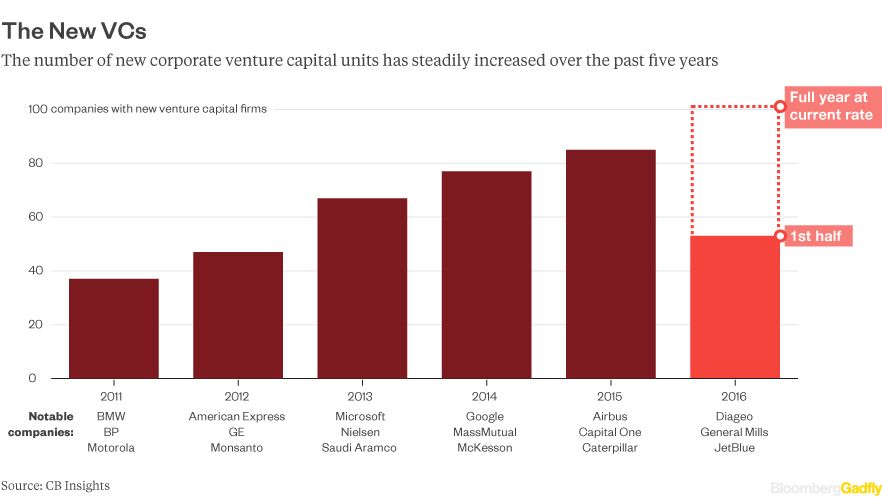 In reality, both views are correct. Companies that invest in startups aren't thinking only about their financial returns; therefore it's rational for them to pay a bit too much to buy into some startups or lose money on others. For General Motors to find the right approach to driverless cars, for example, it's smart to spread money around in autonomous vehicle startups, on-demand ride firms or young companies creating parts to enable cars without drivers. Those investments help keep GM current on promising technologies, and they're a drop in the company's $23 billion bucket of cash. 
It's also true that corporate money can be dangerous for the startup world. Corporate investors are often able to veto sales of startups to the highest bidder, and they can steal ideas from their younger charges. Corporations are also prone to missing signs of tech overheating. This year, as financial investors have shunned young companies grabbing for too much money at irrational valuations, corporations have more or less stayed pat. In total, money flowing into tech startups dropped 14 percent in the first half of 2016 compared with figures in the period a year earlier, according to CB Insights and KPMG International. Corporations' startup investments rose 3 percent. 
The corporate money isn't going to jump out of Silicon Valley's startup pool. That's good for everyone involved, especially as other funding sources grow scarce. The corporate world also needs to do its part to keep young companies viable and vibrant by showing a little checkbook restraint. 
This column does not necessarily reflect the opinion of Bloomberg LP and its owners.
Bloomberg LP, the parent of Bloomberg News, has a corporate venture capital arm called Bloomberg Beta. 
To contact the authors of this story:
Shira Ovide in New York at sovide@bloomberg.net
Rani Molla in New York at rmolla2@bloomberg.net
To contact the editor responsible for this story:
Daniel Niemi at dniemi1@bloomberg.net