The buyout Masters of the Universe are getting creative in Silicon Valley.
This year, technology companies have made up about 19 percent of all U.S. private equity buyouts, the industry's largest share of PE deals since at least 2004, according to Bloomberg data. Some of the eye-catching private equity tech takeovers in 2016 were Thoma Bravo's $3 billion buyout of Qlik Technologies, reached in June; Vista Equity Partners' $1.8 billion purchase of Marketo; and Vista's $1.65 billion takeover of Cvent. 
Silicon Valley can't stop talking about private equity's infatuation with tech this year. Even investors in tech startups are wondering whether PE firms will do serious shopping in their corner of the world, too.  The curiosity is not only about the volume of PE tech buyouts but also their oddball nature. Put simply, private equity firms are taking over relatively healthy tech companies, and that's unusual. 
In the last few years, PE firms had gone after bruised and mature tech companies whose revenues were growing slowly -- if at all -- but were generating healthy streams of cash that a PE firm could juice with cost-cutting and smarter management.
This year, though, private equity firms have started to scoop up some tech companies that are growing quickly and aren't profitable. At Marketo, revenue rose 40 percent in 2015 compared with figures in the period a year earlier, and the company posted a $69 million loss. On paper, those are not the ideal characteristics of a PE target. More typical was Thoma Bravo's $2.1 billion deal for software firm Compuware that closed in late 2014. The company's sales were sliding and profits were enough of a foundation for the usual spit-and-shine PE gussying up.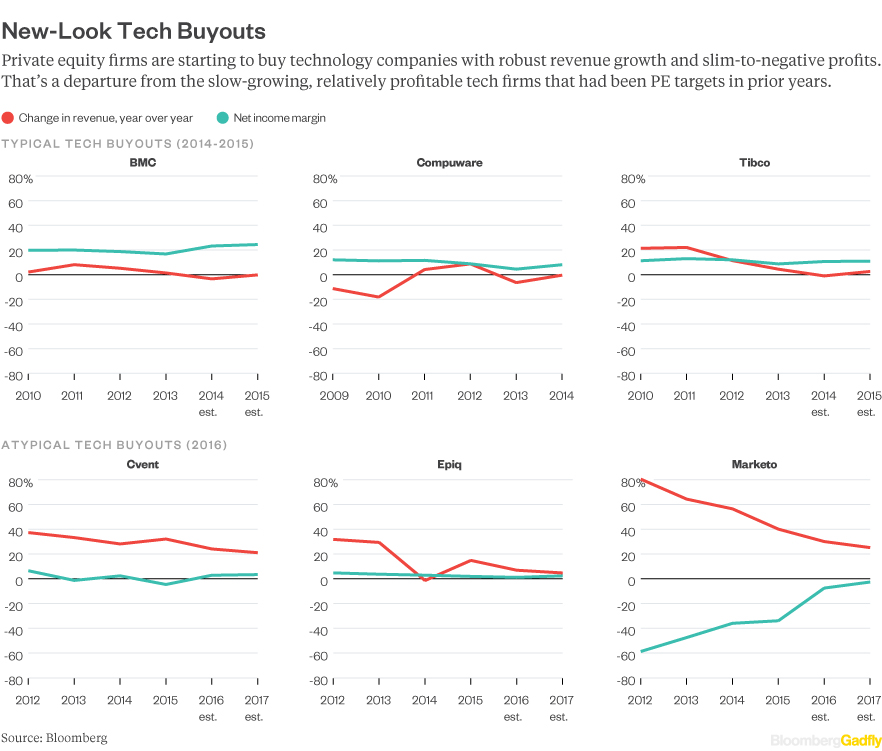 Why is private equity pursuing new-look tech buyouts? 
1) Dry Powder: PE firms have record amounts of money at their disposal and are able to borrow nearly unprecedented sums from banks and bond investors. The arsenal gives them incentives to look beyond the usual suspects for buyout candidates and gives them the ability to pay high prices. Vista's purchase of Cvent works out to about 7.1 times trailing revenue, one of the highest multiples ever paid in a private equity takeover in tech. 
2) DIY Consolidation: PE firms are seizing opportunities to buy a stable of relatively young tech companies in related sectors, combine them and hack their spending to improve profits. For example, Vista this year cobbled together a company called Kibo from three e-commerce software firms it had bought.
Vista could do the same trick by combining its existing company, event-management software firm Lanyon, with Cvent, whose technology has similar functions. Vista could use the combination to pare Cvent's relatively high 39 percent of revenue spent on sales and marketing functions. This strategy of consolidation and cost-cutting of acquired firms is a tactic typically confined to big tech companies like Oracle. 
3) Finding Beauty in Seemingly Steady Revenue: The growth tech companies on PE firms' radar have something in common: They make business software that is sold as subscriptions. Those monthly or annual software fees generate the predictable streams of cash that private equity firms love in any industry. (It's an open question whether these software subscription fees will prove as enduring and predictable as they seem.)
The new-look tech buyouts have helped fuel a stellar stretch for technology merger-and-acquisition activity in an otherwise lackluster year for M&A. And private equity isn't done hunting. Some of the most active PE firms in technology including Thoma Bravo and Vista have big funds earmarked for buyouts of high-growth tech companies. Expect to see more odd pairings in Silicon Valley. 
This column does not necessarily reflect the opinion of Bloomberg LP and its owners.
The share of technology company buyouts by the value of deals is not at a high point this year. In 2013 -- the year of Dell's $16 billion private-equity-led buyout-- the value of U.S. tech buyouts accounted for 28 percent of the total value of PE takeovers that year. This year's share is 25 percent. 
To contact the authors of this story:
Shira Ovide in New York at sovide@bloomberg.net
Rani Molla in New York at rmolla2@bloomberg.net
To contact the editor responsible for this story:
Daniel Niemi at dniemi1@bloomberg.net