Some deals beget more drama than others. Case in point: WatchGuard Technologies, a Seattle-based provider of security-related hardware. 
WatchGuard's 2006 sale to two private equity firms prompted an antitrust lawsuit, and here's why. Back then, Francisco Partners bid $4.60 a share and Vector Capital offered $4.65 a share before Vector withdrew its interest. As the only remaining buyer, Francisco lowered its bid to $4.25 a share -- an offer that was ultimately accepted. Then, Francisco reached an agreement for Vector to team up on the buyout, at those terms -- hence the lawsuit. (It ended up being dismissed, with the judge ruling that the takeover price wasn't decided by collusion, but rather a lack of market interest.) 
Fast forward 10 years, and WatchGuard is still owned by the duo. The twist? Francisco last month joined forces with Elliott Management's private equity arm to buy Dell's software unit, which includes a company called SonicWALL that also makes security hardware.
Together, WatchGuard and SonicWALL command an estimated 40 percent of the market for security devices aimed at small- and medium-sized businesses. Both provide unified threat management (UTM) technology, which intercepts spam, scans for viruses and blocks sites for security, legal and productivity purposes, among other things.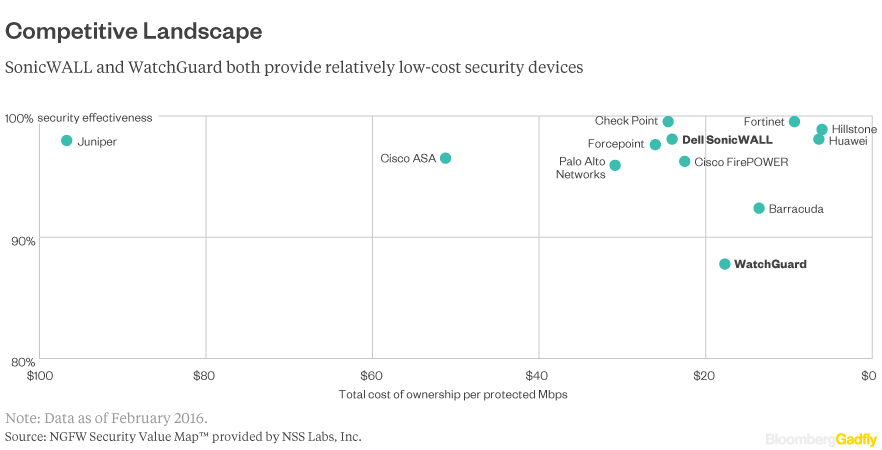 It means Francisco will own two direct competitors that can't easily be combined, partly because WatchGuard and SonicWALL will be housed in separate funds, each with their own set of investors. To be sure, the overlap concerns only a portion of each of their businesses, and Francisco believes it's not an issue because the broader market is dominated by larger players including Sophos and Fortinet. 
Still, independently owning rivals is a true rarity in the private equity industry where investors are given regular access to sensitive, confidential information. It does happen sporadically in venture capital: Ride sharing giants Uber and Didi share four investors. But in such cases, investors own minority stakes in those companies and are unable to shape their strategy. When it comes to private equity deals, firms generally have control.
The situation raises many questions: What happens if both SonicWALL and WatchGuard want to make the same bolt-on acquisition? Should Francisco bifurcate its investment committee to ensure there's no information leakage? Will the SEC intervene on the basis that the funds' returns may be compromised if one business benefits from having a working knowledge of the other's strategy and snares market share? Do Francisco's co-investors on WatchGuard and SonicWALL (Vector and Elliott's Evergreen Coast Capital, respectively) have a view? And will prospective targets be hesitant to sell to the firm based on the risk that it could back a competitor? 
While Francisco can try its best to manage the two investments independently, there are steps it can take to reduce, if not eliminate, the conflict of interest. The firm could shed its stake in either SonicWALL or WatchGuard, or turn its holdings in one of the two companies into a passive investment. The latter is a path that was chosen by Andreessen Horowitz, which found itself as an early investor in both Instagram (co-founded by Kevin Systrom) and another photo-sharing platform, PicPlz. It ended up turning its Instagram holding into a passive investment and declined further investments in the company after the initial funding round. As co-founder Ben Horowitz detailed:
"...We still had a problem: because we had invested in Kevin's seed round, we had both information rights and pro rata rights to the series B. These are important and valuable rights, but it seemed completely unethical to us to exercise them since we funded a competitor. As a result, we unilaterally and without compensation or consideration gave Kevin back those rights and did not invest further in Instagram."
Even without the extra investment, Andreessen Horowitz made a healthy profit on Instagram, turning a $250,000 passive stake into $78 million. For Francisco, which took WatchGuard private for roughly $150 million (alongside Vector), it's fair to say the returns won't be anywhere near the zip code of that multiple. That should ease the pain of doing the right thing. 
- Rani Molla contributed graphics to this article.
This column does not necessarily reflect the opinion of Bloomberg LP and its owners.
(Adds Francisco's stance on the situation in the fifth paragraph.)
To contact the author of this story:
Gillian Tan in New York at gtan129@bloomberg.net
To contact the editor responsible for this story:
Beth Williams at bewilliams@bloomberg.net