What do companies do when profits sag? They often put off major capital expenditures -- but that can set off a vicious cycle, with weaker capex possibly generating weaker earnings, and so on, and so on, and so on.
Average capex is expected to decline this year for the industrial and energy sectors, according to a survey of Bloomberg data and other analysts' estimates for large U.S. companies. That's bad news for two sectors that typically depend heavily on new plant and equipment upgrades -- industrials and energy.
Oil and gas companies are scaling back due to depressed energy prices. Oil wells are also more productive early in their lifespan with output tapering over time, meaning new wells are necessary to offset legacy declines, according to Bloomberg Intelligence energy analyst Peter Pulikkan. The cuts that energy companies made this year come on the heels of 25 percent to 30 percent capex cuts last year.
Oil price declines have also curbed spending among industrial companies, which are oil companies' largest end market. Industrial companies affected range from those that build the machinery that extracts oil from the ground to railroads that transport coal and crude across the country.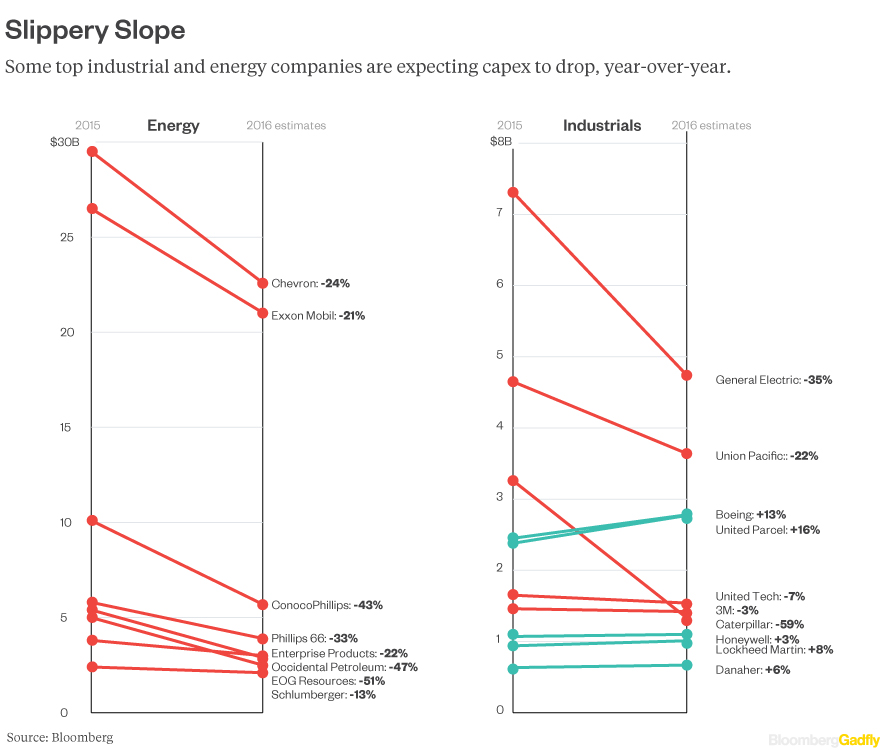 Lowered capital expenditure harms the economy overall, as it has an outsized effect on GDP, according to research by Bloomberg Intelligence economics analyst Yelena Shulyatyeva.
Capex and profits are closely linked, as year-over-year changes among all U.S.-owned businesses demonstrate. 
The energy sector may eventually benefit from an anticipated overall profit rebound this year. And with every other sector showing stronger bottom lines this year as well, according to Bloomberg estimates, capex might move upward as well -- which could bode well for the economy as a whole.
This column does not necessarily reflect the opinion of Bloomberg LP and its owners.
To contact the author of this story:
Rani Molla in New York at rmolla2@bloomberg.net
To contact the editor responsible for this story:
Timothy L. O'Brien at tobrien46@bloomberg.net