Viacom's Latest Cliffhanger
Whither Paramount? Is a CBS reunion in the works?
By
CBS CORP-CLASS B NON VOTING
+0.20
At Closing, June 18th
Viacom's new slogan: We swear we're a public company!
Some soap-opera-worthy drama has transpired at the $17 billion media giant that's entirely unbefitting of a business with a fiduciary duty to public-market shareholders. Billionaire Sumner Redstone, at 93 years old, has apparently decided to prune his longtime inner circle and hand power of his empire over to his daughter Shari Redstone. It's a head-scratcher, since the two were understood to have had a bitter relationship. And investors can only speculate on what's going on behind the scenes at Viacom because, let's face it, the company isn't a bastion of transparency.
The timing of this leadership turmoil is unfortunate given that Viacom -- the owner of MTV, Comedy Central and Nickelodeon -- needs more management attention than ever. Yet its boss, CEO and Chairman Philippe Dauman, is busy fighting to keep his job. Dauman has overseen a significant decline in Viacom's shares over the past two years, so it's not like investors wouldn't welcome a change at the top. It's just that they don't like how all this uncertainty is dragging on.
What seemed to be the most tangible setback caused by the infighting is the delay in selling a piece of Viacom's Paramount Pictures studio, something Dauman was said to be pursuing against Redstone's wishes. Dauman said last week that based on the interest Paramount has received, a sale could unlock $10 a share of value for investors, implying a total valuation of up to $10 billion for the division. (That's significant because Viacom has lost more than $20 a share of value during the past year.) At that price, Paramount would be commanding an attractive multiple of 41 times its average earnings before interest and taxes (Ebit) for the past five years, according to Geetha Ranganathan and Stephen Flynn, analysts for Bloomberg Intelligence who have crunched the numbers: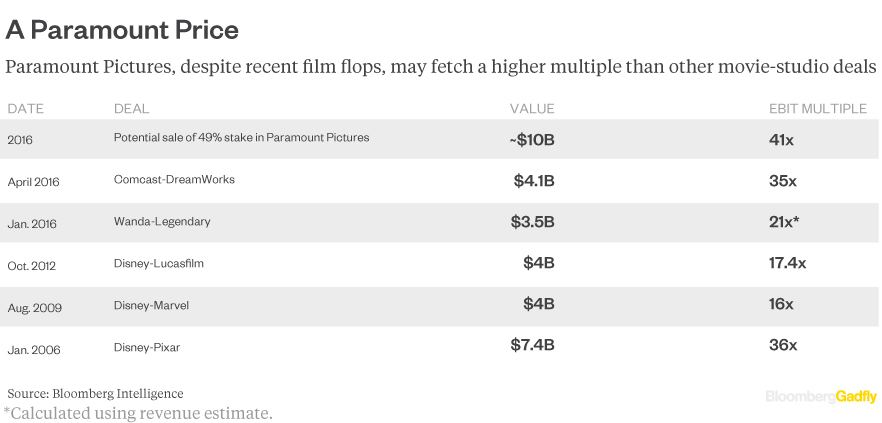 But could it be that Shari is devising a better plan? According to news reports, she's gearing up to recombine Viacom with CBS, which is currently valued at $24 billion. Sumner split the companies apart about a decade ago, but interest in bringing them back together has been building among the investment community the past few years as CBS outperforms Viacom. It seems the Redstones may have also come around to the Paramount Pictures sale investors were hoping for: Their family investment vehicle, National Amusements, is talking with bankers about options for Paramount, Reuters reported last week.
On a CBS-Viacom merger, it's true that CBS would be the stronger half. But say they did a "merger of equals" -- an all-stock deal with no premium -- that would be pretty accretive, according to data compiled by Bloomberg. It might also be favorable for their credit profiles. And in theory, a merger would put everything under Les Moonves, the highly regarded CEO of CBS, the most-watched network in America.
Shari has played the villain here, and yes, the stir she and her father are causing has partly weighed on the stock. But if the end result of this corporate battle is a reunion of Viacom and CBS -- and maybe even some deal for Paramount, too -- shareholders aren't in a bad position. The family drama may seem like it's been plucked straight out of a reality TV show, but in the end the Redstone fortune is still tied to the success of Viacom and CBS.
To contact the author of this story:
Tara Lachapelle in New York at tlachapelle@bloomberg.net
To contact the editor responsible for this story:
Beth Williams at bewilliams@bloomberg.net
Before it's here, it's on the Bloomberg Terminal.
LEARN MORE