Lobbying spending in the United States has stagnated at a little over $3 billion a year ever since the 2008 financial crisis (thanks in part to changes in lobbying rules). But the rankings of lobbying's big spenders have shifted, according to data from the Center for Responsive Politics, a non-profit research group.
For example, Google, now Alphabet, spent just $180,000 on lobbying when it went public in 2004, putting it at 1,892 in the national lobbying rankings. Now it's in twelfth place, with a $16.7 million tab in 2015. Within Corporate America, Internet-related entities, retail and real estate have seen the biggest jumps in lobbying spending over the past five years. 
The tech industry, once known for its aversion to government wheel-greasing, now embraces its inner lobbyist. It has nearly tripled its lobbying spending since 2010. Copyright, patent and trademark issues remain top priorities for the tech industry, along with business battles with telecoms. Tech companies' lobbying efforts also seek to shape public policy on everything from the laws governing Uber's drivers to those affecting Google's driverless cars. 
Retail lobbying jumped 31 percent to $58.1 million from $44.4 million between 2010 and 2015, with spending led by CVS ($15.2 million), Wal-Mart ($6.7 million) and an industry advocacy group, the National Retail Federation ($6.5 million). Among other things, retailers are challenging unions, a national minimum wage, and corporate tax rates.
Real estate lobbying spending jumped 19 percent to $77.4 million from $65.1 million between 2010 and 2015, led by the National Association of Realtors. The NAR wants to lower Federal Housing Administration mortgage insurance premiums and end life-of-loan mortgage insurance requirements, among other issues.
Here are the top issues for industries that have increased their lobbying spending the most over the last five years: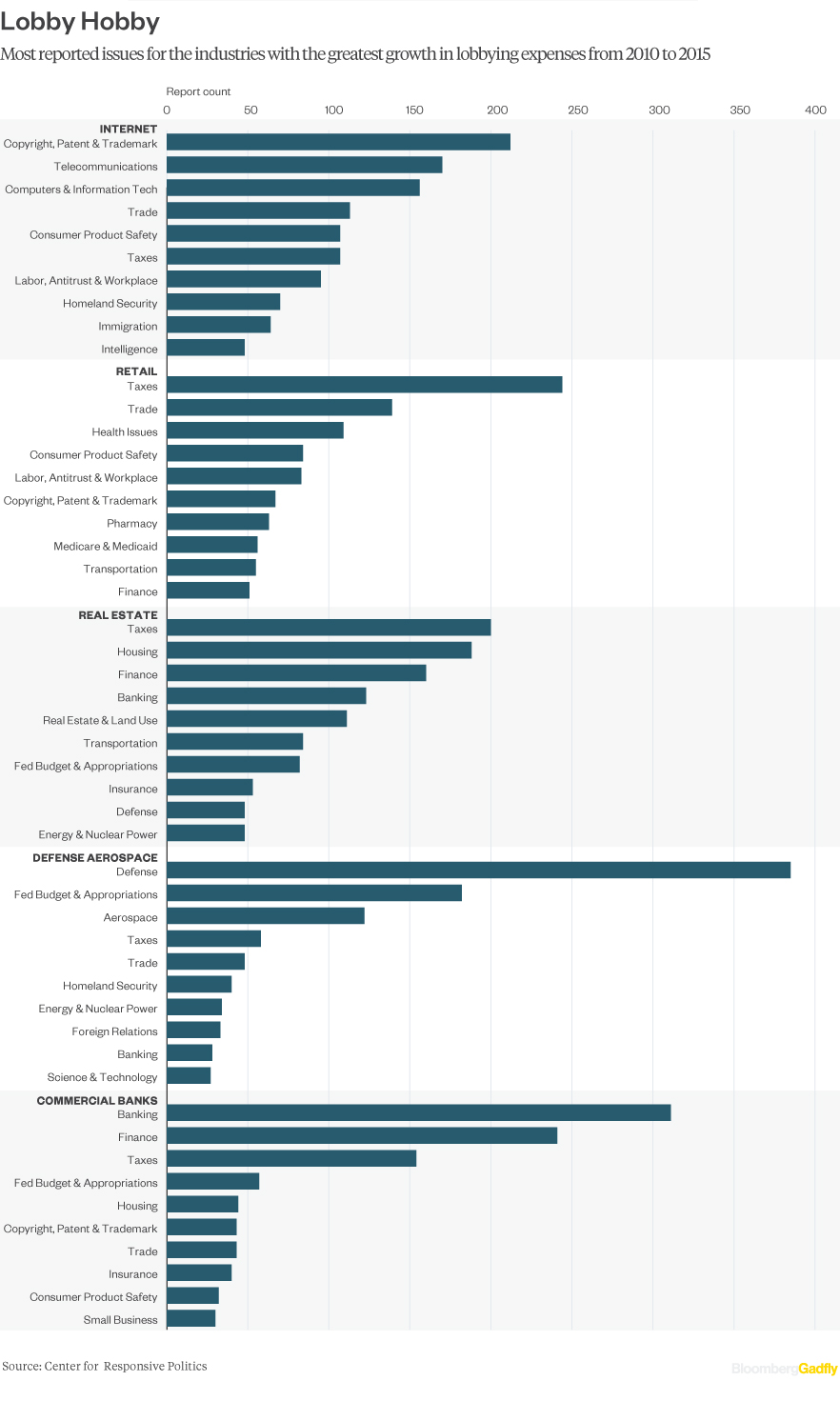 The pharmaceutical industry has spent the most of any industry on lobbying since 1999 (in part because of the industry's deep involvement with government programs like Medicare and Medicaid, as well as with federal agencies such as the Food and Drug Administration). Pfizer was the second biggest corporate spender on lobbying in the pharmaceutical industry last year, at $9.4 million.  Pfizer has the same concerns as others in the industry, such as potential price controls and patent protection. But it also lobbied on tax policy while pursuing a merger with Allergan -- a deal that has since fallen apart over inversions.  
Here were 2015's top industries and organizations, ranked by lobbying spending:
This column does not necessarily reflect the opinion of Bloomberg LP and its owners.
To contact the author of this story:
Rani Molla in New York at rmolla2@bloomberg.net
To contact the editor responsible for this story:
Timothy L. O'Brien at tobrien46@bloomberg.net