The plot of Energy Transfer Equity's $37 billion bid for Williams Cos. has now thickened to the point of rank coagulation.
In its latest amendment to the merger agreement, released on Wednesday, Energy Transfer revealed the collapse in energy prices means annual commercial synergies in 2020 would amount to $170 million under its base case, "materially less" than the $2 billion-plus touted when the deal was announced in September. It also warned the $6 billion cash portion of the cash-and-stock deal could knock its credit rating. Just for good measure -- and to save money, you understand -- it would also have to renege on an earlier pledge to substantially maintain Williams' presence in Tulsa and Oklahoma City.
This is just the latest move from a company that in the past seven weeks has:
Energy Transfer has plenty of reasons -- six billion, give or take -- to regret this deal. Yet Williams' board, even with these provocations, seems unlikely to risk a $1.5 billion break-up fee by changing its recommendation to accept it.
One other possibility, though, is that Williams' shareholders, despite the temptation of that $6 billion check, balk at throwing in their lot with Energy Transfer in a combined company. Short of taking out full-page press ads begging them in block letters to vote "no," it is hard to think of a more off-putting set of maneuvers by a buyer ahead of a deal closing.
Those disappearing synergies are especially noteworthy. First of all, commercial synergies -- as opposed to straightforward cost synergies -- aren't exactly taken as gospel anyway. At the presentation announcing the deal, the very first question from an analyst noted $2 billion "seems like quite a big number."
Still, as Wednesday's filing put it, management of both companies have "devoted a significant amount of time in analyzing commercial synergy opportunities," taking the latest changes in "circumstances" into account. That, along with the sheer precision of the new $170 million figure and its $590 million upside-case counterpart, surely reflect a rigorous process.
And yet -- take a look at the two scenarios. The base case assumes an oil price in 2020 of $44.31 a barrel and a natural gas price of $3.11 per thousand cubic feet. The upside case uses $64.26 and $3.62, respectively. Even the upside case, though, amounts to only 30 percent of the original synergies target. It is unclear how these assumptions feed into Energy Transfer's internal model. But on a linear basis, if a roughly $20 move in the oil price only gets you an extra $420 million of profit, then it looks like that $2 billion target rested on a triple-digit oil comeback.
It is possible the interactions are more complex and energy prices have an amplified effect as they move up and down. But that gets to a second problem: Pipeline companies and master limited partnerships are supposed to offer some insulation from the commodity cycle, not 3x ETF-style leverage to it. That should be especially the case if you are merging two massive pipeline networks that ought to offer more diversification, as the presentation made clear: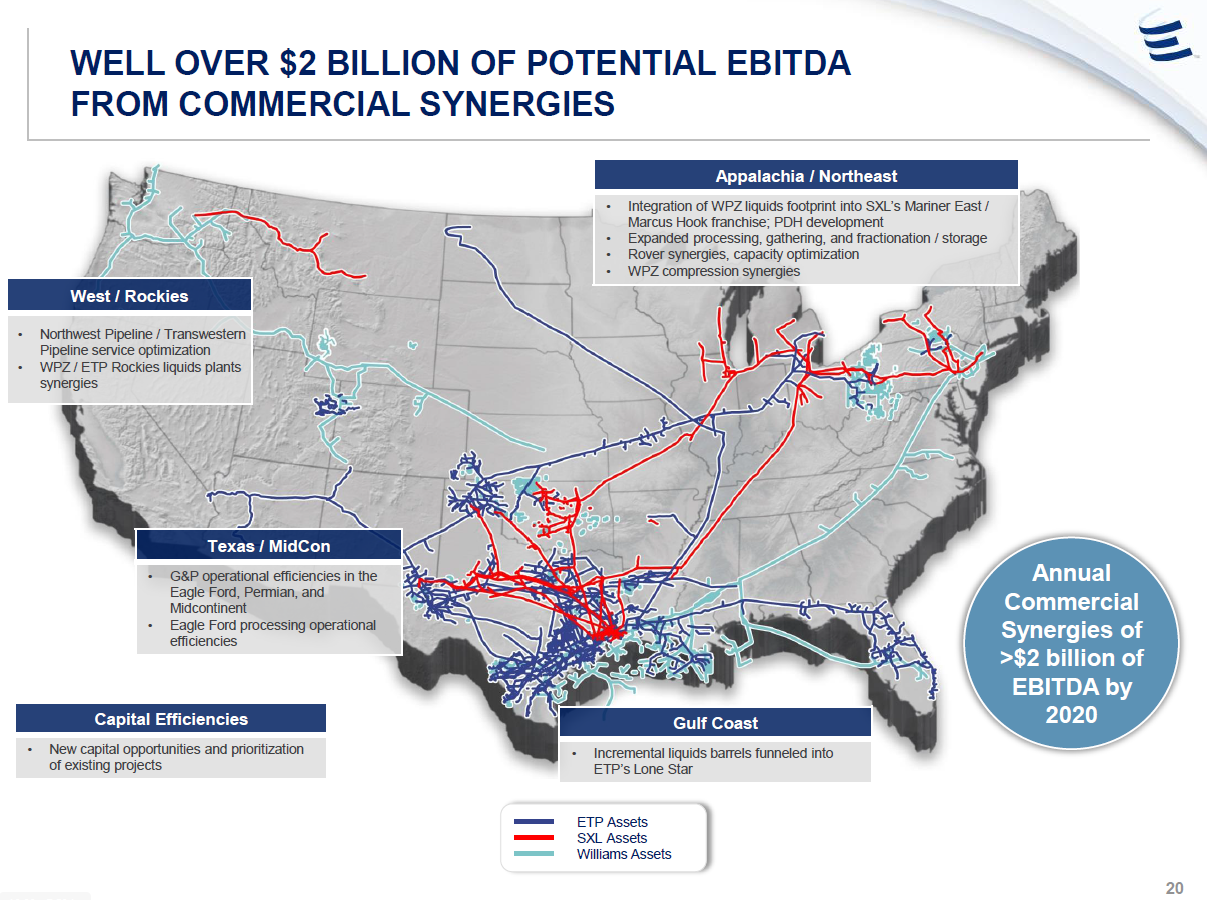 Speaking at that presentation, Energy Transfer's ex-CFO characterized the $2 billion figure as pretty straightforward, related to "immediately identifiable discernible things we already instinctively knew and suspected."
Meanwhile, on Energy Transfer's earnings call last month, the chief operating officer was asked whether the slump in commodity prices had "chewed up" synergies  from another big deal struck in January 2015, the $10.8 billion takeover of Regency Energy Partners by Energy Transfer Partners. His response was an emphatic "No" -- on the contrary, Energy Transfer was seeing synergies "across the country."
So Energy Transfer has given Williams' shareholders much to ponder ahead of their vote. They may assume the erratic behavior will stop once the deal is sealed, even if a dividend cut now looks all but certain. For now, the discount at which Williams stock trades relative to the offer has widened back out again, though not to the yawning levels seen earlier this year.
But as they ponder, they, along with Energy Transfer's own common equity holders, may want to step back and contemplate the bigger picture.
Energy Transfer has built itself around a roll-up of master limited partnerships, an asset class long viewed as safe from the vagaries of oil and gas prices. And yet here is that same Energy Transfer saying synergies from the mother of all MLP roll-ups have evaporated because of ... the vagaries of oil and gas prices.
After this experience, should there come a day when Energy Transfer's management take to the stage to announce yet another big acquisition, investors would be well advised to print out any slide on synergies and frame it; it is sure to be a work of extraordinary subtlety and nuance.
This column does not necessarily reflect the opinion of Bloomberg LP and its owners.
To contact the author of this story:
Liam Denning in San Francisco at ldenning1@bloomberg.net
To contact the editor responsible for this story:
Mark Gongloff at mgongloff1@bloomberg.net